Phil Clarke assesses Sky Sports' new mentoring programme
Phil Clarke is thrilled to be involved in Sky Sports' new mentoring programme for young athletes.
Last Updated: 04/03/14 2:37pm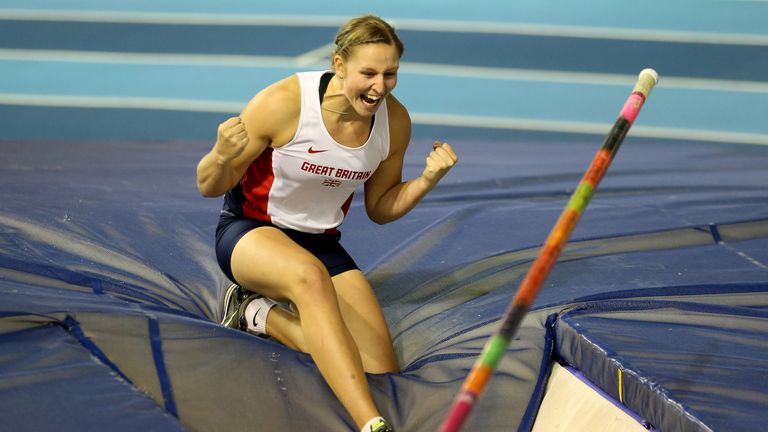 Some people I know think that Sky Sports just turn up at sporting events, plug in the cameras and broadcast a live event. They're not aware of the work that goes on behind the scenes. I'm not talking about the hours of preparation to co-ordinate all of the live coverage, no, I'm talking about some of the invisible things that Sky Sports gets involved in to make a difference.
Those of you that have read some of my previous articles may have once seen me write about the unofficial mentoring programme that took place at Wigan RLFC during the 80's and 90's. It was one of the ways that the club was so successful at lifting trophies between 1985 and 1998. They managed to find a way of getting the older more experienced players to pass on their advice and habits to the younger ones coming through.
Denis Betts was one such example. He was fortunate to be 'adopted' by Andy Goodway, who selflessly gave his time to Denis whilst he was at impressionable age. He didn't tell him what to do, but was there for Denis to learn from and talk things over. Most people don't realise that most successful sportsmen and women have had challenges and obstacles to overcome on their journey to the top.
Challenges
This week the Sky Academy launched the mentoring programme for its twelve Sports Scholars and I'm excited and delighted to get involved. The whole idea of any mentoring programme is to 'support and encourage people to manage their own learning in order that they may maximise their potential , develop their skills, improve their performance and become the person that they want to be" - Eric Parsloe.
What happened in an unstructured way at Wigan for 20 years ago, and probably at Manchester United for the last 20 years, is now accepted as an effective way of helping people to progress in their careers and Sky Sports have decided to help 12 of our countries youngest and most talented athletes.
Structure
The idea is to match two people (the mentor and mentee) with similar experiences and although I've never sprinted down a runway with a pole vault in my hands, I have tried to combine a university degree with a career in sport. I've been chosen to assist Holly Bleasdale, the British record holder and current European Indoor Champion. She's from the North West like me, and is currently studying for a degree in Sports Exercise and Science at Manchester Met University whilst preparing for the World Indoor Championship.
It's an exciting programme and a way for the people like myself at Sky to share some of our experiences and assist whoever we can. I'm not the only one involved. Here is a list of my colleagues and the athletes that we'll be supporting over the next few years:
Athlete - Jess Judd (Middle Distance) Mentor - Natalie Sawyer
Athletes - Jason Quigley & Jack Bateson (Boxing)Mentor - Johnny Nelson
Athlete - Quillian Isidore (BMX)Mentor - Darren Campbell
Athlete - Sam Oldham (Gymnastics)Mentor - Geoff Shreeves
Athlete - Elise Christie (Speed Skating)Mentor - Will Greenwood
Athlete - Holly Bleasdale (Pole Vaulting)Mentor - Phil Clarke
Athlete - Lucy Garner (Cycling)Mentor - Annabel Croft
Athlete - Siobhan Marie O'Connor (Swimming)Mentor - Anna Woolhouse
Athlete - Louis Persent (400m) Mentor - Michael Atherton
Athlete - Savannah Marshall (Boxing) Mentor - Adam Smith
Athlete - Olivia Breen (Sprinter) Mentor - Di Dougherty
I wouldn't be surprised if one or two of the clubs in Super League look to do something similar. I know that some of them have talked about it before, but as the level of competition amongst the top clubs intensifies each year, it's another way in which they can gain an edge and have a positive influence on the lives of the young people that they're involved with.