Rugby League Expert & Columnist
World Club Challenge: Phil Clarke looks forward to the clash between Wigan and Sydney Roosters
Phil Clarke says Wigan can upset the odds like their 1994 side against the Sydney Roosters.
Last Updated: 01/03/14 11:22am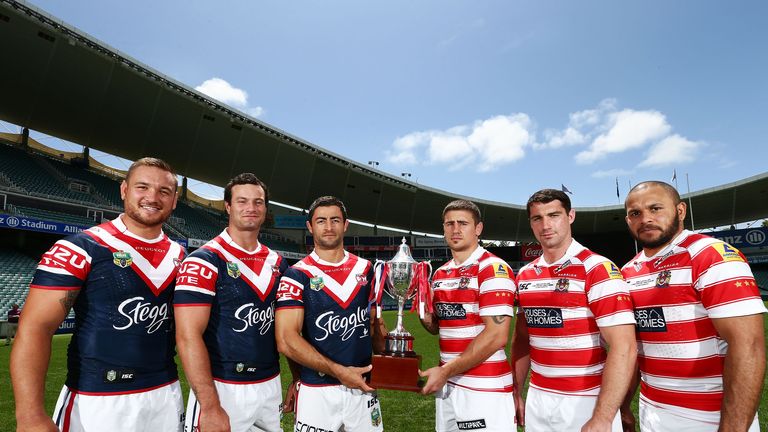 Several of them were former Australian Test Players who now work in the game as either coaches or commentators, so their opinion might be worth something, but it does remind me of the last time that Wigan came Down Under to contest the World Club Challenge.
Back in 1994 Wigan travelled to Brisbane to play against the Broncos at the end of a 46-game season. We arrived without two of our best players, Kelvin Skerrett and Andy Platt, who were the foundations in the middle of the pitch, and the two toughest members of our squad. They had given Wigan a fear factor in the UK, but without them it was now Wigan who were full of fear!
I got the closest experience that I think I will ever get to a Christian walking into the Roman Coliseum to face some angry Lions. When we left the dressing room the entire Wigan team thought that we were going to get killed. A crowd of over 50 000 were laughing and booing in expectation of our demise. It was the most scared that I, and several of my team mates, have ever been in our careers.
The build up to this game has a very similar theme. Wigan will play without their best player of the last few years, Sam Tomkins, and yet have to find a way of starting this game faster , sharper and with greater precision than the Roosters. There is even the possibility that they will be without Sean O'Loughlin, if his hamstring does not pass the Test on Friday. I think that they really need him. If the Roosters have Sonny-Bill Williams then Wigan must have O'Loughlin.
When I think back 20 years and recall the tries that we scored to win in Brisbane I optimistically envisage that happening again. One came from a speculative kick that had a lucky bounce, the other from a piece of opportunistic brilliance when Jason Robinson scored and the third was from an attacking move on the half way line.
Two waves of attack
Last season Wigan scored more tries and made more breaks from their own half than any other team in Super League. It's what they do well, and have been able to do it against all of the teams in Super League even when they have known that it was going to happen.
Trent Robinson's time as a coach in Super League has given him first-hand experience of this and one of the most fascinating things will be if the Roosters defence can stop it. Wigan have two waves of attack and get nine of the 13 men that they have on the field to run on one play.
People Down Under say that it is very similar to the way that Melbourne used to play five years ago, which might make sense when you remember that Michael McGuire came from there to coach Wigan at about that time. But will it still work against the best defenders in the NRL?
Split loyalties
As a born and bred Wiganer you would expect me to be cheering for the Cherry and Whites, but my heart is split on this game. I came to play for the Roosters when I left Wigan in the mid-90s and although my time on the field with them was short, there is something about the club that has meant that I am a Rooster for life. They do the right thing and have a chairman, Nick Politis, who is one of the most respected people in Australian sport.
At the game this Saturday they have organised a reunion of the 2003 World Club Challenge winning team. It was the side that beat St Helens 38-0 and their current team hope to do something similar.
Whenever you ask a player before a game if he is confident he will always say YES, but when you are the under dogs like Wigan this week, it is essential that you start well and score before they do. Wigan looked sharp against the NZ Warrriors last week but know that they have to climb a Rugby League Everest in 80 minutes if they are to prove all of the experts over here wrong.
Can Wigan follow in the footsteps of the Class of '93 and win the World Club Challenge Down Under? Catch all the action 9am, Sat, Sky Sports 2 HD