Phil Clarke believes that rugby league has taken its first steps towards a stronger and healthier future
Phil Clarke is hopeful new structures put in place will help rugby league grow from strength to strength.
Last Updated: 26/02/14 7:23pm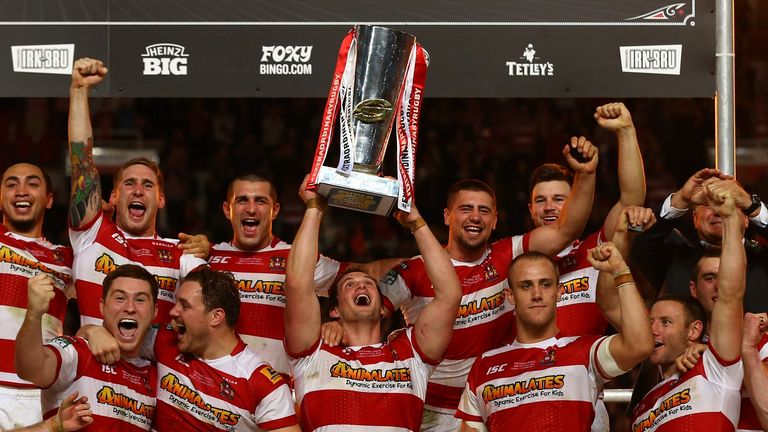 It was in a book written 20 years ago when the then CEO of the game, Maurice Lindsay, was commenting on the state of the game and the future ahead.
Remember, this article was written in the early 90's and yet it could almost have been written yesterday. It talks about the fragile financial state of many clubs and the poor administration that resulted in them surviving from one year to the next with no strategic plan.
Interestingly, the game voted to suspend promotion and relegation in the 92/93 season as it listened to the cries for help from its member clubs. We'd just tried an eight team second division but it hadn't been successful. The 34 professional clubs had voted 28-6 in favour of a return to two divisions with 16 teams, with three clubs dropping down into a new Conference League. (This actually lifted Huddersfield out of the 3rd division!).
In some ways it's a pity that the people at the RFL HQ hadn't read the article written by Maurice Lindsay as much of what he recommends would have saved a lot of money.
The thorny issue of expansion was addressed and the money invested in Wales over the last ten years may have been better spent if we hadn't thrown so much of it at a professional club.
Back in the early 90's we'd just lost the likes of Scarborough, Cardiff, Bridgend, Kent and South Invicta. We even had teams in the Midlands like Mansfield and Nottingham. The London Crusaders, as they were known then, had the former New Zealand supremo, Tony Gordon, as their coach and had just moved to play their games in Barnet.
In the intervening period we've tried by introducing a salary cap, then the license scheme which put an end to the annual cycle of promotion and relegation, but do not seem to have found a way of making the professional clubs financially stable and allowing them to invest and grow. Let's hope that the new structure enables that.
Security
The long term security by its partnership with Sky Sports gives both the Clubs and the Game a financial knowledge and guarantee that it's never had before. The concept of making every game important isn't that easy in a league format, but I do believe that the new plan for 2015 will do that. Everybody who follows rugby league wants it to grow and maximise its potential. We now have the foundations to let that happen.
We're sometimes guilty of being too critical of the sport and its administration, perhaps because we are so close to it. If you've followed the general sports news on the Sky Sports website over the last three months you will have seen the issues and challenges in European rugby union, the debate over power and control in Welsh rugby union and the problems facing Formula 1. Every sports has its fair share of things to solve. Rugby league has attempted to tackle theirs head on. Good luck to it, now let's get on with the action.
Rome wasn't built in a year, and rugby league won't be much different next year, but in ten years' time it has the opportunity to be much stronger and healthier than it possibly has ever been.
When people are looking back in 20 years' time, I hope that they see this year as the season when rugby league began its rise.