Salford: Red Devils backed to win Super League by Phil Clarke
Wigan? Warrington? No, says Phil Clarke. Put your money on Salford for Grand Final glory in 2014.
By Phil Clarke
Last Updated: 06/02/14 12:14pm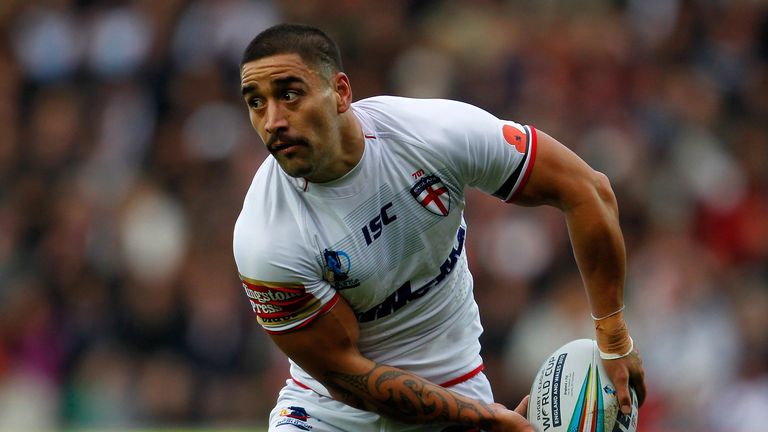 We're like hedgehogs and become inactive until the first game of the Super League season appears on the radar.
It's also a time of year when many of these animals pump themselves up and prepare for the tough times ahead.
Well, I've no doubt that that's been the case in 14 gyms as the players look to build up a physical resilience for a 27-round competition that starts in just a few weeks.
Without any games to talk about, the only question on the street at present is who will win this year? We all know that it's taking place in Manchester but we don't know who'll be there. This year, though, might be a little different to the rest!
Last year's winners, Wigan, have an even bigger challenge than they had 12 months ago.
Most people thought that they'd struggle when they lost Thomas Leuluai, Jeff Lima, and Brett Finch at the end of 2012, but can the Warriors really be as good now that they've lost Sam Tomkins?
He was one of the reasons why the Warriors won so many matches and also why so many people tuned into a game on Sky Sports.
I think that the trendy term is 'box office'. Whether you supported Wigan or not, Tomkins demanded your attention.
The 2013 Champions have also lost Lee Mossop, one of the best forwards in Super League, so can Wigan's assembly line turn out a replacement in 2014?
Talented
For the last few years Stevo, myself and most other pundits have tipped the Warrington Wolves for success.
It's not a random choice as they have possibly the best coach in the competition, a strong group of senior players and a talented bunch of younger ones.
This year is their first without Lee Briers, but I think that they'll be equally as good and make it to the Grand Final again.
Last season's League leaders, Huddersfield, fell before the final hurdle, and some people believe that it will have made them stronger and even more determined in Super League XIX.
I'll be amazed if Danny Brough can be as impressive and influential this season. I admire his competitive spirit and am sure that he knows how closely he'll be watched by every team that he plays against, but can he lead them all the way to Old Trafford?
It'll be interesting to see if any of the people who turned up to watch the World Cup match played in Huddersfield last autumn, return to watch the Giants this season.
For me, the success of the World Cup gets measured over the next 12 months in terms of the impact that it has on the sport in participation, paying spectators, corporate income and media interest.
The birth place of the game is one town that we should measure on those terms in 2014.
Balanced
The Rhinos supporters are used to a fixture list that includes a game at Old Trafford in October and I bet they're optimistic of a visit this year when they see their team photo.
It has one of the most impressive backlines I've seen for years and the potential wingmen should have plenty of chances to impress the South Stand this season.
On paper, St Helens have a better balanced squad. Will that be enough to bring them an end to several years without silverware?
They lost a total of 11 games last season which started when they were hammered 40-4 at home by the Giants. A better start would help this year.
Of all the other teams from last year's top eight, I'd have to say that Hull have the greatest potential to rise up and make a difference. There is lots of recent evidence to suggest that an inexperienced coach, in his first season, can inspire a side to glory.
Lee Radford takes over a squad of talented players who were good enough to beat last season's runners up away in Warrington last May and have the experience, albeit a bad one, of playing at Wembley.
Every year we talk them up, but look what happened to Huddersfield under Paul Anderson in his first year in charge. In this age of high definition TV the future just might be Black and White.
Remarkable
However, here is where I'm going to shock you. I don't think that any of them will be Champions this year. It will go down as not only the most remarkable season in Super League, but also in British sport over the last 40 years.
In a city where the Blues are currently the best performers on a football field, I reckon that it will be the Reds who lift the trophy at Old Trafford. Not the ones who play there most weeks, but the ones belonging to Dr Marwan Koukash, and led into battle by Brian Noble.
I'm slightly tired of hearing people talk about the need for stability in sport. Everybody cites the example of Sir Alex Ferguson at Manchester United.
He won lots of domestic trophies, but managed to lift the biggest prize, the Champions League Trophy, just twice in 26 years. Contrast that with Real Madrid, who had 26 managers over the same period but lifted the same trophy on three occasions.
If the Reds have the right players, with enough discipline and desire, I think that they can walk it to the Grand Final this year and return over the Manchester Ship Canal with that big, shiny, silver trophy on a Saturday night in October.
Coaches have a thankless task, but it's made much easier when you have talented players with a point to prove. Several of those are currently training in their Salford kit and have the chance of taking the team from bottom to top in less than 12 months.
Salford have some of the most loyal supporters I've ever come across and I hope that the Special Deliveries that have arrived mean that they have something to shout about this season.