Phil Clarke looks forward to the Super League Grand Final between Warrington and Wigan
Warrington's appetite for risk makes them Grand Final favourites against Wigan, says Phil Clarke.
Last Updated: 02/10/13 6:34pm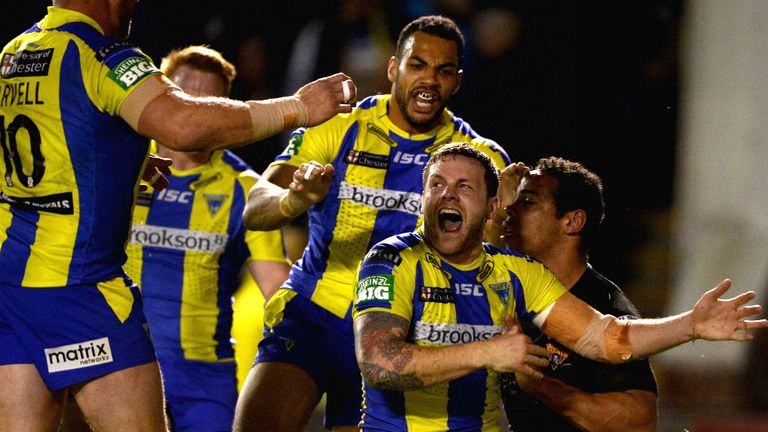 These two teams have never met each other before in a Grand Final and you have to go back 23 years for the last time they met in a major final, the Challenge Cup at Wembley. The Cherry and Whites were victorious, 36-14, in front of a crowd of more than 77,000.
On that sunny day in May 1990, I sat on the reserves bench at Wembley as a member of the Wigan squad and remember quite clearly how I was introduced to 'toughness' on a rugby field for the very first time.
One of the Wigan team, Shaun Edwards, suffered an accidental head injury in the first half, which fractured his cheekbone and made him look as though he had a hole in his face. It was strange to look at and must have been agony to play with.
After a few minutes of feeling sorry for himself and complaining to his team-mates about the pain he was in, he received some 'tough love' from one of his team-mates. Dean Bell told him to either get off or get on with it. It was exactly what he needed to hear and it's that type of leadership that we don't see or hear from the sidelines. Edwards decided to play on.
Neither team scored a try in the opening 20 minutes until Edwards managed to charge down a Warrington kick which allowed Denis Betts to collect and crash over. This first try should act as a significant reminder to both sides this Saturday, especially Wigan. Everybody knows how a Tony Smith side just loves to put pressure on the kicker and Matthew Smith will tell you that the last time he played against the Wolves he had four of his kicks charged down. Don't be too surprised if we see a score on Saturday in this manner.
What else did the 1990 Final teach me? It taught me that in big games turnovers of possession are very often the best chances to score. Just think about it. If your team have the ball, they're stood in a different shape to when they don't.
Swoop and strike when they are not in position, which was exactly what the Wigan left winger Mark Preston did all those years ago. His first came from an attempted chip over by Gary Mercer, and his second from when Warrington were attacking and lost the ball just 10 metres from Wigan's try line. The best teams have the ability to think about scoring as soon as the ball hits the floor. Wigan made five passes and carried the ball 90 metres to score just inside the corner flag. It was brilliant and devastating all in one.
Bravery
Both of these teams have the skills and attitudes to play like this on Saturday, which is one of the reasons why it is such an eagerly anticipated match. They'll need to show the same bravery to push through the pain and take their opportunities when presented.
Wigan will need to limit the quick play-the-balls that the Wolves feed off. They play more ad-lib, typically offload twice as much as Wigan and roll down the middle until they feel they've created the space out wide, especially for their right winger, Joel Monaghan.
The Warriors are still scoring the same sort of tries that they did in the 2010 Grand Final. If you can recall, the first two tries scored that night by Martin Gleeson were exactly the same as the ones that they've scored so often this season. They encourage as many players as possible to run in two waves of attack and create time and space for their outside backs.
They've scored the most long-range tries in Super League this season and they aren't afraid to attempt to strike from within their own half. Recently though, the top teams have become aware of this and rush up to close it down. If they don't get there in time, they'll need a motorbike to catch Sam Tomkins when he goes through the line.
Roll the dice
Wigan make about 70 more passes than the Wolves in a game, but these tend to be before contact. There is more ball movement but less risk with it. Their success is based on having more ball than their opponents, and better field position.
We live in a society that has become risk averse. We spend time and effort managing safety with seat belts, door locks, smoke detectors and fire alarms and the risks that previous generations use to face are no longer a threat.
However, to win this Grand Final the winners will need to roll a dice and take a chance and that's why I think that the Wolves will win.
You can watch the Super League Grand Final between Warrington and Wigan live on Sky Sports 2 from 5pm this Saturday.