Sam Tomkins NRL move should have been announced at end of season
Phil Clarke says Sam Tomkins' NRL move should not have been announced until the end of the season.
Last Updated: 25/09/13 6:30pm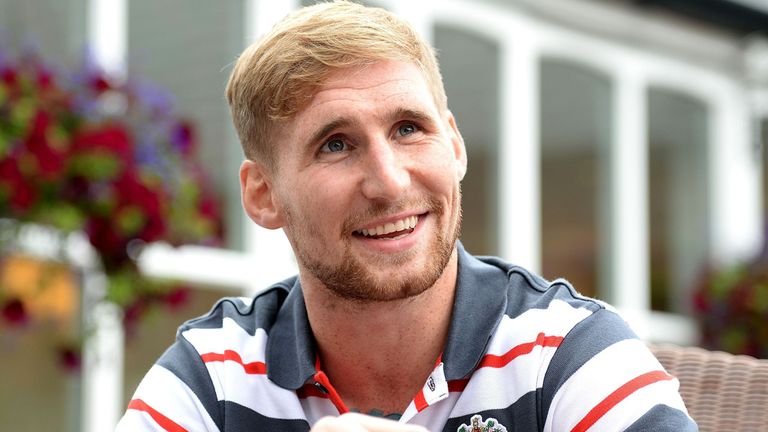 Nearly everyone in Wigan had known this for about the last 10 weeks and surprisingly for me it was announced at a press conference in Wigan on Monday. Why? I've said before on this website that as a supporter of the game I want to take each year as it comes.
I'm interested in this season, with less than 160 minutes of rugby before we'll find out the winners of the Grand Final and a World Cup to follow that. I don't want to know who's playing for whom in 2014. Not yet.
Okay, it's reportedly a world record transfer for a player from one rugby league team to another and different from the normal releasing/recruiting of players that we see throughout the season, but I don't see how the news helps the club or the sport this week.
They had a week off with no match last weekend, was that a better time to announce it?
Lucrative
It's great business for Wigan Warriors and one of the first times in over 30 years that a team from Down Under have paid a transfer fee for a player from the UK. Not often are we able to export players for a profit.
It's also an exciting and lucrative time for Tomkins who has the chance to grow and mature as a person and a player in a new environment, new country and new competition. He seems to have the skills, intellect and personality to prosper in the NRL.
A colleague of mine at Sky Sports questioned why news like this annoys me; he said that it happens in football.
But it doesn't happen like this in football. When a player signs for a new team he typically moves to join them straight away.
The transfer window is the chance for this to happen and I love watching Jim White on Sky Sports News when he talks about the potential developments at every club. This is the 'action' off the field when there is no 'action' on it.
Exceptional
Player movement is a necessary part of professional sport. Clubs want to release and recruit players for a variety of reasons. That's a good thing and it gives supporters a new hero from time to time.
But I would like to see the game introduce a rule that forbids clubs from announcing who they've signed for next season until this season is over. The Tomkins story is rather different to the point I'm trying to make here. It is an exceptional case.
However, when a fan buys a season ticket and a shirt with his favourite player's name on the back he doesn't want to be told half way through the season that he's signed for another team, or that his team have signed an obvious replacement for him next season. We have time in the off-season to make the announcements.
Some people have suggested that it's the way that a club covers up for a poor season, telling their fans that next year will be better when they have Joe Bloggs in the team.
I don't believe there is any evidence to suggest that a club's season-ticket sales directly benefit from these types of announcements. If there is, can a club please forward this to me? Surely supporters aren't that naive.
Attendance
If the newspapers, websites and social media want to speculate about new signings at clubs then great. That sort of talk between fans is brilliant and can get you through a 'dull day' sometimes. It's gone on for 100 years and will do for the next 100.
The Wigan Warriors gained some media coverage for their sponsors and I suppose that it was a chance for them to inform their supporters that it will be Tomkins' last home game for Wigan. It will be interesting to see what impact that has on the attendance on Friday night at the DW Stadium.
I suppose that we'll never know because nobody knows how many people would've turned up if the press conference and announcement on Monday had never taken place.
In five of the six play-off games so far, the crowd has been lower than the corresponding league game. How will the season ticket holders take this week's news about Tomkins?
I'm just an ex-player with one man's opinion. Please let me know if you think the same way or if I've got this one all wrong.
Amazing
One of the best coaches that I ever played for used to talk about putting an 'effort' on top of an 'effort'. Well one guy has certainly done that to get to this year's Grand Final and it's Rob Piercy from Hull.
At present, he's cycling from the Catalans Dragons home ground, via all of the other 13 clubs to get to Old Trafford for the Grand Final.
It will be an amazing 1440-mile trip in aid of the Steve Prescott Foundation and his local club, Myton Warriors. It's an incredible effort for a great cause and you can follow his progress and support him @RobsRugbyRide on Twitter.
Good luck Rob, see you in Manchester.