Challenge Cup: Phil Clarke reflects on the lessons from Wigan's win over Hull FC
Phil Clarke says Hull FC should have made Wigan pay the penalty during a tight Challenge Cup final.
Last Updated: 28/08/13 9:30am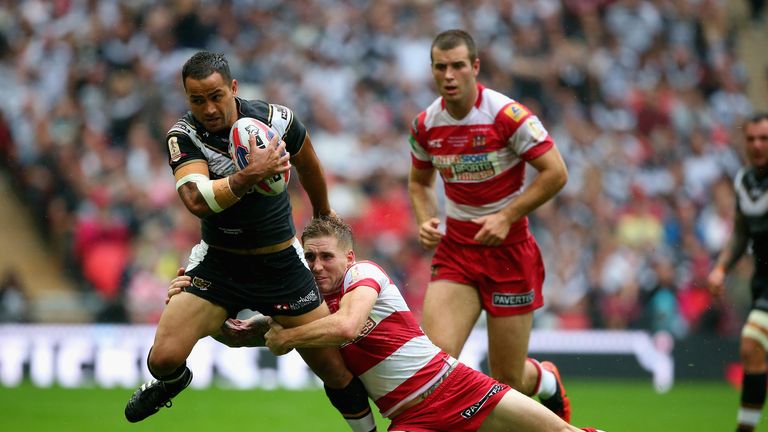 The Challenge Cup now sits proudly in the Wigan trophy cabinet after their victory over Hull FC at Wembley. The next big prize is the one presented at the Grand Final in five weeks' time. Were there any lessons learned from the rain affected final in London? Will they be applied between now and 8pm on October 5?
The FC bit in the Hull name should have been a guide to the Black and Whites at Wembley. Football clubs generally convert their penalties and in my opinion, it was essential that Hull did this when they were awarded ones in Wigan's half of the field.
For a team that rank only ninth in Super League for points scored this season, it seemed obvious that most penalties in Wigan's half of the field were within range for the second most accurate goal kicker in the competition, Danny Tickle, and he had to attempt to convert them. Kicking at goal isn't new at Wembley. Take a look at Len Kileen's penalty goal in the 1966 Challenge Cup Final when he scored from a kick that was taken about three metres inside his own half of the field!
For years I've said that you can't win a game of rugby league by taking penalty kicks, but that usually refers to an average game in Super League. A team tends to need at least three or four tries and the best chance that you have of scoring is when you get close to your opponent's try line, that's why most penalties are tapped. However, when the prize on offer is greater than the two competition points, defences are more determined and it gets much harder to score. As we saw last Saturday.
If you add to that the fact that the rain is making handling conditions even more difficult, half of a try from a kick (two points) is like a 'bird in the hand'. Hull never got a chance to have 'two in the bush' as they dropped the ball four times on Play Two from each of the penalties that Tickle would most likely have converted. Even Wigan, with a better attacking record recognised this fact and Richard's four goals came from two tries and two other penalties.
It would be remiss not to credit one of the best defensive efforts I've seen for a long time. When you consider how much possession Wigan had, it's amazing that they didn't win by more. A team will typically have about 130 play-the-balls in a match. Wigan had 172 to Hull's 119. In a sport that has rules designed to share possession, it's very rare to see a 60/40 split like this. Amazingly the Cherry and Whites missed more tackles than the Black and Whites.
I suspect that we might see a shift in the Play-Offs to what we see more often on the rugby union coverage on Sky Sports. Teams with accurate kickers will be asked to put all of their practice into place. The first words from the captain to the kicker will be 'Can you kick it?'
Sacrifices
Arsene Wenger is reported to have said that there are two types of footballers: the ones who want to win and the ones who hate to lose. Well I also think that there are two types of rugby league players. There are those who burst onto the scene at an early age. They become established members of the first team after just a few appearances. It's not long before they gain selection to the England Knights or even full squad and become an international for the next decade.
The other type takes a slower route to the top. Their journey is much less glamorous, has more lows than highs for the first five years and yet is built on much stronger foundations because of the sacrifices and pain that they've had to go through.
One such example was the Lance Todd Trophy winner Matthew Smith. He's 26 years of age and has worked very hard to receive the recognition that he deserves for his performance at Wembley. I admire people like him because of their perseverance.
His Super League career began at St Helens in a winning debut over the Giants back in 2006, when Sean Long was the custodian of the number seven shirt and he was asked to fill in. He was later released by St Helens, an experience that most young players read as a sign of failure. He then went to play at Widnes before he did it really tough at the Celtic Crusaders.
Imagine playing scrum half, with all the pressure that comes in that position, for a team at the bottom of the league! It can't get a lot tougher from a rugby point of view. Was that time in Wales the making of Smith as a rugby player?
Maturity
His pathway then brought him back north to Salford, and his improvement over the next 70 games earned him a contract at a team in the top half of the table. I'm led to believe that he had several options from clubs who recognised his maturity and stability, both on and off the field, in the key play-making role.
He already has Grand Final experience from a strange return to St Helens at the end of the 2010 season, when he played against the man he would later replace, Thomas Leuluai.
A friend of mine often tells me that 'slow and steady wins the race!' Well in this case I think he might be right. His journey to collect the Lance Todd Trophy was slower than most of his predecessors, but is a brilliant example to so many young players in the game.