Phil Clarke wonders where the next generation of British playmakers are coming from
Phil Clarke wonders if the academy system is restricting the development of creative playmakers.
Last Updated: 29/07/13 2:33pm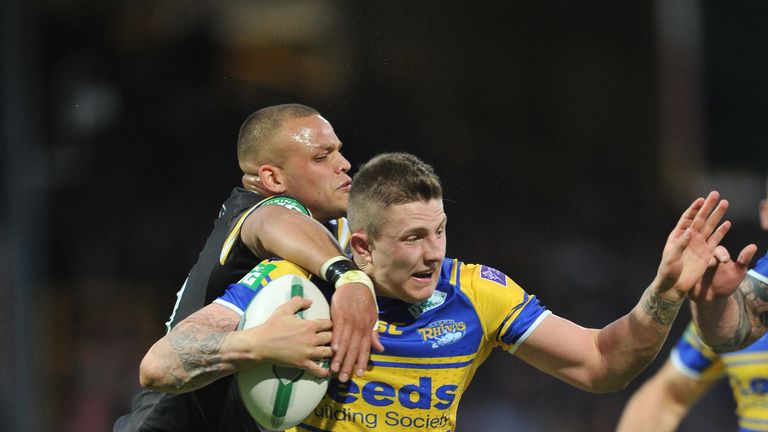 There are even a great deal of experts who say it takes 10,000 hours of practice to become the world's best.
Recently there had been much debate about the changes to the academy structure and player development within the sport of rugby league - I have written posts on the topics - but this week I want to take a different perspective on the player pathways within our game.
Mention the name Brian McTigue, and immediately for those who remember him, the words 'tough', 'skill', and 'playmaker' spring to mind. Brian is a legend of the game, playing 21 times for Great Britain, and as a Wigan Hall of Fame member he is considered by many to be one of the greatest forwards to play our game. But why is Brian's story so special?
In comparison to today's rugby league greats, Brian never had any formal coaching, was never part of an academy, and was largely self-taught. The backyard and play ground formed his education with games of fun, skill and adversity; in fact he spent the first three years of his playing career playing for Wigan's 'A' team.
He gained recognition for being a playmaker with remarkable sleight of hand and distribution skills, progressing from the centre position to a prop forward with incredible ball handling ability.
Brian's story is an incredible feat but not unique. Today we still see elite performers on the world stage who have received very little coaching; consider the footballers from Brazil, the middle distance runners from Kenya, and remarkably, golfer Bubba Watson, who famously won the 2012 Masters without ever having had a golf lesson.
There are also examples of rugby league greats of yesteryear who received very little coaching during their career, but were world class playmakers.
Over coaching?
So this week, with an apparent lack of playmakers within the British game, I want to ask the following questions.
Is the modern academy system restricting the development of creative playmakers? Or is over coaching, within these systems, killing the natural instincts of the young players who have natural flair, skill, and decision making capabilities?
I watched a recent Academy match and observed what happens when a team concedes a try. Their coach instructs his assistant to run on with a message for the team as they stand under the goalposts waiting for the conversion. Are they really learning much from this? Should the team's leaders not attempt to solve the problems themselves?
Most teams in Super League adopt a very similar style in attack, which requires certain players to be in set positions, during a set of six. This structured attacking play is undoubtedly practiced over and over during training sessions, but is this approach constraining the decision making potential of young half backs?
Could the likes of Joe Mellor, Jonny Lomax, George Williams, and Liam Sutcliffe be even better if they were encouraged to play without the constraints of organising plays and paid more attention to what the defensive line is doing?
Impact
When I was doing my research for this article I came across a video on the internet of Sean Johnson playing touch rugby.
He spent much of his youth playing the touch version of the sport, without much coaching and without the shackles of playing to a structure. He now consistently performs well in the NRL and has made an impact on the international scene, tipped by many, including Andrew Johns to be a legend.
I remember playing with Andy Gregory and Shaun Edwards who were totally tuned into each other and the opposition, and would regularly do things in attack that the defence didn't expect with devastating effect. Would they have been as effective if they had spent some of their formative years within the current academy system?

I don't know if today's player pathways are having a negative impact on the development of playmakers, but with a World Cup only a few months away, and with the likes of James Roby, Gareth Widdop and Kevin Sinfield out injured, I cannot see where the next generation of British playmakers are coming from.
I would love to hear you're your views on this subject.