Phil Clake says Huddersfield must learn how to play with pressure
Phil Clarke looks at how Warrington were able to conquer Huddersfield in the Challenge Cup quarters.
Last Updated: 16/07/13 5:19pm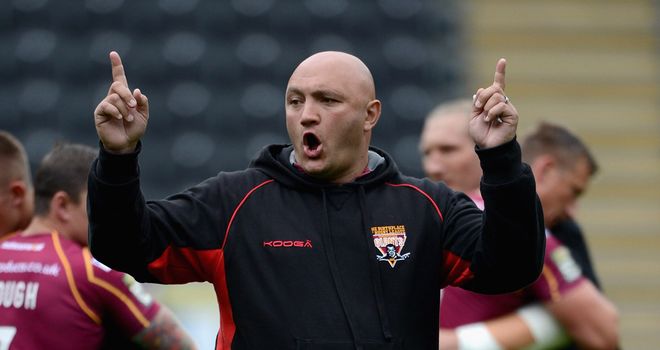 "Big starts in big games are everything!" Well, that's my opinion. Let's take two of the games played in the Tetley's Challenge Cup this weekend as an example.
Warrington led 26-12 at half time in their clash with the Huddersfield Giants, whilst the Wigan Warriors had the game in control at 30-4 when the first hooter sounded to relieve the Vikings.
Even the other two quarter-finals were won by the team ahead at half time. But I'm not basing my opinion on which team lead at the half-time hooter, that's not what this is about.
It's very hard to put into words what successful teams have learned from getting to finals. They seem to know how to gain control of a match from the first whistle.
Sadly for the Giants and their supporters, they don't yet have the knowledge of starting a semi-final in a way that helps to put them into a final. Ok, so they've been to a Challenge Cup final before, but not really with this team.
If you watched the game and didn't know it was a sudden-death contest, would you be able to tell from what takes place? Possibly not.
The action looks quite similar to a League game, perhaps a bit quicker, but it's the state of mind that differs the most.
Widnes were the original 'Cup Kings'. Wigan then followed that on with a run of eight straight appearances in the late 1980s and 1990s and you could say that Warrington are the ones closest to that at present. If they beat Hull in the semi-final it will be their fourth final in the last five years.
Aspects
So what is it that they have?
There are only four aspects to a rugby performance: the physical, the mental, the tactical and the technical.
Well, physically much hasn't changed from one week to the next. A team can't get stronger or faster than their opponents in seven days. It's impossible. They all do roughly the same training.
Tactically neither Warrington nor Wigan seemed to do things that were radically different from their other recent games. It wasn't a totally different 'game plan' (if such a thing exists in rugby league).
None of the teams used a different way to pass or kick the ball that they have since the start of the year. Nor was there a significant change in the technique with which they tackled their opponents.
No, the difference to me was in the mind, and it's one of the main reasons why clubs will 'buy' experience.
It's the experience of being in a more pressurised event, like playing Russian roulette with a rugby ball. If you pull the trigger at the wrong time you're dead, or reduced to watching the final on TV again for another year. (Substitute pulling the trigger for dropping the ball).
Pattern
Let's take a look at the start of the game between Warrington and the Giants.
The Wolves managed to score four times before the Giants crossed the try line. All four of these tries came either directly from a handling error made by Paul Anderson's team (three inside their own half of the field) or from a penalty that was conceded after they'd made a handling error.
It's hard, if not impossible, to come back and win a 'sudden death' game in those circumstances.
On Monday night at the DW Stadium, a similar pattern emerged. Wigan's first two tries came directly from a Viking's error, as did another later in the first half.
So what do you do about this? Well the Vikings probably won't feature in the Play-Offs at the end of the season, so they've got rather longer to work on it, but Anderson's team have just eight weeks before they'll be faced with a repeat of the pressure that they were put under last Saturday.
If anything the pressure is even greater on them now, especially after their previous mid-season collapses in recent years which have been highlighted so frequently by the media. In last season's Play-Offs they embarrassingly limped out when they lost by 46-10 at Hull. Surely it can't happen again this year?
But this scenario is what makes sport so special. Can they rise to the Challenge? What did they learn during that opening 30 minutes at the Halliwell Jones Stadium? Are they mentally strong enough to cope with the pressure? Will they be any different next time?
It's virtually impossible to artificially recreate the pressure and nerves that the Giants were under last weekend, but I think that they've got six more first halves of Super League action to use as full dress rehearsals for this year's Play-Offs.
It's rare to see a team play for 40 minutes without making a single handling error or conceding a try, but that must be a goal for the Giants. When the bullets get loaded in that pistol they need to be capable of hitting the target.