Phil Clarke: developing young talent is crucial for the survival of Super League
Developing youngsters into Super League stars is more important that restructuring, says Phil Clarke.
Last Updated: 10/07/13 2:33pm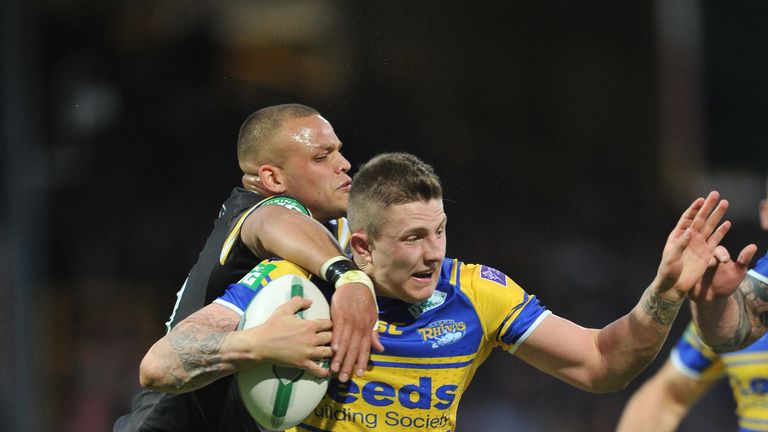 Should we have promotion and relegation? How many teams should the league have? These are the conversations that are taking place at the moment but I think there is a bigger issue that we should be discussing that has a bigger impact on Super League than any of these.
Unless we get the development of young players into first team players right then it seems almost ludicrous to address this restructuring idea because we won't have the players to produce the type of Super League competition that we want.
In recent games we have become aware of some new names in Super League. Names such as Liam Sutcliffe, Alex Foster, Tom Mims, Jordan Baldwinson at Leeds, Grant Gore at Widnes, James Woodburn-Hall, and Harry Little and Mike Bishay at London Broncos.
These players are being picked more and more as players get injured, however my question is are these young players ready for Super League?
When I first started out at Wigan, we had a U19 team called the colts, an A team which was basically your second team and made up of open age men and then there was the first team. The route to the first team was pretty obvious and seemed like a sensible and steady transition from being a talented and promising young player, moving into the A team and up into the first team.
At the moment we have removed that A team. Gone is that second team adult structure that bridges the gap between U19's and the first team. The step up from playing in the U19's to the first team in Super League is just too great and as a result some players are being judged too quickly.
I think it is crazy to determine if a player is good enough so early - I think you need to see them play at least 20 games at the top level before making a decision. And yet this is what is happening. The upshot is that too many young talented players are being lost because they are not given time to develop properly.
I am not the only one who thinks this and there are many youth development officers and chief execs of clubs who are advocating that we try and find a second team structure.
Dual registration
Instead of the second or A team structure, we are using dual registration which is just not working and should be changed.
Dual registration means that, in effect, you are sending out the future of your club to be coached and developed at other clubs - sometimes in lower leagues.
Take Gareth O'Brien who I think has played at four different clubs this year - that cannot really be the best way for O'Brien to develop and get better? Surely it would be better if each club was responsible for their youth and took full care and control of their young players?
Whenever I think about losing young talented players through the cracks I think of Jack Murphy. Jack played for Wigan a few times and was a late replacement for the injured Sam Tomkins in their play-off loss to Leeds last season.
He unfortunately dropped a high ball that resulted in Wigan being caught offside and Leeds went on to score and clinch the game 13-12 and a place in the Grand Final. He was released by Wigan and went onto play a hand full of games at the start of the season for Salford. He now seems to have disappeared off the radar which is a huge shame.
Recovering from that experience at Wigan is very hard for any player, let alone a young one still developing and learning his trade.
Murphy was thrown into a game that he was not prepared for. He had not had the experience of playing at that level and I think more time spent playing under the Wigan guidance, but in an adult competition, would have helped him a lot more.