Super League: Phil Clarke on who will finish in top eight
Who will make the top eight in the Super League? Phil Clarke reveals his thoughts...
Last Updated: 03/07/13 6:18pm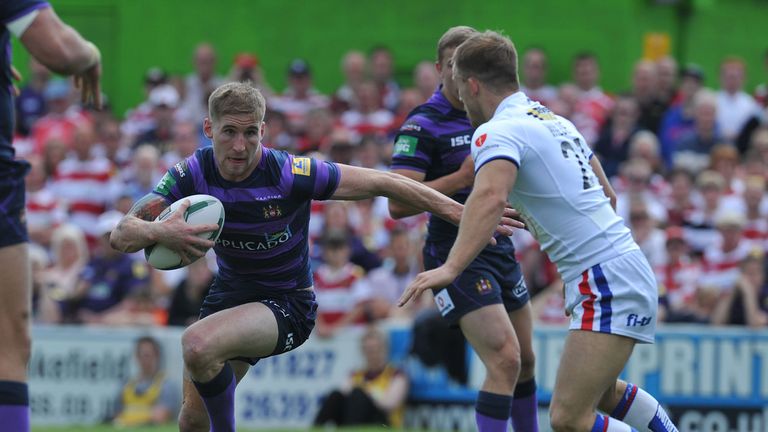 We're at around 20 miles now and from that point you can see the finish line with seven games to go for most of the teams.
The current top three (Wigan, Huddersfield, Warrington) will be the same three at the end, I believe, but in what order I'm not so sure. The Challenge Cup and what teams get to the final may have a bearing on that.
Wigan Warriors, to a certain extent, have had a slump in their last two games, not helped by injury to Sam Tomkins. Having him could bring them back to the pack and I can see Wigan staying at the top of the table.
Leeds will stay fourth, which would be one place better than last year. We then have eight teams below that with just four places to share out for the play-offs. Catalan will make it into fifth and their home games will certainly help them on their mission.
Hull Kingston Rovers had a great win at St Helens last week. It was brilliant and they played as well as they did in beating Warrington in round 5. If they continue with that form they do have a good chance. They have Salford in round 21 and that should be another win which should help them finish in the top eight.
Although they then have to go to Warrington, Wigan and Leeds away so it will be tough for them. Their next game in round 24 when they play Hull is huge.
They will be desperate to make up for that dramatic defeat in Magic Weekend. If they are unable to win against any of those three sides that puts more importance and pressure on this game against their fierce city rivals.
Meanwhile, Hull have lost their last three games. They'll be low on confidence and will, most importantly, be missing Daniel Holdsworth who limped out of Monday night's game against Wakefield with a calf injury.
They are in need of decision makers in the middle of the field and will be desperate for Richard Thorne to return as soon as possible. It is possible they will slip down the table but my tip is that Hull will make top eight.
St Helens are in eighth and their attack has been awful. They've not had any settled half-backs all season. However, when the top teams have been asked who they fear playing in the play-offs, Saints always get a mention.
They very rarely fail to feature in the play-offs and I so think they are a top eight side. They have to play Castleford, Wigan and Catalan in their next three games and two of those are away from home. So it will be a big test of character for the club on whether they can pick up a win in those games.
Wakefield (in ninth) have a game in hand and that's massive and could change the whole complexion of the table. They do have an advantage and that's the fact they love that underdog mentality. They'll also have great memories of last year when they won seven straight games to make the top eight.
They look like they could grind out the wins but I still don't think they will make the play-offs.
I also don't think Bradford Bulls (10th) will be there. This season they seemed to peak at round 9 in their draw with Leeds Rhinos. They do seem to be a really good side but it looks like they invested so much into that match they were unable to repeat those efforts.
Widnes (11th) have had a good season but I can't see them making it. Their attack has improved and their defence has stayed about the same. Their 12 point improvement on last season means they have been a more competitive and entertaining side but that doesn't make them a top eight side in my eyes.
I predict Castleford (12th) have to win six out of their remaining seven games and that includes Huddersfield and Warrington. That's very tough! I don't think they'll make it but they will have an influence on where other teams finish.