Phil Clarke says statistics have become crucial in rugby league
Phil Clarke says the use of statistics, even the number of slips, has become crucial in the game.
Last Updated: 25/06/13 4:55pm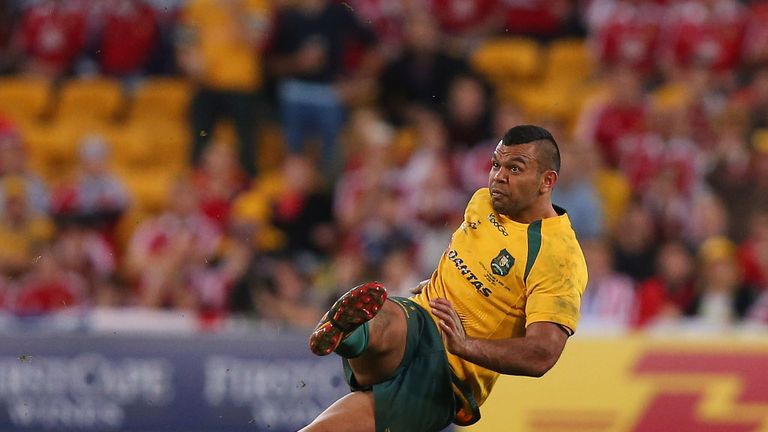 You may have noticed a small bulge in the back of players' shirts, in between their shoulder blades. This is a small device, a touch smaller than a mobile phone, which records how far, how fast and how frequently a player runs. It's even clever enough to tell you about the forces involved in the collisions when he's tackled/tackling.
The information is transmitted via a satellite back down to a receiver at the sidelines, which then feeds into a normal computer, like the one that so many people have in their own homes these days.
My brain isn't bright enough to fully understand how all of this works, or how rugby league has been helped by the Space Race more than 50 years ago. But it's this race forward that has prompted me to stop and think.
Before a recent game at Headingley I spent some time with the head groundsman, Jason Booth. We started to talk about the pitch and the topic of boots came up.
He told me about the report that he provides for the team before a home game so that they can make a choice regarding their boots.
When he first started to do this only one or two of them took any notice. Now, only one or two don't.
People sometimes ask me why I'm so interested in stats. Well it's because some of the stats are hugely significant to the scoreboard, the only thing that everyone is interested in.
Fall guy
At Leeds they watch every game after it's been played, and in addition to the tackles, passes and kicks that take place, also keep a record of how many times each player slips or loses his footing. They do this for when the Rhinos are in attack, and more importantly, when they have to defend.
If you watched a recent game on Sky Sports between Leeds and Widnes you may have seen a try conceded by the Vikings when one of their players appeared to slip and fall over.
Eamonn O'Carroll is one of the most 'honest' players in Super League and always seems to give 100 per cent effort, but he fell down in front of a Leeds player who went past him to score. In the end Widnes lost by 10 points but the six that came as a result of this incident was preventable in my opinion.
I'm not too old to remember actually playing the game and I know that most players prefer to wear the boots that feel most comfortable without necessarily being the best for the playing surface. But that isn't necessarily the right course of action.
If you tuned into the British & Irish Lions game against the Wallabies last Saturday morning you'll have the dramatic conclusion when Australia could have won the game with a late penalty kick.
Their kicker, Kurtley Beale, slipped as he planted his non-kicking foot and his attempt fell short. I'm not sure what type of boots he had on, or the length of his studs, but it proved to be the defining moment of the first test and possibly the series.
As science and technology has advanced at a full-on sprint, we sometimes forget that it's the simple things like studs that can make all the difference to the scoreboard.