Stats never lie!
Phil Clarke looks at the facts and figures to see who could be missing out on an England place.
Last Updated: 14/06/13 11:33am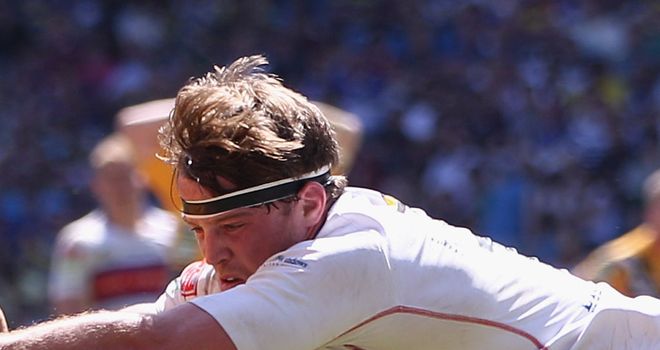 Will England beat the Exiles and convince the country they can win the World Cup? All of the sound bites I've heard from the England camp tell me they 'believe' they're good enough to win the 'big prize'. However, on Friday night, they need not just a win, but to look like a team.
Steve McNamara's side will be minus any players that he might want to select from Down Under. James Graham, Sam Burgess, Gareth Widdop and Jack Reed could possibly make the side to face Australia in the opening game in Cardiff on October 26, but the first ones in the jersey have a great chance to make it impossible for Steve to take it off them.
Selecting a side isn't an easy task, and there's obviously no right or wrong. If you've ever watched the Stats Pack show on a Wednesday evening on Sky Sports you will have seen our Opta Team of the Week. This is a side compiled from the game scores awarded by Opta. They observe every action, both good and bad, where it takes place on the field, the time in the game and the score at the time.
You're given points for doing good things and have them taken away for mistakes. A try to win the match in the last minute of the game from your own half of the field gains you more points than a try in the first half when your team is already 30 points ahead and you simply put the ball over the line. They total all of these together for a player at the end of the game then end with an average score of around 350.
Not perfect
Obviously the scoring system isn't perfect, nothing is, but it does provide us with a consistent way to compare the performances of all the players across Super League. In fact, Opta are also starting to do the NRL games as well, so we'll look at the game scores of the English players Down Under to see how they compare later in the year.
Using a minimum of 10 Super League games to qualify, this was the side selected using the highest average game score.
1. Sam Tomkins
2. Josh Charnley
3. Leroy Cudjoe
4. Kallum Watkins
5. Ryan Hall
6. Kevin Sinfield
7. Richie Myler
I've not seen the team Steve has selected to start but I imagine that the back line is very similar to this. Clearly there's no chance of Watkins playing, he's injured, so the other options are Hardaker or Ferres, but I'd like to see Stefan Ratchford picked instead. I think he's brilliant. His average game score as a centre was higher than the two centres above, but he's only been selected there for one game this year. He's scored just less than Sinfield in his 11 games at stand-off and almost as high as Tomkins when he's played four games at full-back.
The pack proposed under the Opta game score will be quite different to the one that now runs out at Warrington on Friday evening. Here are the players with the highest Opta game score:
8. Jamie Peacock
9. Danny Houghton
10. Eorl Crabtree
11. Liam Farrell
12. Danny Kirmond
13. Jon Wilkin
It's interesting that after retiring from international rugby league, Jamie Peacock is possibly having his best ever season. My colleague at Sky, Ian Proctor, pointed out a very interesting fact recently when we were discussing the influence that Peacock has on the Rhinos. In his first four seasons at Leeds, he missed a total of 10 games, the Rhinos lost just once (90% success rate). In the last four seasons, he's missed 35 games for Leeds of which they've lost 12, drawn 2 and won 21 (60% success rate). Both his performances and his presence have a massive bearing on his team's chances of winning. A player's game time (how long he spends on the field) has some relevance to his game score, particularly for the forwards.
James Roby would have been selected with his average game score but he hadn't played enough games to qualify under our system.
I suppose the stand-out name on this list is Danny Kirmond. It can sometimes be hard for a player in a team in the lower half of the league to stand out and impress.
His club might not be that glamorous and he might not have played in any finals or Grand Finals, but one of the advantages of using a statistical approach is that it strips away any biases we might subconsciously have.
If you were sat with your mates and dreaming up your back row players, it's very easy to think of the players who've been selected before. Players like Gareth Hock or Gareth Ellis spring to mind, but I wonder how Danny Kirmond would look in an England shirt?
The thing that I learned whilst working in the Great Britain squad a few years ago was that the team that starts a tournament or Test Series is never the same one that finishes it. This year's England squad will probably lose three or four players due to injury/illness or even suspension. Keeping the fringe members happy when they're not in the squad or team is sometimes the hardest part of picking a team.