No place for punching in rugby league, says Phil Clarke
People who think there is nothing wrong with a punch-up in rugby league are wrong, says Phil Clarke.
Last Updated: 22/05/13 10:55am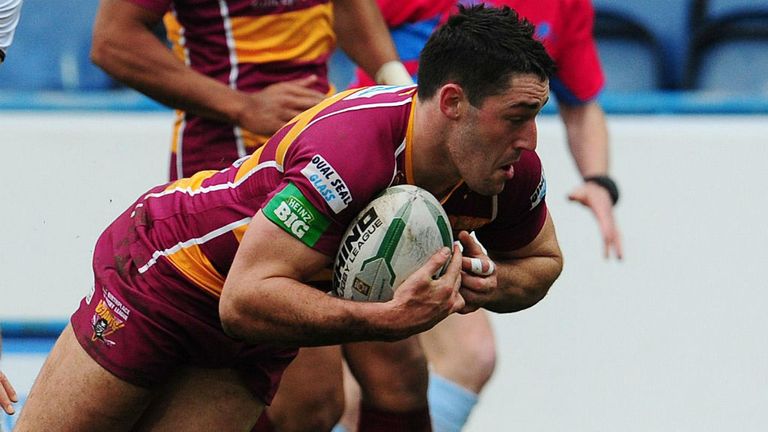 It has been said this season by some former players and coaches that "there's nothing wrong with a punch up!" Well, I'm afraid that's not true on many fronts. I know that it will happen from time to time.
Rugby league is a contact sport, players need to be in an aggressive state to play and at times things will 'boil over'. However we can't go around saying how proud we are that our players 'respect' the referee and don't swear at him, but allow players to fight and stay on the field.
Five players have been sent off this season in Super League for fighting or punching. Joe Wardle was also sent off recently in the Challenge Cup and it seems pretty clear that the referee has been instructed to show the red card as the game continues to improve and maintain the disciplinary standards in the sport.
Throwing a series of punches to the head of an opponent is serious foul play, against the rules of the game, has the potential for injury and more importantly is totally against the spirit of the sport. The Laws of the Game clearly state that a player is guilty of misconduct if he trips, kicks or strikes another player. They also state that in the event of misconduct by a player, the referee shall, at his discretion, caution, temporarily suspend for 10 minutes or dismiss the offender.
Just as everyone knows it's not possible to throw the ball forward, all of the players and coaches who've read the rules know that you are not allowed to punch an opponent.
One only needs to look at the Guidelines for the Disciplinary Committee to see how clearly this is stated. There is a sliding scale for this offence ranging from a player who may simply react and lash out at an opponent with one punch, to the player who throws a series of punches, to the most serious when the players throws a series of punches in the worst way possible, running in to join the fight.
For those people who argue that it used to happen in the past, well firstly they need to accept that it can't happen now because it's against the rules, and it's not what the game is about.
Thuggery
It was fascinating to listen to the Warrington legend of the 1970s, Mike Nicholas, when he appeared recently on Super League Super Stars. Just to remind those who may not be aware, Mike was sent off about as often as Martin Offiah scored tries. However he was adamant that the game is much better now that it has cleaned up the sport. He admitted that it was thuggery in the past and sadly that's what some players had to do to survive.
The introduction of video cameras at games throughout the '80s was primarily the reason why the game was able to end the violent play that existed. Every one of the 'hard men' of the '60s and '70s that I've ever met has said that they much prefer the game now. It's cleaner but much harder and far better to watch in their view. They claim that the sport is faster and much more skilful, it's not about fighting and it never should be.
In fact, Mike said that he wouldn't have wanted his son to play in the days when someone was stretchered off and another one was sent off in almost every game! He is happy to promote the sport to any youngster now.
I like to watch a hard game of rugby but know that punching is not acceptable in society, and nor should it be on a rugby field. The sport has many occasions when a player can show how tough he is, either when he runs with the ball or makes a tackle. We aren't trying to compete with boxing or MMA.
Those who want to 'Bring Back the Biff' have a mistaken memory of the game 40 years ago. The aim of the game is to put the ball over the try line not to knock your opponents head over the sideline.
I am also a believer that sport has an important role to play in society, and it would be difficult to explain to young people that fighting isn't allowed if it were condoned on the field of play. I understand and appreciate that each incident needs to be viewed carefully by the referee.
The aggressor needs to be treated more severely than a player who could claim that he was trying to defend himself. However, rugby league like to think of itself as a sport of great discipline; let's maintain it.