Super League is heading towards some dark times unless something is done, says Phil Clarke
Phil Clarke has concerns about Super League's future and looks at solutions to stop a downward spiral.
Last Updated: 11/04/13 11:12am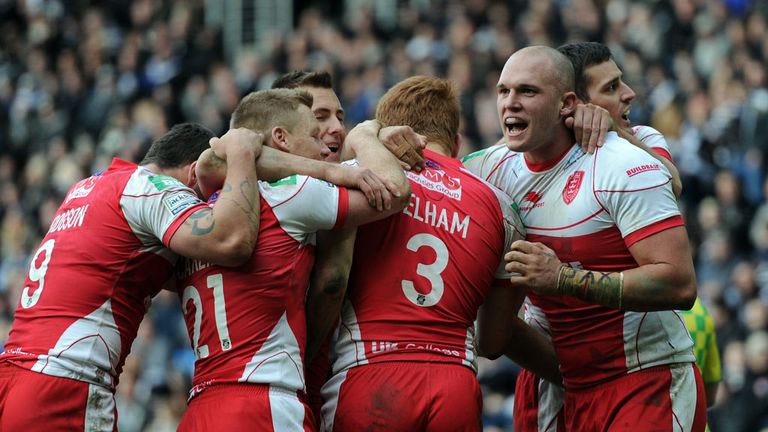 Well let's begin by listing some facts. The Super League competition has no major sponsor, the chairman of Hull KR has decided that he cannot justify losing more of his own money just to rank as a mid-table team, London's crowds are going down not up despite all of the efforts put in to boost the game in the capital, there is no sensible pathway for players to progress to the highest level (dual registration has been a disaster in my opinion) and the fact that a city like Hull has not managed to produce a half back in the last decade is a sad indictment of our junior development.
We can add to all of this that the game's administrators are now discussing how many teams we should have in the Super League competition less than three years since the second round of licenses were granted to have 14 teams in the top division. The majority of clubs are not financially sustainable and some things need to change.
I will not go on about many of the other mistakes that have been made over the last five years but we have reached the point where a think tank of the best brains in the game is needed to provide the medicine rugby league needs.
It would be neglectful of me to sit quietly and watch the game continue its slide into decline. I know we had a great game between Leeds and Bradford on Maundy Thursday and there was a great crowd to watch Wigan play St Helens on Good Friday, but these are merely papering over the cracks that I see - cracks that are worryingly widening as each week passes.
The growth of rugby union in the UK (which can be measured in several ways, however you want to discuss it) and the lure and attraction of the NRL Down Under (the salary cap is increasing significantly, whereas it hasn't increased significantly here in the last ten years) are a massive challenge to rugby league in this country. Unless we do something soon we will lose the majority of our best players.
We will get to a point when we can't call it Super League.
Solutions
So being positive, optimistic and pragmatic, what do we do? I do think there is a chance for us to change the way the game is going and the new chairman, Brian Barwick, joins the sport at a pivotal moment. His bold and brave leadership will define the fortunes of the game for the next generation of followers.
I would strongly suggest he listens to the advice of people such as Ian Lenagan, Eamonn McManus and Gary Hetherington.
I also think it would be a good idea to hear from people such as David Waite and others who have a deep understanding of how the game should develop. To me, it make sense to listen to men such as Jon Wilkin and Jamie Peacock and try to understand what the whole game needs to grow.
There are several examples of clubs and sports turning things around in a three year period but it usually takes a change of direction to pull this off.
Currently we have several clubs struggling which could quite possibly cease to exist. I know this is not exclusive to rugby league, but unlike some other sports we are not big enough to cope with the loss of a couple of clubs.
I know the game has had its dark days before and survived but the landscape has never been as competitive in the UK as it is right now. Competition for pounds and players from many other sports means that there will be some casualties over the next decade. I don't want it to be rugby league.