Nurturing our game
Expanding competitions and travelling to exotic destinations is not the best way to develop rugby league, says Phil Clarke
Last Updated: 06/03/13 1:02pm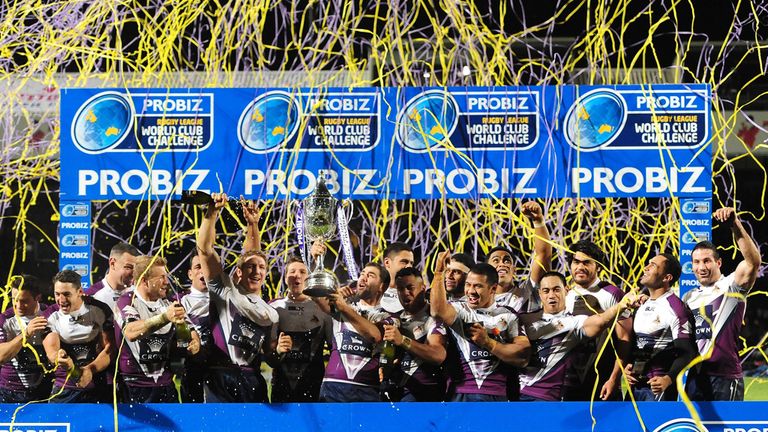 It might be a World Cup year, but I really want to discuss the World Club Challenge where club teams and not countries are competing at the highest level that rugby league has to offer.
If the rumours are correct, the leading sides in Super League want to find a way of making this event even bigger and better than we saw at Headingley two weeks ago. Most professional sports want to have a global audience and the days of a local derby between two teams and supporters separated by a short distance are fading into a nostalgic memory. Or so we are led to believe.
I have repeatedly stated my respect and admiration for the things that Gary Hetherington has achieved in rugby league and I applaud his efforts to discuss ways in which the sport can grow this event. Hetherington's idea is that the three top clubs from Super League take on their counterparts from the NRL. That means that third place will take on third place and second will play second. But I just can't see how we can make it anything more than first against first - the winners of the Super League against the champions from the NRL.
Losing interest?
Let's look at the facts. Leeds sold out the game at Headingley and could probably have sold a few thousand more tickets, but not the 37,000 plus that they did when they played at Elland Road in 2005 or the 33,204 that saw them play against the Storm in 2008.
Two years ago Wigan entertained the St George Illawarra Dragons at the DW Stadium and were unable to sell out the 25,000 seater stadium and yet drew almost 37,000 people back in 1987. If Warrington were to win the Grand Final this year, how many supporters would they manage to get next year? Would they have the confidence and demand to take it to a larger football stadium, say Anfield, or stay at home and limit the crowd to less than 15,000? What makes us think that there is significant interest from the public? Is there much interest to sponsor the event?
A look at the crowds for the World Club Challenge over the years suggests that the appetite of the paying public is less than it was in the late 80's and 90's. Both Wigan and Widnes drew bigger crowds back then than we see today. Is that the reason why we need to change? Is it losing its appeal? Most businesses and events expand when they can't grow further, I don't sense that we're quite there yet.
A general observation of events like the Heineken Cup in rugby union and the Champions League in football suggests that people like to see international club competitions, but they don't all work. I can't claim to follow football that closely, but I don't sense much interest in the FIFA Club World Cup, between the champion clubs from six continental competitions and the league winners from the host nation. The most recent final saw Chelsea lose to Corinthians from Brazil, but it didn't feel like a big deal in the football world.
I've spent ten days trying to imagine how an expanded WCC tournament could work and have failed to come up with anything. What's the purpose of a game between our second and third best and theirs?
Motivation
To widen my view I thought I would ask the opinion of the highly-respected Frank Ponissi. He's the General Manager of Football (read rugby league) for the Melbourne Storm. He's been an important member of the club for several years and has also lived and worked in the UK when he spent time helping the Northampton Saints to be successful in rugby union. He's a bit like me in that he struggles to see how players could take it seriously. What's their motivation? Well, as professional sportsmen you could say money, they get paid to play and entertain, but there is a limit to the number of games and amount of travel. Would the numbers stack up to make it worthwhile by the time that one team have flown half way around the world? I don't think so. Another local derby game might produce a bigger crowd for most teams that weren't playing for the WCC prize.
Frank is an expansionist, and wants to find a way to make the event grow. His players loved the unique atmosphere at Leeds and have even learned the words to some of the songs sung by the Rhinos supporters. But neither of us can buy into the current plan that's being suggested.
This then leads us on to the topic of expansion. The NFL has spent millions over the last 20 years trying to grow their game in Europe. They have games at Wembley a couple of times a year for competition points, not just exhibition games which don't seem to work and the crowds always look impressive, but what's the longer term plan?
The NBA have also announced that they will play some of their preseason games in October, with stops in Manchester, Manila, Philippines, Taipei, Taiwan, Beijing and in Shanghai. Apparently, nearly a third of the NBA teams will embark on a global tour to strengthen their ties with their international fans and bring new ones to the NBA.
Rugby union appears to have used the IRB Sevens tournament as an advertising and marketing initiative for 15-a-side rugby. It's almost a different game to the real thing but it has helped to spread their sport. Inclusion in the 2016 Olympic games is perhaps proof of that.
Growing our game
So how do we grow our game and make the World Club Challenge a 'must see' event?
For some years now people have looked at taking this match to a new place. Russell Crowe suggested Las Vegas, others Hong Kong, and one or two have had a look around the Middle East to find a suitable venue and significant interest. But nobody has been able to pull this off.
Sadly we don't appear to have a strategic plan that co-ordinates with the international game. How do the clubs and the countries that play rugby league develop in harmony? Who pays for this?
It's almost 20 years since I was lucky enough to play in Brisbane in front of over 50,000 people. It was the only time that a British team have won over there and really the only time it's happened. (St Helens did lose in an unofficial WCC in 1976).
We have a history of failure when trying to develop and expand rugby league and in my opinion an expanded WCC would be another. We need to be attracting 50,000 plus to the match before we widen the competition.
Let's put more effort into playing it at Wembley in front of a full house, with our best against their best. Create an atmosphere that encourages people to buy their tickets 12 months in advance and use one of the world's best cities with a world famous stadium to make a world class event.