Lessons for London
Phil Clarke says the Melbourne Storm model can help the RFL develop the game down south.
Last Updated: 26/02/13 4:56pm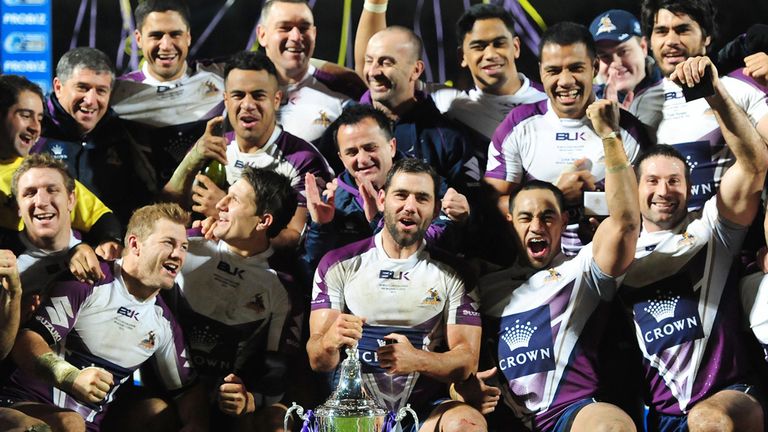 Congratulations to the Melbourne Storm, not just for their performance on the pitch last Friday at Leeds but also for their open and welcome attitude to the people they met whilst in the UK.
They seemed willing to share their secrets with anyone interested enough to listen and make the extra effort to learn.
Their biggest secret is that there is no secret. Hard work, good planning and self-sacrifice are all mixed together into an intense working environment, with personalities that just don't want to win, but 'need' to.
Most viewers won't have seen the time and patience shown by the Storm players after the game had ended. They stood out on the field and went to any supporter who wanted an autograph or photograph. It was exceptional and a great example to any player in this country.
The club are an interesting one in that they live outside the traditional heartland of rugby league in Australia, a bit like London Broncos do in Super League. The sport wasn't played at a junior level when The Storm first began playing in the late 90's and it's taken them a long time to develop some of their own junior players. Again there is a similarity to the Super League side from 'down south'.
Melbourne have been very successful on the field but at quite a price. I'm told that last year they lost approximately $7.5 million and this wasn't a one off. They've been losing money for the last decade and have relied on both the most intense coach in world rugby and some generous benefactors to make them the force that they are.
What lessons can we learn from them and how can we use it to benefit London? Most people reading this article will be aware that the Broncos have lost all four games this season and were beaten by Wigan by 30 points last Sunday. But how many of you knew that the Broncos Under 19's team won in Wigan last Saturday?
Yes, lads who have only been playing the game for a few years travelled up by coach and beat the best young players in a rugby league stronghold. That has to mean something. It's not just a one-off either. Think about players like Louis McCarthey-Scarsbrook who learned to play in London and now gets picked for St Helens every week.
So I'm saying that there is some potential in the playing ranks in London and the South but do we have a plan from the RFL and other clubs to help it? What have we tried and what should we do next? What is affordable and sustainable? What's realistic and what will help rugby league in London?
This week's Boots 'n' All has the new Non-executive Chairman of the sport, Brian Barwick, as a guest and Eddie will be asking about the strategic plan for the game. The future of the London Broncos has to be high up that list and I hope that we get to hear some of the answers to the questions above.
I'm fascinated to know what would've happened to the Melbourne Storm if their financial backers had not continued to support them. Where will they be in another ten years? They face some similar challenges to the London Broncos in that rugby league isn't the most high profile sport in their home territory. Nevertheless, it's clear for us all to see that there are enough young men to play and excel in many sports if the opportunity is there.
London need a lifeline of help and support. It's fine for Warrington, Leeds and Wigan to talk about an extended World Club Challenge series, but could we be guilty of looking too far away on the map and missing what's important in our own competition?
Brian Barwick's CV is an impressive one and he appears to have the enthusiasm needed right now to help rugby league.
In the World Cup year, it's vital that we keep rugby league alive in London.
Salford's revival
I said during last Sunday's game at the City of Salford Stadium that the Reds have had a 'heart transplant' and will take some time to recover. Not only do they have a new Chairman but they're also searching for some new players. It's as if they are still waiting for some new valves to be fitted into the 'new heart'.
In those circumstances it was a remarkable win and I hope that the loyal band of Salford supporters enjoyed Sunday night.
When you look back at 2012 you remember that the Reds had players wearing the important jerseys of 1, 6 and 7; Patten, Holdsworth and Smith. All of them are gone and I'm amazed that they're doing as well as they are. Patten and Holdsworth scored or set up almost 50% of all the tries scored by Salford last year and it has and will take them some time to replace them.
They're also still adjusting to life without Matthew Smith who left and went to Wigan midway through the year. But life's 'sliding doors' usually gives somebody a chance and it was pleasing to watch Marc Sneyd move into the spotlight. He made some errors but did some great things and I hope it's the start of a successful career. He can certainly kick a ball and he's at a club that has some attention on it at present.
The new owner/management have a chance to make a difference and, after 40 years of making up the numbers, they could well win the Grand Final in four years' time.