Going postal
Phil Clarke asks Wigan's Royal Mail sorting office to pick their Super League dream team...
Last Updated: 05/02/13 1:03pm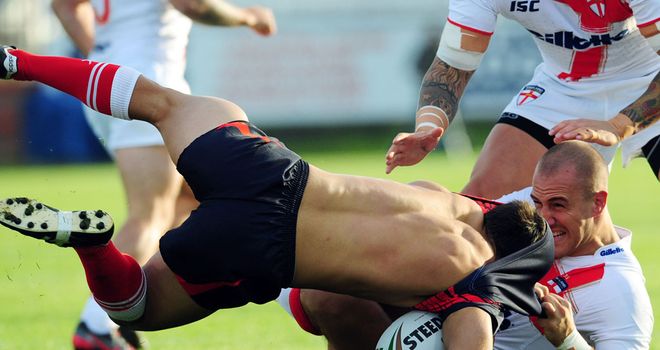 One of the benefits of living in a town where rugby league runs in the water is that you're never far from an 'expert' opinion.
For those who don't know, I still live and work in a town called Wigan, located half-way between Manchester and Liverpool.
It's a place where they have played rugby league for over a hundred years and most probably will for at least the next 100.
Lollipop ladies, landscape gardeners and lab technicians all know their rugby in this part of the country. You only need to walk down the street to hear someone's view of Super League and who the half-back partnership for England should be.
I'm also lucky that I have two of the best rugby brains in the Royal Mail delivering my post. Their blood type is 'rugby league' and they usually know what they are talking about.
So, with the new season just started, I asked them to select their 'dream team' for 2013. There was no cap or limit applied to their selections, they were free to choose whoever they wanted and between the two of them came up with the following:
1. Richards/Tomkins
2. Charnley
3. Hardaker
4. Watkins
5. Hall
6. Lomax/McGuire
7. Tomkins/Lomax
8. Mossop
9. Roby/McIllorum
10. Carvell/Hill
11. Hock
12. Ellis/Westwood
13. Sinfield/O'Loughlin
14. Burrows
15. Morley
16. Menzies
17. Manu
They couldn't agree on some positions so I've listed the alternate vote.
The less radical postman had Sam Tomkins at fullback, an unusual position for him before Michael McGuire decided to put him there after Amos Roberts injured his knee. Numbers two to five, meanwhile, saw them in agreement. They did mention Tom Briscoe as a possible winger, with Ryan Atkins and Leroy Cudjoe as a consideration in the centres.
They deliberated over the half-backs for some time. It's surprising that neither of them had Kevin Sinfield in the position that he has played for Leeds over the last two seasons. His last five Test appearances against Australia and New Zealand were in the half-backs and yet some people still see him as a loose forward. Is it because he plays in the number 13 shirt at Leeds?
Danny Brough seems to be a player that supporters either love or hate. I'm sure he'll be feeling the 'love' from the Giants fans after his efforts at St Helens. Richard Myler seems to roam under the radar but will be on Steve McNamara's 'possibles list' I'm sure.
People's perceptions are somehow biased on several fronts. The fact that the postmen live in Wigan would have an influence, added to the fact that the last big game they saw was Leeds' victory in the Grand Final. I think that there may be other alternatives on McNamara's list, but their two to five look strong to me.
Play it again Sam
Picking Tomkins at scrum-half created some debate in the Wigan GPO sorting room: is it lunacy now that he's been voted the best player whilst playing at full-back? Has Pat Richards had his best days?
Do you need another scrum-half type player in the number one jersey to provide the extra attacking player out wide? These two postmen saw him playing as a scrum-half before he hit the big time (does anyone remember he scored five tries as a scrum-half in his Wigan debut?).
I imagine that several clubs and coaches have spent the last four months trying to get their full-back to play more like Tomkins did last year at full-back (three tries in his first game of 2013 shows how dangerous he can be roaming in the back field).
As defences improve in the middle of the pitch the task of finding space out wide, and more importantly, delivering the accurate passes to those teammates in the gaps, becomes even more important.
Neither of them went for Rangi Chase either. Can he bounce back this season and take the Tigers into the play-offs? Coach Millward needs to hope that he can get the chemistry right so that he can be the thing that sets them on fire this year.
Lee Mossop is one of the most respected players in Super League, even though his work often goes unnoticed. The speed of the game sometimes means that we don't have time, or the brain capacity, to take in just what he and the other props do on the field.
Radical selections
There is little surprise around the number nine jersey, and I'm not surprised to see Chris Hill's name on the list as a prop. Gareth Carvell is the other radical suggestion, don't forget he only played in 20 Super League games for the Wolves last season and wasn't selected by Tony Smith for the Grand Final.
Harrison, Hill, Morely and Cooper all seemed to rank above him in the Wolf's lair. I thought that one of them would have voted for Jamie Peacock as a prop, and it seems like I'm in the minority by viewing Eorl Crabtree as a good player.
Both of the selectors were unanimous in their selection of Gareth Hock. They recognised that he makes mistakes, concedes penalties but also has the ability to win games. Would you have him in your team? Or would you go for a more of a Jamie Jones-Buchanan type player?
Without even seeing him play over here for years, Gareth Ellis made one team, with Ben Westwood his rival for a second row jersey. Sean O'Loughlin was the other vote for the position of loose forward. (Let's hope that Ellis' injury isn't serious and that he's back in action soon).
I hadn't asked them to select subs, but it seems that most supporters see the game as a 17-man effort now. Will that change in the future again? Will teams leave their best players on the field for longer? I'm fascinated to see the first team that tries this.
Rob Burrow's speed and vision was seen as a major threat to any team as they began to tire when the game wears on and yet this wasn't really how he was used at Leeds last year.
He did play more at hooker than scrum-half in 2012 and it will be interesting to see how and where Brian McDermott uses him this year. After 50 minutes of round one he moved from hooker to scrum half when Paul McShare entered the field. IS this the best way to get the most from him?
Every supporter always has a favourite player at a rival team, someone that they respect even though he may have caused his team some pain in the past. For many people Adrian Morley is that man.
Well liked and universally respected he's given a seat on the bench. As is Steve Menzies, who possibly falls into that category. His two tries against Hull KR prove his point scoring ability is still alive.
The final place in the dream team went to a player who looked brilliant at Hull in 2012. Willie Manu makes Morley and Menzies look young at 32, but maybe that's the new 22. Josh Hodgson at Hull KR was the only forward in Super League to score more tries than him last year.
In theory he'll be even more dangerous at St Helens this season. He's a luxury item, a bit like a leather interior in a car, but if the engine doesn't work hard enough, as we saw against Huddersfield, it's not really worth that much.
Still, it's pretty hard to argue with my postmen, they're better than Rod Studd when it comes to justifying their selections, but I'll have a go if you can send me one name, and a really good reason why they should be in this team.