Phil Clarke picks five rugby league areas from 2012 that had Olympic quality
Phil Clarke looks back on the season and picks five areas that he believes had Olympic quality.
Last Updated: 28/11/12 12:49pm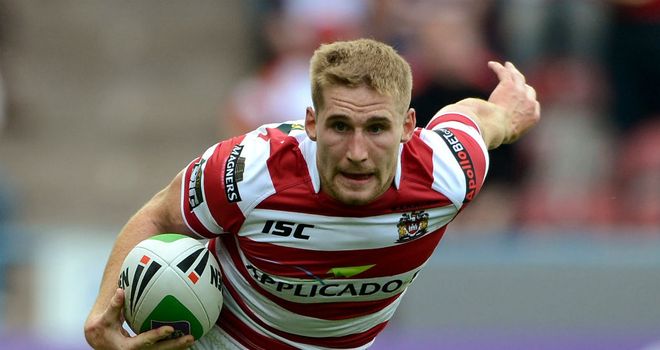 Well, I've picked out five areas in Super League that had Olympic quality; it was another season that will live forever in the minds of the men who reached for the stars.
Player of 2012
Some players are described as 'once in a generation' and the 2012 Man of Steel is that in my opinion.
Sam Tomkins managed to be even better this year than last, another hallmark of greatness. His 'stats' were amazing and he has the charisma to match. Wigan didn't lose many games through the season, but they did struggle without their main man.
He's built more like Mo Farah than Usain Bolt, but his speed and evasion were the reasons why he managed to score 29 tries in just 26 Super League games. His vision and skill show that he can create as well as finish opportunities and he laid on the final pass for another 27 tries this year. Will anyone be able to stop him in 2013?
Newcomer/s of 2012
It's almost impossible to select and identify which players are going to be successful in the future.
Wigan released Tomkins a few years ago, and look where he is now! For what it's worth here are the five guys who have potential over the next four years to become the best in the game.
Greg Eden: The Giants' full back burst onto the scene and was at one time compared with Billy Slater by some. He's a little bit older than the other 'newcomers' but he certainly made the headlines in the first half of the year. He seems to have enjoyed moving house and has a new 'home' in 2013 at Hull KR. Will he be good enough to get the Robins into the play-offs?
Kieron Dixon: It's hard to look good in a losing team but Dixon did, for me. I know that he made some mistakes but his enthusiasm made up for those, and his ability did the rest. Scoring 12 tries for the Broncos in 2012 wasn't easy and I hope that we get to see him playing in a team that wins half their games this season, then everyone will know just how exciting this young man can be.
Joshua Jones: What a find. Mike Rush and his colleagues seem to have done it again. They discovered and developed a young player who made 18 appearances for them following his debut against Warrington in March. By the end of the season, he looked like he'd been there since the 'wide to West' try. Listen out for his name a lot next season.
Steve Ward: He may have only scored one try in Super League this season but he made one massive impression on me. I remember the game that the Rhinos actually lost at Wakefield in July when this young man looked like the classiest player on the field. People have said that he's the 'next Kevin Sinfield'. I think he could be even better.
Gareth O'Brien: For someone who started this season by running out for the Vikings (he went out there on loan and played four games) he progressed to the stage of being one of the Wolves' best performers by the time that we got to July. Fifteen games gave him some brilliant experience but he suffered a shoulder injury which ended his year. I'm looking forward to seeing some more of him in 2013.
It's very difficult and notoriously flawed trying to predict a future star in sport. It's much easier to identify players who play in the Backs than in the Forwards. Dominic Crosby showed some potential, but as a prop it usually takes longer to mature. John Bateman is the other stand out player who looks brilliant from what I've seen.
Team of 2012
Most of the media attention was taken up by the Bradford Bulls last year, but it was the Wakefield Wildcats that had my eye. They began the season with a gang of players thrown together at the last minute and expected to finish 13th or 14th. They ended the season by almost beating the eventual Champions in the play-offs. Can they do it all again next season now that they are no longer the underdog in every game that they play?
Coach of 2012
The official award went to Mick Potter, but I don't agree with that. I'd have preferred Tony Smith (winners of Challenge Cup and Runners-up in the Grand Final) or Brian McDermott (runners up in Challenge Cup and winners in the Grand Final) to receive the award if you went down that route.
However for the reasons listed about, Richard Agar, wins my award for coach of the year. His squad of players didn't stop believing even though they had won only one of their opening six matches and showed the greatest amount of progress over eight months.
After a disappointing end to his time at Hull FC, Agar has rebuilt his reputation and walks into 2013 with a confident manner.
New Trend of 2012
Make sure that your team gets thrashed in March (add a little public humiliation away at St Helens if you can, then is embarrassed and booed off in June (Wigan made it look easy to score 50 points at Headingley), before finishing outside the top four and conceding almost 50 points in your last game of the season.
Then have the best four weeks of your life and win it from fifth!
Yes, I know that they did it last year as well, but it does seem to be a trend that Leeds are setting. It sort of contradicts what all of the performance experts say about needing to perform consistently throughout a season, but it seems to work for the Rhinos!