Late but still great: Phil Clarke says Leeds Rhinos are worthy Super League Grand Final winners
They might leave it late, but Phil Clarke says Leeds deserve to be recognised as Super League champions.
Last Updated: 02/11/12 3:55pm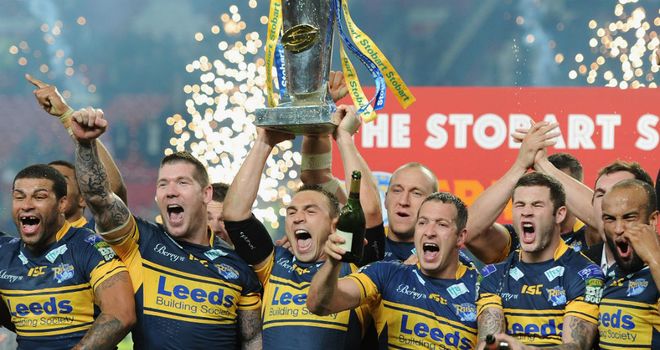 The ageing champions had been written off and yet somehow produced an emotional surge of energy that lasted four weeks and took them to the winner's podium. I thought that the Grand Final was a compelling contest and a very tough game of rugby and a fitting finale to the season.
Leeds have an ability to lift their level of performance to a higher plane when the pressure is on. It is impossible not to respect their achievements. People sometimes wonder whether 'experience' is over-rated in sport, but it seems to me that it might even be undervalued in rugby league. They just seem to know what is needed at this time of the year.
Warrington scored the first try, as they've tended to do this season, and Leeds even accepted that that would happen, but from then on the Rhinos got into their running.
We knew before the game started that the Rhinos needed the majority of possession to win the match, and in the end they'd had a total of 21 play-the-balls more than Warrington. They've really struggled to win in 2012 when they've had less than 50% of the ball.
They also made a lot more passes than the Wolves and targeted Tony Smith's team via the Leeds left-sided players. At the end of the game they'd had almost three times as much action on Ablett's side to Watkins.
Warrington weren't that far off winning and there can be a tendency to over-analyse the losing side when looking for reasons why the favourites have lost. Although Kevin Sinfield won the Man of the Match, and Carl Ablett received lots of credit, I felt as though the men in the middle for McDermott's team were the biggest difference between the two sides.
I might be biased towards him because I like him off the field, but Jamie Peacock was immense in my opinion. You may have seen him walking around the rugby field looking shattered at times (he's walked like that at times for several years) but it's hardly surprising when you realise that he made 30 tackles and 32 runs with the ball.
Gaining ground with the ball is an essential part of the game and nobody did this better than JP last Saturday. I also think that in a helter-skelter game as fast as the Grand Final it is easy to miss the work that Jamie Jones-Buchanan and Brett Delaney did.
Those back rowers are part of the reason why Leeds have been so good at defending over the last four matches. In the regular season (i.e. 27 matches) they conceded an average of 24.5 points a game. During the Play-Offs they managed to reduce this to just 17.3. That's a significant difference. T
heir attacking play remained pretty consistent between the season and the four sudden-death games, it was the ability to reduce their number of missed tackles, and as a result the number of points they conceded, that was the reason why they appeared on the winning photo again.
I don't know much about the stamina of a rhino, but I do know that if you haven't killed the Leeds' version after 60 minutes of trying you could be in some trouble. Not only are they the competition's best at scoring tries in the last 20 minutes of matches this year, they again showed that they know how to handle the pressure, and find the points in the last quarter at Old Trafford.
In the 2011 Grand Final they scored four tries in the final 20 minutes against St Helens and won the game. Against Warrington last Saturday they again outscored their opponents as the clocked ticked down to the conclusion of the season.
Thank you and well done to both sets of players. You certainly put the Super back into this League.
Phil answers your emails...
Got a question for Phil? Email him at skysportsclub@bskyb.com or use the feedback form below...
Final flaws?
Phil, Impressive as Leeds were in the Grand Final, I do think that their win is bad for the sport and for the format of the Play-Offs. Having the Super League champions as a team who have been average for more than half of the season is not good for the sport! What Leeds have proved is that being able to win the big games when the Play-Offs come means that the rest of the season is not that important. The Play-Off system is supposed to reward sides for their success during the season, maybe the format needs looking at in light of Leeds' wins. Finishing fifth means that you start your Play-Off campaign at home and then you can take some momentum in to the next week where you meet a side that has been beaten the week before. Steve Chatwin
PHIL REPLIES: Interesting point of view. If you accept the idea of a Play-Off system then you should be happy that a team from fifth has won it. If the team from first or second won it every year then there would be no point in trying to drag fans to Play-Off games. If you feel as though there should be a greater advantage in finishing first or second then let me hear it.
We all know that the rest of the season is not that important, where have you been for the last 12 months? It's September when success is determined. I am sure that every coach and player know the rules and competition format in January. It's not cheating to win it from fifth, sixth, seventh or eighth. It's just much harder.
The Play-Off format has been agreed with the clubs for the next four years, and it is to have eight teams in it as far as I am aware. You and I may not agree with that, for example, eight seems too many to me, but you wouldn't drop it to less than five, even if you did reduce it slightly.
If you don't accept the Play-Off system, then Wigan were the champions in your eyes. If you do then it was Leeds. Better luck next year.
Sporting chance
It is a disaster for league to see Leeds do it again. If we are going to stick with this Play-Off rubbish then it needs to go back to the old system. Leeds are champions again after winning only 16 of the 27 league games and losing five more games than the top two teams. Once again our game is a laughing stock to other sports. Lee Davis
PHIL REPLIES: Is that really the view of other sports? It is clearly how you feel, but perhaps not the other 70,000 people who paid to watch Warrington play Leeds last Saturday. I agree that Leeds haven't played consistently well in Super League games this season. (They've actually conceded more points this year than they have for the last 10 years). But again, that is how the champions are determined in this competition.
I believe that the Grand Final has been credited as a wonderful spectacle, in an entertaining sport by many journalists / media outlets since Saturday. We would never have been able to get 70,000 people to watch a team crowned champions in a first-past-the-post system (i.e. top of the table at the end of the regular season like they do in the Premier League). Does that not help a sport like rugby league?
Sinfield of dreams
What do you think of Kevin Sinfield? For me, his unassuming, post-match comments, deflecting praise to others, remind us, in these days of over-paid, over-hyped, over-egoed "superstars", what the term "sportsman" really means! Michael Flannery
PHIL REPLIES: I'm not really a fan of knighthoods for people from sport, but you could make him Sir Kevin for me. He seems to maximise his potential which is all that anyone can ever do.
His goal kicking in the Play-Offs is absolutely remarkable and I hope that he and his team-mates can enjoy the next few weeks together. Well done.