A feel for Steel
How do you choose the Man of Steel? Phil Clarke explains why it's hard to compare top players...
Last Updated: 26/09/12 4:34pm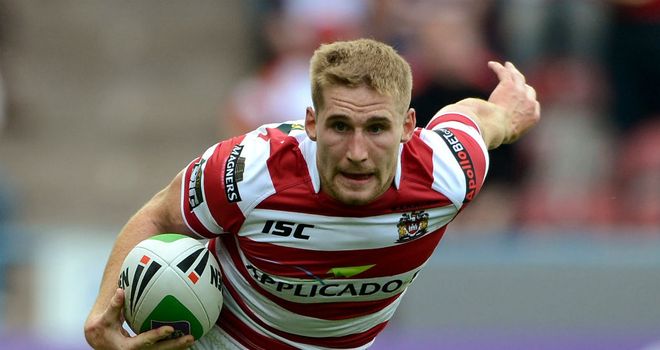 The Man of Steel award, for the player deemed to have had the biggest impact on the Super League season, is always a hotly-debated subject.
It's an art and not a science, as you have to use your own opinion and preferences. It also means that you have to try to cast your mind back several months and remember who was playing well in February, March and April.
However, by far the hardest part in my mind, is when you try to compare players from different positions.
This year, we have a full-back, a hooker and a second rower. All of them have been outstanding and caught the eye. Their consistency of performance is exceptional.
Listed below are some stats recorded by Opta on those three players in the Super League this season.
| | | | |
| --- | --- | --- | --- |
| | JAMES ROBY | SAM TOMKINS | BEN WESTWOOD |
| Apps | 26 | 26 | 18 |
| Runs | 875 | 486 | 273 |
| Metres gained | 4091 | 3545 | 1932 |
| Tries | 7 | 29 | 9 |
| Breaks | 15 | 39 | 7 |
| Assists | 15 | 27 | 2 |
| Tackles | 1005 | 113 | 481 |
| Kicks | 65 | 113 | 2 |
| Passes | 2807 | 693 | 45 |
A quick look at those numbers tells us that they do different jobs. It's a bit like trying to compare a bricklayer, a plumber and an electrician. Which one has the biggest role when they build a house? All of them are skilled professionals needing to play an important role.
Sam Tomkins' try-scoring catches the eye far more than the 1000+ tackles that James Roby will make this season but where would St Helens be without the go-forward created by their dynamic number 9?
Ben Westwood doesn't score as many tries as Sam Tomkins, nor does he make as many tackles as James Roby, but the Warrington players know that he's hurt a lot of opponents this year when he shoots his shoulder into their bodies.
I would hazard a guess that many of the players who have run at him this year have painful memories of it and have possibly voted for him in the secret ballot. He's earned his respect through hard work.
In my opinion, I would give it to either James Roby or Sam Tomkins, though. Both have been brilliant and lift the standard of their teams with magic moments.
Phil answers your questions
Got a question for Phil? Email him at skysportsclub@bskyb.com or use the feedback form at the bottom of the page...
Calling time
Phil, what are your thoughts on Bryn Hargreaves retiring at the age of 26? Do you think that the RFL are doing enough to look after players or are they - as Hargreaves says - treated like pieces of meat? Wayne (Wigan fan)
PHIL SAYS: Bryn isn't the first player to retire early and nor will he be the last. Luckily for him, he's managed to pack quite a lot in to the years that he's played the game - firstly at Wigan, then at St Helens and most recently at Bradford.
From what I have heard, he has been presented with a job opportunity that he considers too good to turn down and believes that he needs to take it. Good luck to him.
I think at times, we watch professional sportsmen and women on TV and feel that they're "living the dream." It all seems so glamorous and we rarely see or hear about the downsides to the industry, but some of them in rugby feel trapped doing something that they no longer enjoy.
Professional Rugby League in this country has some well-paid stars, but the majority will need to work for the rest of their lives when they retire. The longer that an average player plays for, the harder it can be for them to drop back into the 'real' working world.
In many ways, I don't agree with the argument put forward by some that it is the game's responsibility to provide for the players, but I do think that clubs have a responsibility to actively encourage each player to gain the skills and experience that will make them employable in the future.
The players need to use their spare time sensibly and plan their futures rather than waiting until they retire and then criticising the sport for not getting them a job.
I am aware of more and more players who are now taking responsibility themselves. Some undertake academic qualifications whilst others have used their evenings and spare time to gain more practical skills like bricklaying, plumbing and electrical work.
When you consider that a player in Super League probably spends about 20 hours a week in his preparation for his game at the weekend, you soon work out that he has another 20 hours available. The coach and staff at the clubs don't have the time or expertise in filling these. The player, his partner and parents need to help him plan how to use his time productively.
Play it again?
Phil, what impact will the result of the Warrington v St Helens game played two weeks ago have on their semi-final clash? Craig.
PHIL SAYS: I don't think that the game two weeks ago will have too much of a bearing on the game at Langtree Park this Saturday.
You could say that it gives Warrington an advantage as it could provide 1% more motivation for the Wolves, but it would also have added to the confidence of the team who went five games without a win back at the start of the season.
Will home advantage make a difference? Well, it hasn't for these two this season. Warrington have already won at Langtree Park and looked very good against Hull.
In theory, the Saints might have more energy after resting last weekend, but that break sometimes leaves a team sluggish in the first half of this week's clash.
I don't know who will win this weekend, but I do know that there will be two great games.