Upping the ante
Phil Clarke is hoping for a better standard of rugby league as we head into the Super League play-offs.
Last Updated: 13/09/12 2:00pm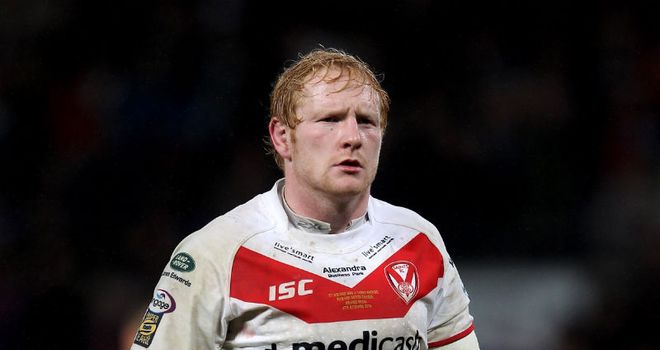 Congratulations to all of the teams who have made the top eight after the regular season, but especially so to Wigan and Wakefield.
The Warriors showed themselves to be the best team and are favourites going into the four-week tournament that decides the ultimate champions; the ruthless nature and speed of their defensive line will make them a difficult team to beat.
The Wildcats, meanwhile, are by far the most improved side from 2011, if you measure it simply by wins and losses. They have managed to climb five places on the league ladder, an amazing achievement which, in my book, deserves some credit.
When you look at the league table after 27 rounds last year, and compare it to the one today, you will see that there is very little difference.
Clubs like St Helens and Leeds finished in exactly the same position, Wigan and Warrington swapped places, whilst the Dragons and Hull moved up a little bit and the Giants and Hull KR moved down. It is the achievement by Richard Agar's team that stands out.
This time 12 months ago the top three individual players were deemed to be Sam Tomkins, Rangi Chase and James Graham. Well, the first of those names has once again been outstanding and I think that Chase has done quite well in a team near the bottom of the table. So if history always seems to repeat itself then does that mean that Leeds will beat St Helens in the Grand Final?
I think not. I really can't see the Rhinos there this year. It was amazing what they did in 2011 but they have little to no chance unless they get Danny McGuire back in the team. The Saints always have a chance, especially now that they've beaten Wigan and go into the play-offs high on confidence.
Warrington seem the most likely opponents for the Warriors on October 6, and I think that it would be a great game. Over the last few weeks the standard of rugby has been quite low in my opinion. There have just been far too many errors.
My two outside tips for getting to the Old Trafford changing rooms are Catalans and Huddersfield. The Dragons can score from anywhere (just ask St Helens) and yet need to find a way of restricting their opponents to less than 20 to win a big game.
The Giants, meanwhile, had been playing that badly that things had to turn for them at some time, and they looked very dangerous when they beat Leeds. From the start of the match to the end, they seemed to be stronger and hungrier than the Rhinos.
I really can't see a win for Hull or Wakefield, but hope for the sake of the competition that I am proved wrong.
Got a question for Phil? Email him at skysportsclub@bskyb.com or use the feedback form at the bottom of the page...
Role of the video ref?
Phil, I just wanted your thoughts on the Michael McIlorum sending off against the Saints. I agree that he deserved a red card, I'm just not sure about how the decision was made. It appears to me that the decision was made by the video ref, if so I have a massive problem with this, the video ref should just be used to decide on whether a try should be given or not. If we allow the video ref to make decisions in general play then he might as well tell the ref on the field every time there is a knock on, or if a ball has been stolen. I really like the idea of a captain's challenge (I think it's been discussed in Australia), that way if you feel the ball was stripped but a knock on was given you make a captain's challenge and if you're right you keep your challenge if not you lose it. I just wondered what your thoughts where.
Matthew Williams
PHIL REPLIES: I think it was the correct decision and a good one by the referee. The referee saw the late challenge and correctly allowed play to go on, just in case St Helens scored a try. He then stopped play and consulted with his two touch judges. He is allowed to double check with the video referee if he wishes to make sure that he has the correct player, and can ask to check about the point of contact.
The referee is, however, the only person with the power to send somebody off. If the ref ever misses an incident of foul play, and that didn't happen at the DW Stadium, then the video referee can recommend to the referee that an incident be placed on report, but he cannot instruct the referee to dismiss a man from the field of play.
McIllorum was not the only player to be sent off in round 17. Huddersfield Giants has to pay with 12 men when Luke O'Donnell was dismissed on Sunday. Unfortunately for Luke, this was a mistake as the injury to Ian Kirke had been caused by a clash of heads.
I don't mind a debate about a captain's challenge but I want to know if you think we are making the game too difficult to referee? You seem opposed to the idea that the ref or his helpers can take a second look at an incident but you want to allow your team a chance to do it. It seems a little one-sided to me.
Most of the coaches have a computer or TV monitor with a 10-second delay so they can quickly review what has happened when their team have made a break or scored a try. At Huddersfield on Sunday, they had time to watch an unfortunate incident involving Kirke and O'Donnell and knew that it was a high impact head clash as one player changed direction at the last moment prior to contact.
The referee, who made a mistake, didn't have the chance to see this. If we use the video ref five or 10 times in a match, and nobody seems to object to this, then would you allow the referee to watch two or three replays of an incident before he decides to send a player off? What do you think?
Here's to you Mr Robinson
Phil, How do you think Catalans are going to replace Trent Robinson? He has certainly changed the culture there and will be sorely missed. Who do you think will be the best man for the job?
Mark Jones
PHIL REPLIES: Toughest question of the week Mark. I think that they will do some research to see the sort of person and coach that they need they to follow Robinson. Does he need to be French speaking? Should he be a young man starting his coaching career or a more mature one with years of experience? Does he need to be technically advanced or has Trent given them a good framework which just needs a sensible coach to stick to for another few years?
I would imagine that people like Jerome Guisset's opinion would be invaluable here. It certainly won't be an easy to find someone to replace Mr Robinson. He has done a pretty good job and it's exciting to see that he picks young French players when he can. I think their will be a few coaches driving around with 'Teach yourself French' CD's in their cars. It looks like an appealing job to me.
Lessons from league
Hi Phil, I'm not sure if you saw Kyle Eastmond's try for Bath - what did you think of his performance and what do you think union takes from our game - apart from our players?
Chris Hutchinson
PHIL REPLIES: I will never forget seeing Eastmond scoring a try for St Helens at the old Knowlsley Road. At full pace he seemed to side-step off his left foot to his left! His balance is amazing and he shows that a talented back in either code of rugby is talented player in either code of rugby!
I remember seeing players like Scott Gibbs and Jonathan Davies come to rugby league and how quickly they became some of the best we had in the old Stones Bitter first division. Sadly for league, the transfer of players is now in the other direction.
Union has many great coaches and they have supplemented their ranks with great league men like Phil Larder, Mike Ford and Shaun Edwards. With league being a simpler version of rugby with regards to rules, and the fact that there are two less players, it means that accountability in defence is more noticeable.
The 15-man game did play 'catch-up' for a while on defence but I think that is not the case anymore. Union has taken some other rules and initiatives that were introduced occasionally; the Play-offs and a Grand Final are classic examples. But we can't be too protective as we often copy from the Australians who themselves have followed American Football on several occasions.