Reserve judgement
Phil Clarke looks at reserve-team plans and which players deserve a prize named after them.
Last Updated: 02/11/12 3:59pm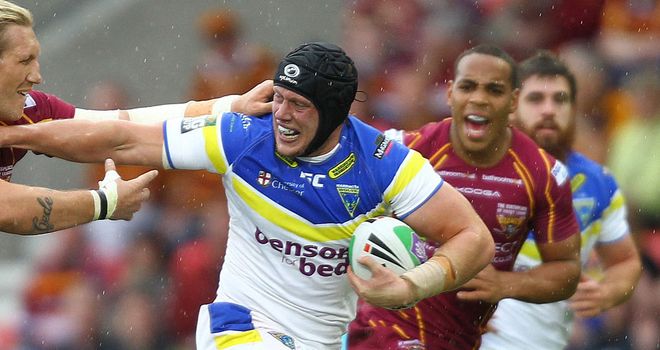 Phil Clarke delivers his insightful and entertaining views on rugby league every week in his skysports.com column.
And this week the former Wigan star has decided to answer some of the readers' questions that have landed in his inbox.
Phil gives his thoughts on the Super League academy furore and which players deserve a prize named after them.
Read on to see what the Sky Sports pundit had to say and if you want him to answer YOUR question, you can send it in as follows:
Got a question for Phil? Email him at skysportsclub@bskyb.com or use the feedback form at the bottom of the page...
WASTED YOUTH?
Hi Phil, Having read this week's rugby publications, I would be grateful to receive your thoughts on the removal of the proposals for Super League teams' reserve grade. When you hear that Hull FC and Hull KR are merging it beggars belief, for what I can only describe as a cost-cutting measure. I cannot see how this is good for our game and to be honest I don't think anyone from Super League or the RFL could provide one.
Rugby league isn't just Super league and I worry what this decision will mean for the players in the lower tiers. They (the Championship clubs and players) don't seem to be consulted on this, with Super League clubs just expecting them to lie down and become feeder clubs. All I see is a situation where young players at Championship or Championship 1 have training all week to be told a day of a game, that a Super League player, will be taking their place. Are the Super League clubs going to pay that players wage for them?
This is an issue I feel very strongly about as not all players develop early, and not all players can play full time. I could go on about numerous other issues with this but I only have half hour for dinner! I look forward to hearing from you. James Pointon (Wakefield fan)
PHIL REPLIES: You may have noticed that I wrote about this issue recently and feel depressed at the news. I can't see it being beneficial to the sport in the long term, and have spoken to many experts in the area of youth development who all feel the same way.
I would agree that something needed to be done as the second team competition for elite clubs (the stepping stone for the young talented players into the first team) wasn't working. I regularly watch many of these games when they are played before a Super League match that we cover on Sky and can immediately see that the gap between that and the Super League game is too wide.
In an ideal situation, the sport in this country needs all of the players who are not quite good enough or ready to play in Super League, or who may choose to pursue their non-rugby careers and remain part time, to be playing against each other in a serious league competition. I've used the boxing analogy before that the guys training to become the World Champions need to find, and pay for, the best sparring partners that they can. The same applies in rugby league.
One of the arguments that I've heard put forward for this new proposal is that the Super League clubs are tired of wasting money on players who will never play for them. The power brokers feel that you can identify at 18 or 19 years of age the players who are going to 'make it'. This implies that rugby league is what the experts call an 'early maturation sport' say like gymnastics. Rugby league is not like this.
We can all use statistics and numbers to make a point, and the clubs and the RFL may quote the percentage or number of players who actually play in Super League at the age of 20 or less to support their point, but that would be because of the attitude of clubs towards players when they pass 20. Let's also not forget that Wigan told their current star, Sam Tomkins, that he wasn't good enough at an early age.
Let's take Chris Hill at Warrington, who has been one of the best props in Super League this season. He was playing at Leigh for the last few years, under the eyes of almost every club in the game but wasn't inundated with requests to join a Super League club. You may say he's an exception, but his story is much more common in Australia where clubs are prepared to consider players when they pass the age of 20.
I don't know how many junior teams play rugby league, or even rugby union, in and around Hull nowadays, but have been disappointed this season when the Black and Whites have had to take young players on loan from Wigan and St Helens.
If we are not careful we'll end up with three or four Super League clubs becoming the feeder teams to the other 10 or 11. You might say that that's already been happening for the last decade.
Gary Hetherington, whose opinion I respect on most things rugby, might say that they're already doing this at Leeds and I've no doubt that there are some good intentions behind this proposal, but I fear for the Championship and Championship 1 clubs.
They appeared to have rolled over and died very quickly and surrendered their identity and power. How can they ever be responsible for selecting their own team again? We've more or less stripped the credibility of their supporters and said that they're now just a second team of a Super League side.
As you in say in your comment, I also fear for the lads who are currently at the Championship level. Will they be lost from the game? I can't see them all going back to play at an amateur level, in which case we've got a drop in player numbers.
We have previously spoken about a team needing to select its strongest side to maintain the integrity of the competition. It's in the rugby league rules. The fact that a Super League club can act like a puppeteer with its players makes this rule a joke.
I usually like to write a balanced reply, trying to see things from both sides, but am unable to find a positive from this. At a time when we are likely to see fewer stars from the NRL joining Super League it would make more sense to invest more money into players just below the top level than reduce it.
None of us can accurately see into the future, buy my gut feeling is that this system will last about three years. We'll scrap it then, blame someone for it, and alter course again. It contradicts what all of the top people in the game, who know how to help young players to maximise their potential, currently think. I understand that the cost savings need to be made but don't feel that this is the best way of doing it.
Sadly James, I think that you'll be proved right and the game will regret this decision.
NAME THE PRIZE
Phil, I was thinking about the Lance Todd and Harry Sunderland trophies - or rather the men behind the trophies. If we were to rename an existing player award (say the Man of Steel trophy for the sake of argument) who do you think should it be named after? Since Todd and Sunderland, who do you think has had the biggest impact on the game and is worthy of being commemorated with the trophy? (I don't have any suggestions, I just thought it an interesting topic for debate). Cheers,
Chris Callaghan
PHIL REPLIES: Great question Chris, and I think I'll also toss it to Rod Studd for his Back Chat show; it'll stimulate a great debate. My immediate thought is the Ellery Hanley Trophy/Shield or whatever you want to call it. In my opinion, and many others who have watched or played the game over the last 30 years, he's been the best player. (He also had some success as a coach and was the boss of Great Britain when they beat Australia at Wembley with just 12 men!).
An alternative would be to consider those players who have appeared since the game switched from a winter to a summer game. Icons like Kieron Cunningham, Keith Senior, Jason Robinson or Andy Farrell are possible contenders. Fans can remember seeing them play and most of the current players would have either grown up watching them or possibly played against them.
The original term of 'Man of Steel' came about because the first sponsors of the award were in fact a steel firm near Salford. The title fits the sport and the winner quite well, but I wouldn't be against modernising it. Watch this space as they say.