Taking heart
How do rugby league players compare to Mo Farah and Usain Bolt? Phil Clarke investigates...
Last Updated: 23/08/12 1:52pm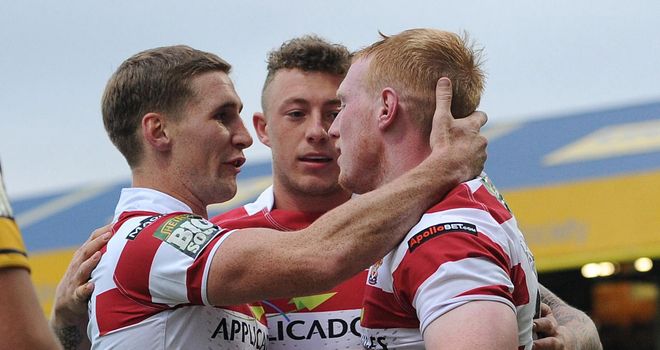 Watching all of the Olympic events over the last few weeks made me remember about the physical demands of playing rugby league. It's easy to forget when you stop playing about the huge exertions that are needed to be a professional rugby player.
Last week I was at a sports facility in East Manchester where the Brazilian Paralympic team were training for their upcoming Games. Many people see what athletes and players do in competition, but only a handful, if any, are ever there to see the sweat that goes before it.
If you have been watching the Super League games on Sky this year you may have noticed that many players wear a black vest under their jersey. Inside it at the back (between their shoulder blades) is a small device that transmits a signal via satellite to a computer at the side of the pitch.
Several of the teams in Super League now wear these GPS devices to try to measure and assess the demands on their players in both matches and training and I thought that it might be interesting to see just how much running a player does in a game.
I need to thank the Sports Science department at the Wigan Warriors and in particular Mark Bitcon and Mark Quinn for providing me with this data. It is no secret that Wigan are top of the League and have invested heavily in their sports science backup. Mark Bitcon is that well respected that the England RL Team use him to help our national side as well.
It might surprise you that some of the players run over 8km (five miles) in a Super League game. It tends to be the backs that do more running than the forwards, and of course more of the forwards get a rest at times. I am not sure whether it will change again in a few years but at present most props play for about 50 minutes and therefore do less running but that is less than half of the story. The distance might not sound that far when you consider that Mo Farah can cover 10km in less than half-an-hour, but we have to remember two things about rugby league. Firstly the stop/start nature of the game and secondly, the collisions involved.
Appreciate
The data that they collect on players now tells them about the heart rates of each player. Everybody's maximum heart rate is approximately 220 minus their age and the players in Super League spend periods in a match when it is approaching their maximums. So for say a 25-year-old outside back, his max HR would be about 195.
At Wigan, and this would be similar at other clubs, the outside backs spend almost all of the match with their heart rate over 165 beats per minute (the next time you go to the gym try to get your HR to 85% of your maximum and keep it there for an hour or so!).
It is only when we start to appreciate the demands on the body that we can start to appreciate the reasons why some of them make mistakes. Our bodies have been designed to move away from pain and move towards pleasure, and your mind tries to send a signal to your body to say STOP.
In terms of speed, the clubs are also able to measure how fast their players are running. It is quite hard for players to get up to full speed unless they make a long break and set off on a long kick-chase. Interestingly, some of the quickest have recorded between 9 and 10 metres per second. I am told that in comparison Usain Bolt would peak at 12 metres per second!
Obviously the distance and speed and heart rates don't take into account the collisions, which is probably the most draining aspect of the game. Some teams record the number of contacts that a player is involved in, both when he has the ball and when he is tackling. They know that his training programme needs to prepare him for what he has to do in a game.
It is interesting to know to some the numbers behind the actions. Some goal kickers actually try to get their heart rates down prior to attempting their kick at goal and I remember the sideline conversion from Scott Dureau at St Helens earlier this season. He was helped a little by the fact that the video referee had a few minutes work before he awarded the try.
Sport at the highest level is decided by narrow margins and the top teams do all that they can to find them.
Phil answers your emails...
Phil, what are your views on clubs fielding weakend sides like Tony Smith did against the Broncos? I understand the need to rest players etc but what about those fans who pay their hard earned cash to go and watch?
Alan Rigby, Widnes
PHIL SAYS: The last time that I read the Rugby League By-Laws (the rules governing our game) it said that a club must select it's strongest available side for every game that it played in. Personally, I don't agree with this but that's probably because I'm just a retired player. If I were a supporter, I might have a similar view to yours.
From a coaching and performance perspective I can fully understand why a coach would rest and rotate the players in his squad. He would want to avoid players playing with minor injury and want to keep them 'fresh' in the head. We see squad rotation happen frequently in Premier League football and it has obviously filtered through to rugby league.
The fact that clubs need to announce their 19-man squads prior to the day of the game also gives greater transparency. Supporters usually get to know it before they set off for the match. Everybody, in my opinion, say that it's fine, but I don't pay to go and watch my favourite team - so your opinion is worthier than mine! If I was guessing I'd say that you're a Warrington fan who travelled to possibly Salford and London this season and then, travelled home disappointed when your team had lost. Most supporters want to see their side win every game and need to find a reason when they don't.
The integrity of the competition is under threat when clubs choose which game to pick their so-called 'strongest' team for. It can affect other teams in the league and have a bearing on their success. However, I can't see a way around this. If you canvassed all the Warrington fans as they travel home after Wembley whether they'd rather have fielded their 'strong' team at The Stoop and won, it meant that they then lost at Wembley, I'm pretty sure what the answer from the majority would be.
Even if you did apply a rule that said each team had to field it's 'strongest' team, how would you define this? Who is to say who the best players to win a game from a squad of 25 players are? I have probably watched 3,000 games of rugby league over the last 30 years and have often seen the team who you think have a weakened team on paper with players having a point to prove are a dangerous bunch. What would you suggest?
Got a question for Phil? Email him at skysportsclub@bskyb.com or use the feedback form below...