Think of the future
Development of young players is changing - but is it for the better? Phil Clarke gives his views...
Last Updated: 09/08/12 12:55pm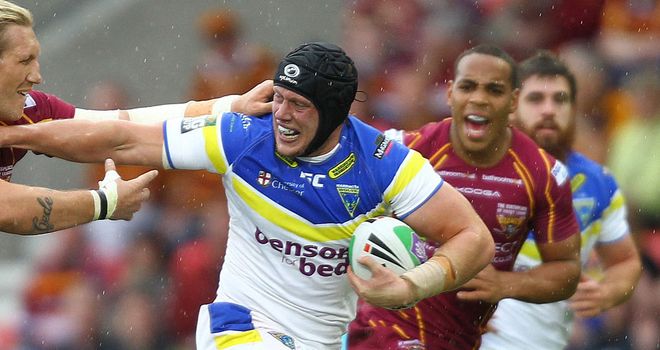 With the ongoing saga at the Bradford Bulls, this is likely to be a time of great change in Rugby League in this country.
We may find that the number of teams in the top division is reduced from 14 to 13 by next season because it is hard to imagine how the Bulls can compete with the elite in 2013. But that won't be the only big change either. Discussions are underway to alter the pathway for players to a club's first team, and it is one of, if not the, most important issue within our sport.
At present most clubs have a first team, a second team (which is notionally called the Under 20s, but can have a few over-age players in it) and a third team or Under 18s. They also run what are generally called scholarship programmes for players aged between about 13 to 16, and have at times selected a team from these squads to play some games. (It alters slightly every few years).
This framework for developing young players is currently under review and it looks as though a significant change might occur. The long term development of any athlete is a complex process in most cases - some take longer to reach their potential and mature as players - but it appears as though their window of opportunity to impress a Super League club will be reduced.
Some people within the game think that you can tell by the time a player is 19 whether he'll make it as a Super League player, therefore there's very little point in paying him to be at your club, with the associated costs of having to pay coaches to coach him and running a team for him to play in with all of the training hire and travel costs etc. Some club owners think that they can save money in this area, and possibly use it better elsewhere.
Without going into too much detail here, and the proposals are being discussed privately by the clubs at present so we're not certain of them yet, it sounds as if some Super League clubs, the part-time professional ones in the Championship and the Community Game (the amateur clubs where most of the players start to play the game) believe that there is a better way to help our players to maximise their potential.
Nobody can disagree with that in principle. However, the experts in Youth Development that I've spoken to within rugby league are all united in their opinion against this new plan. They claim that the number one reason behind the change is to attempt to save money and reduce the costs on Super League clubs of running a second team.
Some of you will be aware of a recent answer that I wrote on this site regarding Youth Development and player improvement in the UK and Australia. It is my belief, and that of leading experts including Steve McNamara, that players in Australia and New Zealand develop much better from the ages of 18-24. Part of the reason for this is the level of competition that they play in at that age and the quality of coaching that they receive at their elite clubs.
Develop
So, leaving aside the discussions regarding younger players for a moment, let's put focus on those aged 18 and over.
For some players such as Sam Tomkins, Tom Briscoe and Kallum Watkins it's quite clear from the time that they are 18 or 19 they have the potential and ability to play in their club's first team.
However, these are the early developers and generally the exceptions, not the norm. The fact that these types of players do excel gives ammunition to the club owners who are pushing for change. At the other end of the spectrum would be a player like Chris Hill at Warrington. He's basically been ignored by the bigger clubs until he got to 23, at which time Warrington recognised his talents and gave him a chance to play alongside Wood, Carvell and Morley. He might well go on to be the best prop in this country for the next 10 years.
Resources
I don't think that the current system is perfect and believe that the best solution in terms of providing a framework for more Chris Hills would be for the Super League clubs to run a proper second team or reserves. We'd probably call it an Under 23s and have one or two overage players able to play in it. This would probably cost more money than at present, but would be the best use of resources in terms of raising the standard of Super League.
A friend of mine has worked in this area for over 20 years and believes that we miss the most important part of the chain with young players. We get so many of them interested in the game, up to a point where they might be able to play at the highest level, and then switch them off at exactly the time that they need the best coaching and highest, most intense matches to play in.
We have some clubs who are admired throughout the UK by several other sports, for the number of young players that they continually develop to first team level. We should, in my opinion, be trying to listen and learn from them. If it were Barcelona or the Brisbane Broncos doing it we would be saying how good they were and trying to copy them.
All of the debate on this issue can only be good for the game, and I sincerely hope that we see some positive action as a result. But it does sound to me that we're going to reduce the number of players, not increase it.
This debate isn't just taking place in rugby league. I've read about it in football in the UK as well. Finding the best solution to help young players to be the best that they can be isn't easy, but one that we need to improve in rugby league if we are ever going to really have a Super League.