Cold shoulder
The shoulder charge has been part of league since 1895, but Phil Clarke asks if it's past its sell by date?
Last Updated: 25/07/12 8:19am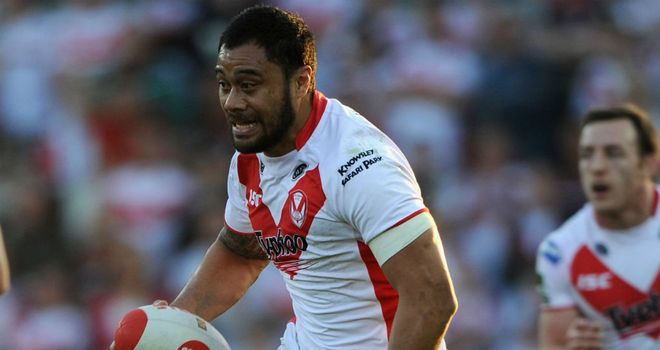 There are very few things in life that are guaranteed these days but a game between Catalan and St Helens is certain to produce some drama and excitement.
Last Friday's game in Perpignan had the tension and controversy that you usually associate with the best that rugby league has to offer.
It also had a sending off in the last 10 minutes which just made the win for St Helens even more enjoyable for the hundreds of supporters who had travelled down for the match.
Tony Puletua was the first Saint for four years to be sent from the field, apart from Sean Magennis in the skirmish at the Etihad Stadium in May. He was dismissed after attempting a shoulder charge on Gregory Mounis which went wrong.
Mounis dropped the ball and the replays gave the officials time to think. If he'd kept hold of it, I imagine we'd have seen Big Tony stay on the field. But the replays showed that he'd made contact with the head and that usually means that you get to use the showers before everyone else. You're more likely to get sent off in a televised match.
The 'shoulder charge' is a hot topic of debate in the NRL at present. It's been legal since 1895 in rugby league but it might not be in 2013. In a game played between South Sydney and the Dragons, Greg Inglis used a shoulder charge on Dean Young and it went badly wrong.
Young was stretchered from the field and allegedly said to the physio / trainer "Tell Brownie to put me back on" Nathan Brown hadn't been the coach of the Dragons since he left Australia almost four years earlier! Even I can diagnose that as severe case of concussion.
Apparently in the original rules of rugby in the 1870's it never actually stated how you have to tackle somebody, people have developed the best or most efficient way of doing it. Even in today's "Laws of the Game", it doesn't actually say that you must use your arms. But this might all be about to change quite soon and I'd like to know your opinion on it.
From what I've read, legal action by former American Footballers who have retired and are complaining of the damage they have suffered through concussions whilst playing, has encouraged the NRL to investigate the safety of the shoulder charge.
They've set up a committee to investigate the effects of such a tackle on the neck, head and brain. Very little is known about concussion and its long term effects and there is a fear that some players may be 'punch drunk' 20 years after they stop playing.
Some of you may remember seeing Sam Moa's shoulder charge earlier in the season. He was banned for two matches. In the NRL, they've had four players suspended for a total of five games. The shoulder charge can excite the crowd and sometimes nobody gets hurt, but the room for error is very small.
The incidence of high tackles is far greater than shoulder charges in rugby league, but doesn't seem to receive as much attention. If we are concerned about players' long-term welfare we need to all we can to do prevent contact with the head. We don't know if we get more injuries from shoulder charges than high tackles in Super League, perhaps we should try to find out.
If the rules committee are considering outlawing the shoulder charge, then they also need to amend the rules so that players who commit high tackles are sent to the sin-bin for 10 minutes. It's either red and off or a penalty or play on.
I think we need a middle ground.
Phil answers your emails...
Got a question for Phil? Email him at
skysportsclub@bskyb.com
or use the feedback form below...
Giant changes
Hi Phil, we've just seen Huddersfield end Nathan Brown's tenure early and promote former Great Britain star Paul Anderson. I was just wondering what you thought of this - asking Anderson to step into those big shoes was a big ask to start with, but with the club struggling to stem a tide of poor results, will this be an even taller order for the new man?
Mike
PHIL REPLIES: Coaching is a tough job full stop, whenever or wherever you start but I can see the logic in releasing Nathan Brown now. It didn't solve their problems against Wakefield though.
This isn't the first time that Huddersfield have been in this situation as a club. I remember a few years ago when Jon Sharp was the boss at the Galpharm. I seem to recall that they won their first seven games of the season and then lost their next seven. The elusiveness and invisibility of confidence is amazing and what makes sport so interesting.
This year things seem even worse for the Giants supporters. In their last two Super League games they've allowed two teams that are below them in the table to score almost 90 points. Shares in the Giants have crashed badly and they need an instant rebound.
However, Paul Anderson has great knowledge of the potential of his players and some wonderful experiences as a former player which may turn things around. I think that they'll still make the play-offs. The three point gap over Hull KR, with just six games to go, might just be enough for them.
Things change quickly in sport and it's possible that by the middle of September, when the play-offs begin, the Giants just might have rediscovered what they had when they won at Wigan in Round 1.
Great sports!
Incredibly sporting touch from Leeds, don't you think Phil? Letting cash-strapped Bradford keep all the takings from the gate of their derby clash at Headingley shows true solidarity within our game. Do you think this sort of gesture will ever die out in rugby league or will there always be great honour in it?
PHIL REPLIES: I have written many times before about my respect for Gary Hetherington in his ability to not just manage the Leeds Rhinos so successfully, but to do it in a way that generally helps the game as well.
He has been responsible for helping London Broncos in the past and has done his bit to help keep the Bulls alive. The supporters from Bradford tried their best to help their team and the team themselves certainly tried their hardest. I feel that the Bulls have been incredibly unlucky in their last two matches against Leeds. You might laugh at me when you say what they lost by 18 points last Friday, and by 15 points at the Etihad Stadium in May, but it felt as though it was just the individual brilliance of certain Leeds players who made the difference. The best team lost.
The bigger question for me is whether the other 13 clubs still want Bradford to be a part of the Super League in 2013. Many of the rumours you hear say that there is a desire by most to reduce the number of teams in the competition. If that is the case, it seems like another example of where we just change our minds every year. It's not that long ago that the majority agreed to have a 14 team competition. Are we incapable of long-term planning in rugby league?
Back to our Origins
Dear Phil, just had the pleasure of watching the third and final Australian Origin game. What a classic! Had to record the game and watched it before watching our tame effort to match it. I have watched all of the origin games from both hemispheres and when are our governing body, the rugby league, going to realise that we will never match their intensity? I believe we would be better off bringing back our own county Origin game; Lancashire v Yorkshire, in a three-game series. People can say it will not be competitive and that nobody will watch it but for what I can see nobody has watched both the Exiles v England games with very low crowds. As a fellow, Lancastrian surely you will agree that if Lancashire played Yorkshire at St Helens we could get at least 8 000 people there to watch us give the old enemy a beating. Furthermore, to add intensity to the game it should be used as a trial game like the Aussies use the Origin. So players will have to play if they want to play for England in the autumn. I know people will say 'what about players from Cumbria and London?' Well the Londoners can play for Lancashire and the Cumbrians for Yorkshire or something like that. Also players, like in Australia will not be able to play for their clubs the week before making the league more competitive for them weeks e.g. if Wigan played Widnes and had six players missing due to them being called up it would be a much closer game. What do you think?
Paul Egan
PHIL REPLIES: I don't think that we'll ever replicate the State of Origin tournament in Australia. It's unique and the interest in it transcends the typical sporting fan. They've managed, through good management and some luck with the results, to capture the national interest in an event that only involves two of the six states in Australia. We shouldn't even attempt to compete with it. They don't try to replicate what we've got with a traditional knock-out tournament and a final at Wembley.
I have said for a while that I'm not sure that playing as a team in the middle of the season is the best way of helping England compete with Australia and New Zealand, but if that's what we've agreed to do, then that's what we should support. I don't want to be guilty of chopping and changing every year if we've agreed as a sport to trial something for three years.
If England v the Exiles is what we've all agreed to do, then the next question for me is how do we make it better than last year?
I've no knowledge of how to get a bigger crowd; other people are paid to do that. But I have a view on how you could make the Exiles highly motivated for this match; offer them a lot of money to win. They have very little else to play for and there is no point in denying that. But if they are desperate to win then it will bring the most out of the England team and help create the intense game that people will go to watch. They are professional sportsmen who play rugby to earn a living. Dangle the biggest carrot you can.