They think it's all over
Phil Clarke looks at the sad events at Bradford and wonders if they can live to fight another day.
Last Updated: 04/07/12 10:08am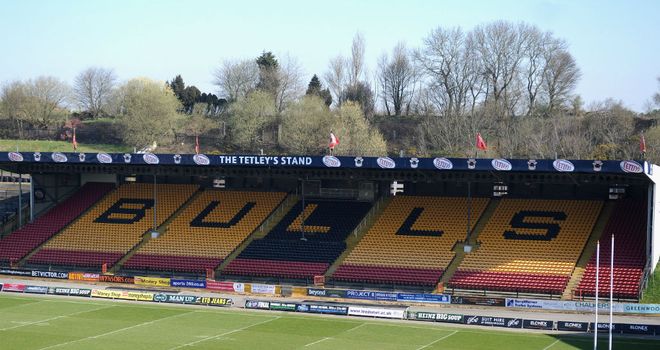 "Don't believe it, rugby league it!" It was a punch line that a friend called Adam Oldroyd used to say about 20 years ago and it's never been more applicable than this week.
Salford scored almost 50 points and embarrassed the Wolves, Widnes put 40 points on the Tigers, Hull KR almost came back from 26 points down to win at St Helens, and Bradford won at Wigan in an emotionally charged team performance.
What a week for the Bulls. Where did it all go wrong? No doubt there will be a plethora of stories to come out of Odsal over the next few weeks. Everybody wants to know how a club can get itself into this state.
Throughout my lifetime I've seen most rugby clubs find themselves in a similar situation. Hull were saved due to a a merger with Gateshead and the good fortune that the Council built the KC Stadium, while Leeds were rescued from financial meltdown by a self-made property millionaire called Paul Caddick.
Wigan sold their ground to a supermarket chain to avoid collapse and clubs like St Helens and London have been kept alive by the benevolence of their Chairmen. Most clubs have been in a similar situation, but some have had some better luck.
We were all of the opinion that the new licensing system (not really that new) would help to prevent situations like this. How wrong could we be?
I struggle to spell the word 'accountancy' and must confess to having very little knowledge of the Bradford Bulls financial situation, but if I were invited to the Back Chat Pub with Rod Studd and Stevo here are the figures that I'd scribble on the back of a beer mat:
Typical Super League club
Income
TV deal
£1,200,000
Gate receipts/Season tickets
£1,600,000
Sponsorship/Corporate/Advertising
£500,000
Retail
£500,000
Others e.g Lottery
£200,000
TOTAL
£4,000,000
| | |
| --- | --- |
| Expenditure | |
| | |
| 1st team players | £1,800,000 |
| Other players | £500,000 |
| Staff | £600,000 |
| Stadium costs | £300,000 |
| Retail costs | £250,000 |
| Other costs | £450,000 |
| TOTAL | £3,900,000 |
In time the full story will come out, and my rough calculations maybe wrong for the Bulls. I've based my figures on a club with about 10,000 paying supporters, spending up to the Salary Cap in the first team. I can only guess that their income has dropped significantly.
I know from first-hand experience how hard it is to run a professional rugby club. It's a bit like playing the game: it looks easier from the side lines.
Bradford have in some ways been a victim of the unique circumstances in that city. For well over a decade there has been talk of a super stadium for the football and rugby clubs.
The Bulls even moved to Valley Parade at one time, but all of the talk hasn't led to the action that they needed. In the current economic climate it's even less likely that the ambitious plans to redevelop the sporting facilities of the city, both for the public and the professional teams, will happen in the near future.
What will this mean for the Bulls and the game? If I were a gambling man I'd say that it's all over for them. It's sad and I hope that I'm wrong, but I doubt that they'll survive.
There was a crowd of over 19,000 people at the DW Stadium last Friday to watch the Bulls play against Wigan evidence that it can be done right and that people still want to watch.
If it was their last game, it was a great way to go out, beating the top of the table in their own back yard (or relatively new multi-million pound purpose-built stadium to give it a more accurate description).