Video gain?
Has the video referee benefitted Super League? How strong are St Helens? Phil Clarke has answers...
Last Updated: 26/06/12 2:22pm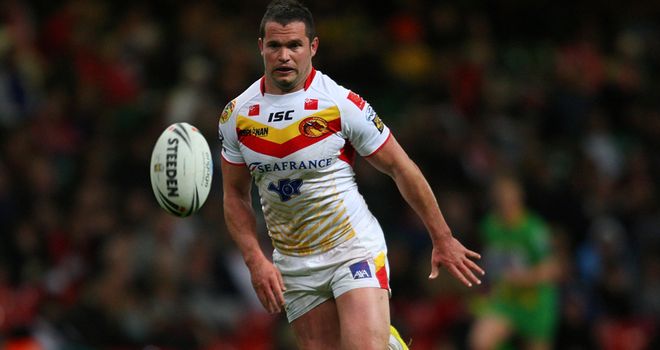 Where would we be without some controversy?
We certainly wouldn't have the talking points that fill the days between the games. In addition to the magic tries and last-minute victories, it's the dubious calls and 50/50 decisions that supporters love to debate. It's a bit like the weather: we can't change it but we love to talk about it.
If you tuned into last Friday's match between Hull KR and Catalans, you may have witnessed a late try by the Dragons that was referred to the video referee.
It came from a brilliant kick through by Gregory Mounis and the ball bounced along the in-goal area waiting for Clint Greenshields to attempt the grounding. Rovers led 10-6 at that time and there were only five minutes left in the match.
The referee wasn't sure so he referred it to the video referee for a second opinion. It is 16 years since Sky Sports introduced this idea to rugby league and I think that it's fair to say that the majority of players, coaches and supporters think that it's been a good idea.
Not only does it help in making the right decision, it adds an element of drama and suspense as we await the different replays and ultimately the decision. It's a bit like those talent shows on TV when the host pauses before announcing the winner. It all adds to the entertainment package.
I'm grateful to the Referee's Department at the RFL for sending a summary of the decisions this season. Up to Round 17 we'd had a total of 121 decisions refereed by the video in 40 Super League games. (We covered all seven games in Round 15 at the Etihad Stadium).
An average of about three referrals a game sounds about right to me. There have been times when we've had five or six minutes taken up waiting for the decisions; sometimes the ball gets over the line in an awkward way, or there could have been possible obstructions in the build up to the try and a variety of different camera angles are needed.
Usually it takes about a minute for a decision to be reached, which I think seems right in allowing the video referee a proper chance to review the situation from several angles and make his decision.
In some games we have had up to six referrals. It's happened four times, with each game refereed by a different man. It's not because one referee is scared of making a decision, it's just the nature of the game and the way in which tries are scored and defended. Equally there have been three matches when he's not been called upon. I guess that it's just the way that the ball bounces!
The one thing that the video referee can't do is give you a 100 per cent guarantee that he's right. The decision at Hull KR to award Greenshields' try split the four men in the commentary box 50/50. Two said yes and the other two no.
It still hasn't taken away the 'talking points', but the Rovers fans think that it took away the 'two points'. I'd like to know your views on the video referee...
Got a question for Phil? Email him at skysportsclub@bskyb.com or use the feedback form at the bottom of the page...
DEPTH CHARGE
Hi Phil, I would like to get your opinion on a matter I was discussing with friends over the weekend. Last year Saints were crippled with a large number of first team injuries all throughout the season. However, they still managed to finish third which is a massive achievement in my eyes and it obviously pays tribute to the strength in depth they have. Do you think that the teams at the top end of the table this year (Catalan, Wigan, & Warrington) would have the same strength in depth to finish so high up if any of them were hit by an injury crisis? Thanks
Simon Neil
PHIL REPLIES: Great question, Simon, but impossible to answer. I believe that I did pay credit to St Helens for their achievements last season when they got to the Grand Final after playing at Widnes for their home games and missing players through injury.
Effectively they played without their first choice standoff and scrum half for the majority of their matches, and in particular, their biggest games. Kyle Eastmond didn't feature for them during the second half of the season and Leon Pryce, arguably one of the most dangerous players in the competition, with so much big game experience, only played in six Super League games.
It's a tough question to answer which team has been the most consistent performers for the last five years, Leeds or St Helens. You can't continue to get to Grand Finals without great strength in depth and character, and St Helens clearly have both. However, they are not the only team to suffer injuries. Wigan are currently top of the table and have been without so many forwards that I can't list them all here.
Sadly for me the gap between the top teams and the rest seems as wide as ever. The intention of the Salary Cap was to provide some financial stability and spread the talent across the competition. The news about the Bradford Bulls is evidence that the first intention hasn't worked and the strength in depth at Warrington, St Helens and Wigan possibly suggests that the latter hasn't either.
I do think that the top teams have a similar strength in depth to St Helens, but am not sure that they have the invaluable experience of getting to a Grand Final like the Saints.
When Warrington recently played on Sky against Leeds, their fullback and goal kicker (and former Man of Steel) Brett Hodgson had to leave the field due to injury. He was replaced by one of the most exciting and talented players in our competition Stefan Ratchford. He would probably be in the starting 13 of most teams in Super League, but was keeping the bench warm at the Halliwell Jones Stadium.
VISION EXPRESSED
Hi Phil, James Roby is a superstar player and really deserves his place in the England team. Micky McIlorum has a lot to learn in order to even be a replacement for Roby. He is young enough and has plenty of time to learn and develop his skills and knowledge. Just because he plays for Wigan, who are doing great, and has great players around him especially the non-English players, this does not automatically make him a great player. Micky is good but not good enough for England just yet.
Mark Sheehan
PHIL REPLIES:
I suppose that I agree with you Mark, but it's great that we have both if Roby gets injured and for the competition for that number nine jersey. Michael McIlorum must be made of granite or something even stronger. He looks unbreakable. He's just completed his 61st consecutive game and never seems to get injured. The try that he scored against Widnes showed the vision that he's developed, his attacking play is starting to catch up with his awesome defensive play.
MAC UNDER ATTACK
Hi Phil, Steve McNamara is obviously picking his England team on his previous selections and on some obvious favourites he has. To leave out the competition's most in-form centre in place of a second rower operating on the wing is nothing short of bizarre. By picking so many of the Leeds team in Sinfield, Burrow, JJB considering their abysmal league form raises a few questions in everybody's mind. Tickle has been picked on current form, as has Charnley. So why haven't Goulding, Brough and McIllorum. I hate to say it but looking at McNamara's record at Bradford, my hopes are not high whilst he is in charge of the England team. There appears no cohesion between the players, and we seem incapable under him to shift the ball from one side to the other, utilising dummy runners and creating space for the outside backs. Thanks,
Nathan Lowe
PHIL REPLIES: Well Nathan, picking a team is an art not a science and the beauty is in the eye of the beholder. Steve has his opinion and you have yours.
I agree that England didn't demonstrate the ability to fluently pass the ball across the field and create the overlap for their centres and wingers as Wigan currently do. They even make it look easy. But would this happen against Australia and New Zealand? How are we most likely to score against them?
I also agree that Carl Ablett doesn't look like an international centre, but maybe he never claimed to be. He's just been moved around a lot for club and country. Don't forget that he started the season as a back row forward for Leeds, but was shifted into the centre due to injuries, nine of his 10 appearances this year were as a Loose Forward.
In my opinion, Darrell Goulding ranks second to Michael McIllorum as Wigan's most improved player in 2012, but I'm still not sure he'll play for England this season. He's possibly a better option to Ablett, simply because he's playing in a team that's full of confidence and smells like a winner at present.
He is a centre and looks happy playing as a centre. His defence is strong and he's provided brilliant service for Josh Charnley. If he's fit and he starts to defend as well as he did in the World Club Challenge, then Callum Watkins would be my right centre.
ROBY FLOP?
Sorry Phil but James Roby is living on past seasons. I am not saying he is not a good player but on form this season Micky McIlorum has been the best hooker in the SL. Surely you pick players on their current form and not how good they were last season?
David Bailey
PHIL REPLIES: How much do you trust people who've done a good job for you previously? If you were getting some painters and decorators into your house David, would you feel confident going for the guys or girls who have done it before? Well maybe coaches get the same feeling. Surely you are not telling me that Roby's playing badly? It was interesting that in their last game, St Helens had a period of the match when Lance Hohaia appeared to be playing as a hooker (or behind the play-the-balls). Is this a change of role for Roby or was he just taking a rest? We'll get to see in the next few weeks.