Mike check
Phil Clarke blogs on Mike McIlorum's form, Thomas Leuluai's injury and Leeds' title hopes.
Last Updated: 20/06/12 4:29pm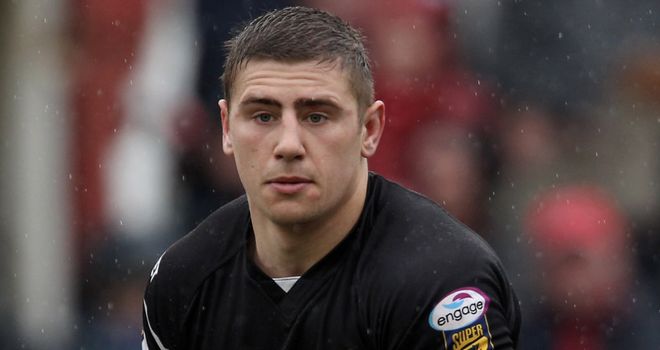 Phil Clarke delivers his insightful and entertaining views on rugby league every week in his skysports.com column.
And this week the former Wigan star has decided to answer some of the readers' questions that have landed in his inbox.
Phil gives his thoughts on Wigan hooker Michael McIlorum's absence from the England squad to tackle the Exiles, how the Warriors will cope without the influential Thomas Leuluai, and whether struggling Leeds can push for the Super League crown this term.
Read on to see what the Sky Sports pundit had to say and if you want him to answer YOUR question, you can send it in as follows:
Got a question for Phil? Email him at skysportsclub@bskyb.com or use the feedback form at the bottom of the page...
ENGLAND HOPEFUL?
Hi Phil, What do you think of the omission of Mike McIlorum from the England squad? I can't help but feel he's been by far and away the best hooker this year but hasn't even been out in the Knights squad. I'm not saying James Roby hasn't been good, he has, but I reckon Mike has outplayed him in all three games against Saints this year. With the selection of so many underperforming Leeds boys I can't help but think a few of the lads have been picked on reputation rather than form for this latest England party.
David Melling
PHIL REPLIES: I'm not sure that McIlorum has been the best hooker, but I do think that he's the most improved one in Super League. His defence is awesome and he seems to hurt the people who run at him. I know that stats are not all about quantity, although he does pretty well in that department, too.
On average he makes 30 tackles a game, and misses just two. If we had a device that could measure how hard each tackle was, and how much pain was inflicted on the ball carrier, then I'm pretty sure that he would rank close to the top.
But it has been the subtle improvements to his attacking game that have helped Wigan to look even better this season. If you look very slowly at a lot of the tries that are scored out wide by Wigan, you'll notice that for most of them McIllorum has played an important part.
He's the one who picks up the ball and usually takes about three fast paces towards their opponent's goal posts. This quick and direct movement affects the movement of the defenders in front of the Wigan team. They are all now forced to move straight forward, at which point McIllorum delivers a hard and fast pass to the first receiver, quite often Thomas Leuluai, who has a series of players moving around him.
Eventually the ball ends up with Sam Tomkins and we get to see some attacking brilliance and an overlap which the winger very often scores from. If McIllorum cannot get the middle defenders interested in him with the ball in his hands, then it's much harder for the outside backs to get their time and space. He's the catalyst.
It's a very difficult skill and I think that he's been practising it for a long time. However I don't think that he's a better player than James Roby at present. The three games that you mention have been convincing victories for Wigan, and the players in the winning team usually look better than those in the losing one.
I do see your point about the Leeds players, though; their club form hasn't been great. However, if Steve McNamara believes that they are his best men, then I would say that he should stick with them until after the World Cup in 2013; the core of the team need to play together, in my opinion.
I'm not sure which club you support David, but would like to cite Brett Finch and the Wigan team as an example. Last year the Warriors didn't really rate Finch and things weren't working that well for him. Twelve months later, after playing in 24 games in 2011, he now looks like the central nervous system for the team. So much of their main play come through him and it appears to me from the sidelines that he's the main voice of the team.
Unfortunately for Steve McNamara, he doesn't have 20 games to wait for his main players to develop the sort of understanding that a club team, or even the Queensland Origin team have developed. But patience is a virtue in my book. Pick your players very carefully, and then stick with them.
A DAMAGING ABSENCE?
Dear Phil, What impact do you feel the injury to Thomas Leuluai will have on Wigan? Could it derail their seemingly unstoppable surge to the Grand Final?
Max, Warrington
PHIL REPLIES: Great question. It will certainly have some impact, especially if Leuluai does not recover as is first expected; he's been very important to them this year.
Only five players have made more metres than him for the Warriors, and you'd probably say that that's not his main job. He's scored five tries and helped create 10 more. Without the ball he's been even more important in helping to ensure that Wigan are impregnable out wide, and has hurt a lot of men who've run at them. He'll certainly be missed, just like Michael Monaghan has been at Warrington throughout April and May.
I think that Wigan might just be able to plug the gap but I do think that it brings them closer to the rest. If they were to lose Sam Tomkins or Michael McIllorum now, then I think that they would be in trouble.
Most people only remember what happens from June onwards. It now gets interesting.
LANGUISHING LEEDS
Hi Phil, I see Leeds have suffered another setback to their, thus far, miserable season with the news that Brent Webb will spend eight weeks on the sidelines with a torn medial ligament. I know that the Rhinos are a side you can never write off due to the professionalism of players such as Kevin Sinfield, but having lost half of their games so far and struggling so badly for any consistency, can you really see them forcing their way into the shake-up this year? Thanks,
Terry, Cartmel
PHIL REPLIES: No, I can't. It was amazing what they did last year but I don't think that it will happen again. After 17 games, the table tells us that they are the eighth best team. An optimistic Rhinos fans would say that they're just one win behind the fourth placed team, and with 10 games to go they could finish fourth, but I don't think that lightning strikes twice. In fact, lightning strikes when there is a discharge of electricity from storm clouds and I'm not sure if those circumstances exist at Headingley. They need a minor miracle to turn this year around.