Data entry
Phil Clarke has analysed his computer's findings and picked his ideal England side to take on the Exiles.
Last Updated: 06/06/12 1:07pm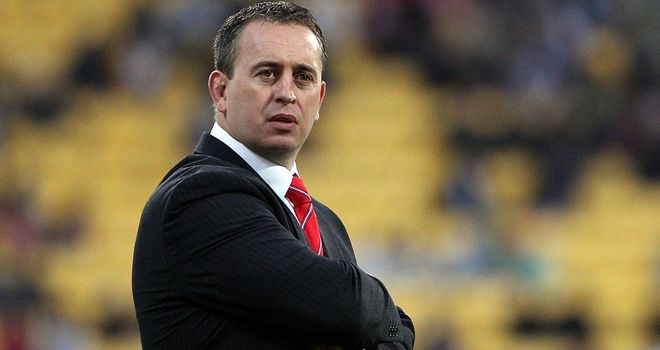 The Jubilee Weekend was certainly one full of red, white and blues.
The Red and Whites of Wigan and Salford were flying their flags after the most impressive team display of 2012 and the greatest comeback I've ever seen, when Salford, who scored 12 points when they only had 11 men on the field, managed to beat another top-eight side.
Even the Saints must feel that it was a 'result' when they drew in the last minute after spending most of the match defending their own line. Leeds and the Dragons must have the 'blues' this week and be questioning their ability to win anything in 2012.
Whilst the country is gripped with a sense of national pride, I want to turn my attention to the national side. England's first game of 2012 is rapidly approaching and Steve McNamara has the difficult task of selecting his best 17 players to take on the Exiles.
Choosing the right players is more of an art than a science; the coach must consider the style of play and potential combination of the men he gives the honour of representing their country.
Using a different approach, I've gone with a computer to pick my England team. I've ignored who's in or out of the Elite Training Squad and used the Opta Rating System to select my 1 to 13. Every action of every player in every game is given a score by Opta when they analyse the games.
They award points for good play and have them taken off for mistakes or poor play. This is weighted against the time in the match, the position on the field and the score at the time (e.g. scoring a try when the scoreboard is 20-18 is worth more points than when it is 48-0). This gives an overall game score, which I've used to pick the team.
I know that this system is not perfect. There is still an element of opinion when it comes to defining who's at fault when a try is conceded etc. but it is one which more and more coaches/managers in sport are using to assist them with their selection decisions.
Arsene Wenger has a similar system to review the goals conceded by Arsenal at the end of the season and I'm sure McNamara looks at the stats before selecting his team.
No human brain could remember who has played well in all 16 rounds of 2012 so computers help coaches with the ever increasing amount of data that gets recorded at each game.
So, to quote a character form Little Britain, "the computer says my team is..."
1) Sam Tomkins
2) Jodie Broughton
3) Ryan Atkins
4) Zak Hardaker
5) Ryan Hall
6) Danny Brough
7) Rangi Chase
8) Eorl Crabtree
9) James Roby
10) Jamie Peacock
11) Jon Wilkin
12) Danny Tickle
13) Sean O'Loughlin
Please let me know which players your computers say 'no' to and who you'd replace them with...
Phil answers your emails...
Got a question for Phil? Email him at skysportsclub@bskyb.com or use the feedback form below...
STIMULUS PACKAGE?
Hi Phil, as a player in the 1950s, a Salford fan since 1946 and now by residence a Warrington Supporter, I know that promotion and relegation between the various leagues would stimulate competition within the game as a whole. It is true that the Super League clubs will buy experience, as my first love, Salford, did from the '40s onwards. Although we did not win many any significant trophies, we did see some wonderful rugby from the old heads and often went close to winning the league. This team always had a sprinkling of local talented players and that is still the case today despite the presence of Australians and other nationalities. Just as an aside, I feel that the proposed player statue at Wembley should be of someone synonymous with that venue. It is impossible to choose one from the many wonderful players who have graced our great game without creating a sense of rejection to many others. However, there is a player, and later manager, whose name is forever linked to Wembley and the Rugby League Cup Final, for the coveted trophy which bears his name - Lance Todd. Problem solved!
Bernard Groom
PHIL REPLIES: I must admit to being surprised by your opening comment. You will have seen clubs like Oldham go bust twice within a decade, primarily because they spent too much money on first-team players, battling in the annual cycle of promotion and relegation. How can clubs that no longer exist stimulate the game in this country?
We had about 100 years of using the traditional model of the top team coming up and the bottom one going down, and the game of rugby league didn't seem to benefit much from it. We didn't get more players, clubs or spectators using this system. The game more or less stayed as it was for a century.
I'm not saying that the new system is perfect, but it sounds and seems a better way of growing the game with some short-term goals set for everyone involved. How would you ever get people to think long-term if they knew that the effects of relegation could be financially fatal? We don't have enough money in our game to provide parachute payments like they do in football.
With regards to the statue, I'm more a fan of some nice art work, perhaps something from a sculptor about rugby league, rather than something just about one person. I would like an image or picture that people would remember and associate with their memories of visiting Wembley Stadium and watching the Cup Final or an International match.
MAKINGS OF A DYNASTY?
Do you think we are seeing something special developing down at the Wigan Warriors in terms of the eight Wembley wonders we saw when the likes of Shaun Edwards, Martin Offiah and yourself where playing? I think we can equal this record or beat it with the current youth development at the Warriors. What's your take on this?
Tom Tucker
PHIL REPLIES: I read your question last week, before the game at Leeds, and felt that you'd been carried away by the euphoria of beating St Helens at the Etihad Stadium. But after what I saw at Headingly last Friday I'm starting to agree with you.
It's a fact that the town of Wigan has a greater number of players playing rugby league per head than any other in the UK. Not only do they have a wide pool, many of them receive some excellent coaching at their schools and clubs. The competition to be a member of the Wigan under 15s and 16s is quite intense. It has, and will, continue to give them a significant advantage over their rivals.
There was a period when the club was unsuccessful in getting some of their more talented young players through to the first team. This is a difficult transition for any sportsman or club to deal with, and becomes harder at Wigan because of the expectations of the fans, and the dip that Wigan went through.
Under Ian Lenagan, the club seems to have a better record at introducing their younger players. The turnaround in fortunes from Michael McGuire's time at the club has then made it easier for young players to shine. It would have been harder for Josh Charnley to shine if the Warriors were a mid-table team battling to make the Play-Offs.
The dynasty that you mention owed a great deal of thanks to the informal mentoring system that took place at Wigan during that time. Several of the older players in the squad seemed to 'adopt' a younger member as his training partner and this helped to pass on the winning habits that Wigan learned during that 'Golden Era'.
Knowing how to play well in big games (Cup Finals etc.) was a skill that Wigan mastered in the '80s and '90s, and one which Leeds seemed to have had in recent years. When a team develops this skill, it can be hard for another team to take it off them.
The challenge for Wigan will be to successfully replace one or two members of their squad each year. The management of Wigan during the period you mention made several tough, but excellent decisions. Knowing the right time to move on the old and bring in the new is a difficult one.
If Wigan lose Lima, Leuluai and Finch at the end of the year, they'll need to find or develop some brilliant replacements. That's the key to winning in the long-term. Clubs like Manchester United have done it well in football, and it's much harder than it looks.
MORE WOE FOR WIDNES
With regards to Widnes, I'd like your take on their chances of climbing to mid-table. We've heard Denis Betts say it will take a few years to be where they want to be, but surely we saw a glimpse of that happening sooner with the shock result over Huddersfield?
Les Cutting
PHIL REPLIES: My friendship and respect for Dennis Betts is well known, and I've written already how well I think that he's doing at the Vikings, but I can't see them finishing anywhere other than 13th or 14th in 2012. Their players just aren't good enough. They never stop trying, and I'd never dream of criticising their enthusiasm but they are playing against players who are just better than them. Next year might be a different story, with some new faces in the team photo, but if they manage six wins this season I think that they'll have done remarkably well.