A flawed system
Phil Clarke says it would be a mistake to reintroduce promotion and relegation in rugby league.
Last Updated: 23/05/12 3:55pm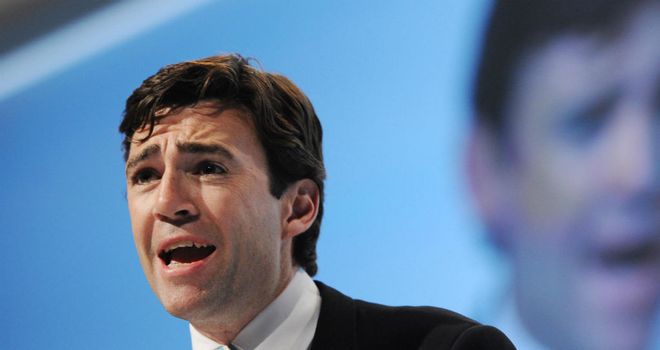 I must apologise for neglecting some of the questions that we've received on the website over the last few weeks and have decided to focus on them today.
We've picked out a selection and I'll try to answer them as best as I can.
Your comments are always welcome and I value your feedback.
Phil answers your emails...
Got a question for Phil? Email him at skysportsclub@bskyb.com or use the feedback form below...
MP'S MUSINGS
It's an age-old issue but there were calls again this week for the reintroduction of promotion and relegation to rugby league, this time from MP Andy Burnham. We always focus on what's good for the top clubs, but do you think it's having a negative effect on the lower levels of the game with the prospect of a dream run to the top level denied to them?
Cieran (Widnes)
PHIL REPLIES: I don't Cieran at all. Andy Burnham MP is a friend of mine and I respect what he has done on a national and local level in politics, but I don't agree with the principle that annual promotion and relegation would help rugby league in this country.
You only have to do a brief investigation into the effects it had on professional clubs over a 20-year period from, say 1980 to 2000, to see that it did much more harm than good. Some clubs went bust more than once, firstly by overspending in an attempt to gain promotion, then by overspending to avoid relegation. Most of the clubs focused their spending on first-team players, with little or nothing on junior development, facilities or marketing.
I am a big believer in evidence-based decisions and the evidence showed that an annual cycle, like the one that exists in football, was not working for rugby league. I'd even guess that there would be a number of football club owners who would also agree.
I realise that the gap between the divisions in rugby league is now wider, and the longer that a club stays out of the Super League, the harder it is for them to catch up, but I agree with the theory behind a three-year cycle.
Rather than living hand-to-mouth and just surviving, the sport needs to agree what it wants to look like in 20 years' time. Clubs also need to take a long-term view and follow what a club like Huddersfield have done over the past 10 years.
They are the best example of a club who have gone from the lower division to almost the top of the Super League. Admittedly, they had some advantages with the move into a new stadium before most others in the mid-90s, but there efforts off the field have certainly been impressive.
The advent of the microwave changed many things in this country. We all must just want to wait three minutes for things to be ready. Unfortunately in team sports, three minutes is about three years when fans get fed up after three weeks.
I'm not saying that the current model is perfect, but it's better than what we had before.
PERFORMANCE ISSUES
Hi Phil, I'm starting to get excited about Warrington's form with six straight wins, including the cup. What do you think has been the main difference since the defeat to the Dragons?
Pete, Warrington
PHIL REPLIES:I'd have to say that I think the Wolves have probably under-performed this season. Their pre-season trip to Australia - and trial match with South Sydney, looked like a good idea, and they started the year looking quite good, but they haven't excited me as much this year, nor worried opposition teams quite like they did in 2011.
At the mid-way point in the season, they've scored less and conceded more than last term. In fact, their attacking record has dropped to the extent that on average they've scored 8.5 points less a game. Add that to the fact that they're conceding about a try a game more and you start to see that the others have narrowed the gap on last year's league leaders.
I don't think there's one single reason for this, but the injury to and absence of Michael Monaghan would be my first guess. If you asked Tony Smith who was the first player he'd pick if everyone was fit then I think that Monaghan would be up there.
The fact that they've been good enough to win away at Huddersfield, Wigan and Catalan in the Cup tells you that they're good enough to get to the Grand Final in 2012. The bigger question is whether they have the nerve.
ON THE RIGHT TRACK
Widnes pushed Castleford really hard at the weekend. Do you think there are significant signs of improvement from the Vikings or was that a one-off performance?
Danny
PHIL REPLIES: As a close friend of Denis Betts, and someone who respects what the owner Steve O'Connor is trying to achieve, I really hope it is a sign of improvement.
They'll probably finish last in 2012, and might do next year, but as I've written in the answer above, the Huddersfield Giants had years of pain before they found some pleasure. It's now a lot more fun going to watch the Huddersfield team play and I'm sure it will become like that for Widnes in time.
I have a basic idea of the training and preparation that takes place at most Super League clubs and can tell you honestly, the work done at Widnes is as good, if not better than that being done at other places.
Unfortunately the club had last pick of the players available and find themselves in the same position as most teams that came up into Super League when we had promotion and relegation. It is further proof that the point made by Andy Burnham MP is flawed.
Quite a lot has been said and written about the new pitch at Widnes. I'm not sure if it was specified to the designers when it was made, but it certainly helps attacking play.
It's been suggested that it's faster to play on than grass, and it appears to be easier to attack well on it than defend. The Vikings have scored almost four times as many points at home than they have away and the average score on their pitch in 2012 is 23-37 (a total of 60 points).
Compare that to an average Super League game which has just less than 50 points a game. I know that you will say it's because they're the bottom team, but believe me, it's easier to score than defend at Widnes.