We can be heroes
Phil Clarke says that everyone needs a hero and wants our rugby league players to inspire us all.
Last Updated: 20/05/12 4:15pm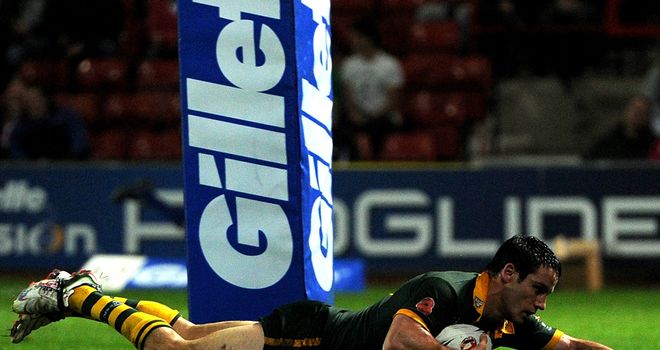 With the England v Exiles match at Langtree Park now just a month away, attention gets more closely focused on to which players Steve McNamara will select.
Coaches from the Super League clubs want to see some of their players involved and hope that they learn from the experience and return a better player.
Last week I wrote an article on 'overseas' players in which I questioned the direction that we are taking in this country. I wondered if we've almost conceded defeat by selecting players who have never been to England before they were selected to play for the country.
This week the Huddersfield coach Nathan Brown took an even stronger stance and I have to agree with everything that he has said. If we are not careful, we'll de-motivate some of our own youngsters and ruin the credibility of international rugby league.
Eligible players
Losing to Australia and New Zealand is disappointing and at times depressing, but if we lose to them with players who are from Australia or New Zealand I think we risk the chance of killing the sport at that level. I don't think that supporters from this country will repeatedly pay to support a side with accents that don't sound English. You might say that they do in cricket and rugby union, but I don't think that it would work for us.
I know that this is a grey area and that 'eligibility' is a complicated matter but think that we need to maintain some self-imposed criteria if we are to keep the respect of our opponents and supporters.
Everyone in life needs a hero or role model from time to time, especially when you are young and in your more formative years. They can help to provide the inspiration and direction that we all search for every now and then. I've no doubt that for many youngsters in this country players like Kevin Sinfield, Sam Tomkins, Paul Wellens and Eorl Crabtree are the people that they look up to and I hope that they have been able to use their position to help inspire many others.
Super Cronk
Last week I came across a website called coopercronk.com. Many of you will already know just how good a rugby player he is, he's played for Australia on 14 occasions but when you read his site, you'll soon realise how impressive he is as a man.
The site isn't about rugby league, but about life. It's full of positive messages to help you become the best you can be. He talks about the fact that many youngsters think that their hero is a superhero and not a real person, who has become successful through their tenacity, not just their talent.
The fact that he now wants to share some of his lessons, to help others, really impresses me. He talks about setting challenges or goals for yourself that are fun and enjoyable. He also recommends that people read more and says that it's the best exercise for the brain. How true.
He tells the story of how his career was going nowhere until he started to take responsibility for his own actions and he's obviously had some great mentors during his time at Melbourne.
I think that he has his life in perspective and seems content with himself. Obviously he wants to get better as a player, but he's happy with where his mind is at and that's not always the case for professional sportsmen or women. Some of the highest paid and best known are sometimes the most unhappy.
If you find the time, take a look at his site and have a look at the stuff that he's reading and listening to. My favourite is number five in his Quick Picks. I love the music and the message.