Best of British
Phil Clarke wonders if enough is being done to get home-grown talent playing in the Super League.
Last Updated: 09/05/12 1:08pm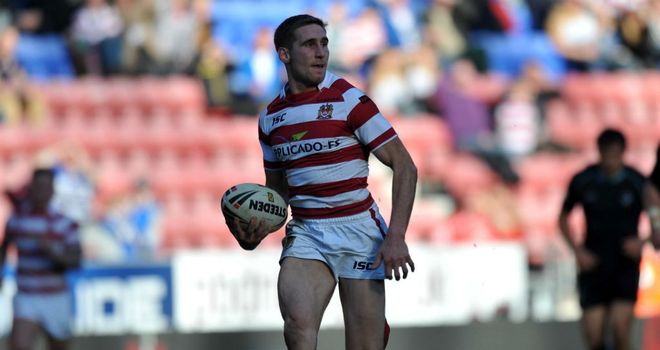 Overseas players. It's a topic that's been written about that often in the last 25 years that I'm not sure anybody is interested in it anymore.
From the time when Halifax won the league with almost a full team of Australian players, under their Australian player/coach Chris Anderson in the mid 80's, through to today it has been a subject of lessening interest in rugby league circles. As I write this article, I'm worried that it has become a subject that people no longer wish to debate or read about.
I suppose that it's become even more complicated in the last few years after players like Rangi Chase and Chris Heighington were selected for England. Who knows who the 'overseas players' are anymore?
Last Friday night in Wigan, Hull KR fielded a side with what I would call 10 overseas players. They hadn't learned to play the game in this country, nor were they born here. Wigan had four of their seven backs from Australia or NZ and two of these four played at scrum-half and stand-off, key positions in the modern day team.
Last Saturday I watched a Hull team beat Leeds with only two of their 17 players actually trained and developed by the club. I looked back at the Hull side that played in the 2006 Grand Final and noticed that on that day there were eight players that the club could honestly say they had produced.
I understand that most of the time the head coach is only really bothered about winning the next match and will select the players that give him the best chance to do this.
In my opinion Anthony Gelling was outstanding for Wigan against Hull KR and I can see why he was selected ahead of Matthew Russell, but I want to ask if this is the right way for the sport in this country?
Sam Tomkins is one of the most exciting players in the Super League and yet may never have had a chance to shine had it not been for an injury to an Australian player. How many other young players are denied an opportunity like Sam?
Not good enough?
I have heard some people say that they are not good enough or just not ready, but unlike the NRL, our clubs rarely give a player from a lower division an opportunity at Super League level when they get past 22. Even if we did have a brilliant system to help our more talented players during their development phase of say 18-22, would they ever get picked ahead of an older player from Down Under?
It's not just in rugby league that the goal posts have shifted so far that we have lost sight of the pitch!
Last weekend rugby union Premiership side Sale were criticised for selecting an all-English team to play in their last game of the season! Surely if we care about sport in this country we should be applauding Steve Diamond at Sale?
There are some rugby league clubs in this country who have changed their philosophy and reliance on overseas players. Warrington have invested time, effort and money to start to produce their own players in a better way than ever before. Huddersfield are also trying, and have bought and recruited British players from other clubs. I am told that Hull have now addressed the issue and are looking to get back to helping their young players maximise their potential. However they have all done this voluntary and I wonder if the game need to make it compulsory.
Overcoming hurdles
Whilst talking to a few Hull supporters before their game against Leeds, I raised the subject of overseas players and was slightly shocked when one of them told me that he would have a full team of Australians if it meant that they might win from now on. Therein lies one of the problems.
The next hurdle put forward by some is that if you reduce the number of overseas players you'll reduce the standard of the competition. Is that true?
I have heard Brian Noble and Steve McNamara both say this, but I want to know the alternative. Do we just continue on the path that we are on waiting until Anthony Gelling qualifies to play for us?
Warrington signed a player in his mid-20's from the Co-operative Championship last year. His name is Chris Hill and he's doing quite well for them. Can you honestly say that he is the only player in that division capable of playing in the Stobart Super League?
I believe that we could fill the spaces of some overseas players with lads from clubs like Halifax, Batley, Dewsbury, Leigh, Keighley and Featherstone. This would provide an opportunity for the late developers. Many of the overseas players that we get in the UK didn't make their NRL debut until their mid-20's anyway!
And why do I say all this? Well, partly because I was born here and want to see others given a similar chance and secondly because I want to see more competition for places in the England team. I also think that we spend a great deal of money on player development which never gets off the production line. It can't get a space on the shelf to shine.
Could the game, and I mean both the clubs and the RFL, be better off if it came up with an agreed plan to buy British?
Does anybody care?