Selective thinking
Phil Clarke wonders if a draft system for players would make Super League more competitive...
Last Updated: 01/05/12 4:25pm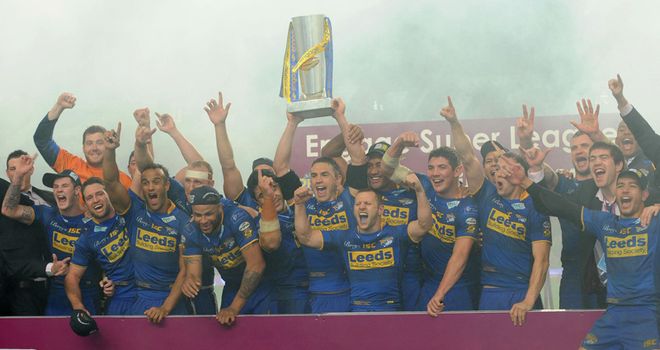 A competitive game is what most people want to see. They want to be entertained and they'd ideally like some tension and drama at the end of the match. In a perfect situation, every team would have an equal chance of winning, but life isn't perfect and neither is professional sport.
Some sports, like rugby league, have used a salary cap to attempt to provide a level playing field and ensure that every team and their supporters have a chance of glory, but the records over the last 15 years have shown that it hasn't altered the balance of power.
I'll ignore some of the one-sided scores from the Challenge Cup when teams from lower divisions were competing against others which have full-time players. My interest here relates to the weekly competition of a league structure. (I'll ignore the aim of providing financial stability through a salary cap. It was introduced to prevent clubs from spending too much money on players, but it doesn't seem to have done too well in that area either).
Fundamentally we need to decide whether it is in the game's interest to attempt to assist the clubs that haven't experienced success for over ten years. Personally, I believe that we do, but I have heard the well-placed arguments from the top teams which imply that it can be counter-productive for the game. Are we helping the weaker teams to get stronger or just weakening the strongest teams?
Even
Last week's article, 'Received wisdom', looked at a minor rule change to allow the team that have just conceded a try/penalty goal to receive the kick-off. This week I want to go even deeper and ask you to consider a more radical proposal.
Most people realise that the idea of a salary cap was taken from American sport. They'd had one in Australian rugby league since 1990 in an attempt to even the playing field of teams but the concept originates from the States.
In the country that charged ahead with capitalism, their sports operate with an almost communist ideology. Each year the best young players are selected, with the weakest club getting first pick. They call it a draft system. The system attempts to give the teams that finished at the bottom of the league the first chance to sign the next generation of stars. Admittedly, the players are in their early 20's and have just finished at university/college but are still at the start of their professional career. It sounds like the sort of idea that you'd see in the playground at playtime, but it works for them.
Would it help Super League competition if Widnes, London and Castleford were given the first chance to sign the best three 18-year-old players in the country? Could it ever happen?
Competitive
In the last 20 years, there have been 13 different winners of the Super Bowl in American Football.
During that time we've had just four different clubs crowned over here. Most people know that Wigan, St Helens Bradford and Leeds have almost monopolised the glory of our game in recent times. Is that a good thing? I'm not saying that we have to change but we need to consider how to keep our competition competitive. Since 1998 there have been nine different teams crowned as the Champions in Australia and many believe that it has helped to grow their game. Fans need a taste of success from time to time; it's not much fun when your team continuously lose.
In addition to being successful with their first teams, Wigan, St Helens and Leeds have also been successful in producing players to play at First Team level. Many of the young men who have played and currently play in the Stobart Super League began their experience of elite rugby league at one of those three clubs.
Did the best talent choose to go to those clubs or did those clubs produce the most talented players? If it is the former, then my proposal of a Draft System has merit. But if the clubs received players with equal talents then there's no way that my proposal would alter things.
How do we make the Stobart Super League more competitive?
What is the number one priority for the clubs in the Stobart Super League?
Legend
If you are lucky you'll meet a few great men throughout the course of your life. You can tell that they've been special by the number of people who turn up at their funeral. A service took place this week in Wigan for a man called Keith Mills. He'd been at Wigan Rugby League Club since the 1960's, firstly as a player and more recently working in the lottery department. Throughout his time at the club he'd performed a number of duties, most famously as the 'Man with the Magic Sponge' in the days before clubs had a qualified physiotherapist, or as the guy who brought on the kicking tee and a calming word before Andy Farrell took his kicks at goal.
The attendance at the Church was incredible, with legends from every era represented. Boston, Francis, Fairburn, Gregory, Edwards and Farrell were just some of the past players who wanted to thank Keith and pay their respects. Sean O'Loughlin, Sam Tomkins, Gareth Hock and the rest of the team were also on hand to say goodbye to a man who had selflessly given so much to the game of rugby league. Many towns and many teams have people who help to hold it altogether, in the special way that Keith did at Wigan. Sadly we have one less this week.
Phil answers your emails...
Got a question for Phil? Email him at skysportsclub@bskyb.com or use the feedback form below...
TAPPING POTENTIAL
Your piece "Received wisdom" was interesting. I agree with your premise that it would be good in some ways to interrupt the momentum that one side has by somehow giving an advantage to the other side after a try or penalty is scored. I don't think, though, that changing who receives the ball will necessarily do that. I hate it when my side opts to take two points because I worry that we will forfeit so much territory and make a mistake under our posts allowing the opposition to score 4 or 6 points more than wiping out the penalty. Most other sports that kick off after a score get the ball or puck or whatever on the halfway line and are allowed to use it themselves. The two options you mention involve either ceding possession or ceding territory. Why not make it a tap start on the halfway line for the side scored against? Maybe for a penalty goal you make it a tap restart on the 40? Allowing the team under the cosh possession and territory is the only way to truly interrupt that momentum. Of course some will say that you should reward success and the way to get a more level competition is to improve the quality and depth in our game rather than installing artificial devices to make it look more level i.e. papering over the cracks, which I fear is often what the RFL have been about. Regards Chris H
PHIL REPLIES: I'd be interested to read your thoughts on how we achieve a more level competition? Would a Draft System for the best youngsters help?
Other people have said that the team who have just conceded points could re-start with a tap on the half-way line but I'd prefer to see a kick off. My suggestion would be that the scoring team kick off from their own 30m line. It's a bit radical and wouldn't look great to start with but would be better than a kick from the half-way line. We need to see a certain level of drama and attack and ideally have games so close on the scoreboard that you don't know who is going to win until the hooter sounds. The concept of a bonus point for losing narrowly, like they do in the Championship and in rugby union competitions, is another attempt at encouraging a tight finish and keeping the game meaningful until the very end. How do we achieve it in the Stobart Super League?
RESTARTING POINT
Hi Phil, I can only agree with your comments regarding the current procedures regulating restarts (after tries or penalties), that the conceding team is more or less immediately compelled to kick away vital possession back to the scoring side, thereby also the initiative back to them as well. The result of which more often as not (& backed up now by your statistics shown) usually results in runaway & lop-sided scores occurring in all too many in games! I have also for a long time been of a likeminded opinion on this matter, & I have also written to you in this column about this same subject on more than one occasion previously, to express my thoughts here. I'll now reiterate these & state that the conceding team at a restart after they have had either tries, penalties or field goals scored against them should immediately restart the game with a 'tap-kick' & pass to their own player from the centre of the playing-field, such as is the case in football & other similar sports. This should importantly, better-ensure good positioning & their ball-retention in the first set of six tackles immediately thereafter & allow the conceding team a better & more even chance of springing back into a game after suffering points scored against them. This should then make for a closer & more interesting game & spectacle to play & to watch! Trevor Fuller
PHIL REPLIES: Thanks for your comments Trevor; we try to get through as many as we can each week. You're not the only one to put this idea forward but I worry that it could make the game a bit too much like basketball. I don't think that we want the game to be one score after another, or even have every set ending in an attack on their opponents try line.
Most teams can make about 40m with a set of six tackles, so to restart with the ball on the half-way line would take them into a scoring position straight away. (I know that you can score from anywhere on the field and I'd like to see more teams try to do this, but you know what I mean. A total of 66 per cent of tries in Super League (two out of every three) are scored when the team play-the-ball less than 20m from their opponents' try line).
Again I don't really want to see different rules within the sport of rugby league but would agree with your suggestion at junior matches. In all games played for those 16 years of age or younger, it would be beneficial in my opinion, to have the tap restart on the half-way line as you suggest.
I'll throw this idea at the RFL and let you know what they think.
POINTS WELL MADE
Phil - I understand the arguments for reversing the kick off after a try but I am not so sure. Having been to the recent Wigan v NW Crusaders match - and supporting the Crusaders - I feel sure that with a rule change each Wigan try would have led to a deep kick off and the Crusaders being pinned near their own line. Given their struggle to make ground except for penalties the game would have been almost entirely played in those final 20 metres. We would not have seen the spectacular long distance breaks and tries - which the home fans loved - just a succession of dullish short distance tries. There is always the option of a shallow kick off and Crusaders did try that variation. From the terraces I am sure we got a better spectacle with the current rule and I suspect no more painful for the visiting fans than if the restarts had been reversed. Also some incredibly exciting finishes have occurred when a team 6 to 12 points behind scores with two minutes to go knowing they can have one more shot. Witness two of South Sydney's NRL matches this season. I remember the 90s experiment you mentioned. Do you recall how the fans hated not being able to cheer the scoring team back to their (spread-out) positions after a try? So from a spectators' point of view I believe on balance we are better off as now. But what do the players think? I am sure they get more exhausted with the relentless tackling after repeat tries and are more prone to being penalised for minor offences like not standing square. On the other hand for a team trying to get back into the game I's great to have the ball back straight away to continue the fight back. I agree nobody welcomes blow out scores and yes it would be worrying if it drove amateur players away from the sport. So I's worth a debate but we need to think through the consequences very carefully. Personally I would leave it alone. Andrew Cudbertson
PHIL REPLIES: Your points are well made and I value the feedback, the advantage that the current rule gives to a team trying to come back into a match was perfectly exemplified in Australia last weekend when Parramatta scored 30 points in 13 minutes. They were losing by 31 points to nil and were able to get onto a roll because they got the ball back from the kick off after they'd scored a try. It helped to provide a dramatic finale but they are so rare that we remember them.
My next point will probably upset you Andrew and I apologise if it does, but I'm not sure of the point of Wigan playing against the NW Crusaders? I don't think that it was a beneficial, worthwhile or enjoyable experience for most players or fans. You might disagree with me but I think that we should debate whether teams from the Championship One Division should face Super League opposition at all in the earlier rounds of the cup. If you get time, please let me know how and where a game between Wigan and the NW Crusaders helps the game?