Received wisdom
Shouldn't a team that has just scored kick off to their opponents? Phil Clarke proposes a rule change...
Last Updated: 25/04/12 2:03pm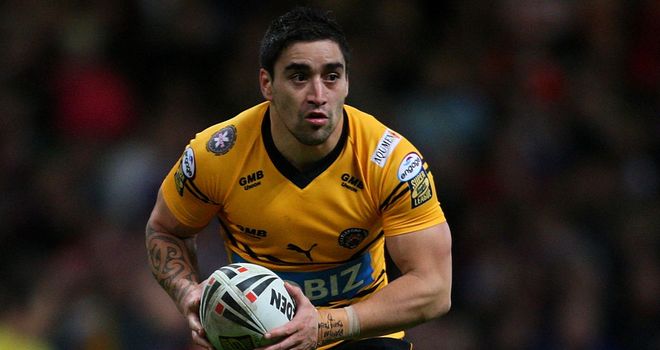 I've tried unsuccessfully to ban myself from suggesting rule changes to our sport - we seem to do it more often than most other major team games - but I feel it is appropriate to put one proposal forward this week.
It might be as a result of the one-sided games I've watched from Round 12 in the Stobart Super League but I also think that it is equally (and maybe more importantly) relevant at all other levels of rugby league.
It's vital that we consider every level when we debate issues such as rule changes and I'm only throwing this idea up for debate. I'm going to ask Rod Studd to consider it for his Back Chat show and see what other people think.
Unlike most other team sports, the team that has conceded a try in rugby league are forced to kick off to the team that have just celebrated a try (or penalty goal). This is now accepted as the norm as it's happened for so long but I want you to consider whether or not the team that has scored should kick off to the team who've just conceded points.
Cycle
Let me give you some examples of why I think that this could help our game.
Last Friday at Langtree Park the Saints were running hot. They got their hands on the ball and didn't let go. Here are some of the scoring sequences.
St Helens
Penalty - penalty - try - repeat set - try
Penalty - try - penalty - repeat set - try
Try - try - repeat set - try
The vast majority of penalties go to the team in possession. They get more possession. When they score a try they get possession again. The cycle continues.
Obviously in the above example, St Helens were good enough to get a repeated set of possession. Sometimes this is through the skill of forcing a goal line drop out, but on other occasions it's because a defender's hand has knocked down the ball and the referee starts the tackle count again.
The above example isn't unique. It happened three times in the game played between Warrington and Castleford last weekend. All the Tigers could do is KICK OFF and try their best to get their hands on the ball.
I wonder if it would be better for the scoring team to kick off. Would it prevent the one-sided games that we saw at St Helens and Warrington?
Before you say that we've tried this before, I know. It was in the late 90s at the start of the Super League era.
I think that we ran with it for a season before switching back to what we have today. I believe it was introduced to prevent the runaway scores, but it back-fired.
The stronger teams would kick off and smash their opponents with such aggressive defence that they'd drop the ball close to their own tryline and concede another try.
Considered
There are some interesting questions here.
Do we want to allow the team that has just conceded to score next, like they do in football or basketball, or is that penalising a team for scoring by taking the ball off them?
I began this article with the aim of finding a way of making the game fairer and preventing the runaway scores which don't allow for the tension or excitement of a close game, a game which goes into the last minute with the winner still to be decided.
However, I am aware that one of the greatest games of this season so far was when the Catalan Dragons came back to win at St Helens.
The fact that a scoring team can get onto a roll is favoured by the fact that they get the ball back after they've scored. Does the current rule help or hinder the game?
I mentioned earlier that we need to think of the whole game when we talk about changing the rules. From what I've seen, you very rarely see a Catalan-style comeback in an Under 12s match. There are some one-sided games which are a procession of tries.
I hate how often we change the rules in Rugby League, but think this one needs to be considered.
Phil answers your emails...
Got a question for Phil? Email him at skysportsclub@bskyb.com or use the feedback form below...
CUT TO THE CHASE
Phil, despite what you say about the RFL disciplinary panel, the fact that Rangi Chase only got three matches for a reckless elbow to the head is plain wrong and he should have a longer ban. Ropati now faces approx 10 weeks out for a fractured cheekbone; where is the justice in that? Also what's stopping the video referee reviewing this during the game and him being sent from the field? Martin Lee
PHIL REPLIES: I will begin by agreeing with a point that you make. In my opinion, Rangi Chase deserved to be suspended for more than three matches. If you are found guilty of making contact, like he did, with an opponent's head then you should be suspended for a minimum of four to six weeks, and possibly more like six to 10 weeks.
The article that I wrote last week was not about the Rangi Chase case. It was about the procedures that we have in place in the game of Rugby League. I tried to outline the process that takes place from the end of the match at the weekend, through to the appeal on a Wednesday night.
I believe, with the resources available, that we have a fast and fair disciplinary procedure. I did not say that they always get it right.
I occasionally read about cases in which a person is given a relatively short prison sentence when they've killed somebody else. You could ask 'where is the justice in that?' The whole point about finding justice is to have independent people making the judgement. Again, I believe that we have that in Rugby League.
There is perhaps a group of conspiracy theorists out there who think that the clubs in the Stobart Super League are treated more leniently than those in the Co-Operative Championship. Again, I don't agree with this. I've met some of the people who work on the Operational Rules Tribunal and know that they have the 'good of the game' at heart, whatever level it's played at.
I would challenge anyone out there to show me a sport in the UK or Europe that has a similar degree of contacts/collisions and has a better system of dealing with illegal or foul play. When you consider how quickly we deal with cases in comparison to Premier League Football, I think that you'd have to agree that we're doing very well.
To conclude, I think that Rangi Chase deserved a longer ban but others would disagree with me and we have to accept what's been decided.