No rest for winners
Phil Clarke looks forward to the return of knock-out rugby league after a tough Easter schedule.
Last Updated: 11/04/12 2:16pm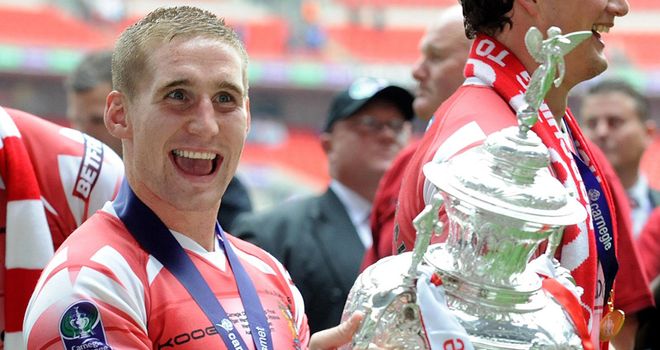 "Go hard early or go home sad," that was the lesson from round 11.
Most players in the Stobart Super League take two to three days to recover after a match. The demands after Easter don't allow for that kind of recovery and it didn't surprise me that seven of the games played on Monday were won by the team who led at half-time. (The other match was 2-2 at the break but the Giants scored first in the second half and never looked back).
You don't feel as tired or as sore when your team have the ball, or you're in front on the scoreboard. And I am sure that the coaches asked their players to go as hard and fast as they could when the game kicked off. "Empty your tanks" is the trendy term coaches are now saying to their players.
This weekend sees a break from the Stobart Super League as the road to Wembley begins. It is the first time in the year that each game has a rugby league life-and-death feeling and it will be interesting to see if the games are played any differently.
We often hear coaches talking about performances and not results, but I don't think that applies this week. If your team plays badly and wins, you're still in the draw for the next round which is the aim of the game if you want to walk out in the sunshine at Wembley in August.
So, good luck to all the teams.
Phil answers your emails...
Got a question for Phil? Email him at skysportsclub@bskyb.com or use the feedback form below...
A RIGHT BULLS UP?
Hello Phil, I have sympathy for Bradford Bulls and their fans given their current financial situation. But I don't see why they should be made into a special case as some seem to think. Lots of businesses have gone bust over the last few years and they have not had any special support. What do you think?
Tel, Bolton
PHIL REPLIES: Yes, I am with you on this one Tel. I am not sure if you have had a chance to watch Rod Studd's Back Chat programme yet but he has a similar view. What difference is there between other businesses in Bradford and the Bradford Bulls? Should they be treated any differently? Will they get parliamentary support?
I know that sports clubs have replaced the church for some fanatical supporters and they could not bear the thought of their religion disappearing but I have been embarrassed by the situation. Admittedly it does happen in other sports but they have not dealt with it in the same way. It has not had a good look for rugby league.
My sympathy goes to the people who have supplied goods and services to the Bradford Bulls and are now waiting to be paid. The club's employees are in the same position as thousands of people throughout the UK who have sadly lost their jobs over the last five years. The economic problems in this country will also affect business involved in sport just like the Bradford Bulls.
The biggest embarrassment in my opinion relates to the so-called licenced application to be in the Super League. I must admit to limited knowledge of this process, but I understand the principle of the governing body checking and monitoring the state of each applicant. At the moment it looks like a farce and would seriously make me question if there is much point in paying people to do this again in about two years' time when the next round of licence applications begins.
SAM'S THE MAN
Hello Phil, What do you make of Sam Tomkins' form this year? He seems to be going from strength to strength but does he really deserve a place among Wigan's legend at such a young age?
Jon, London
PHIL REPLIES: I didn't think that Sam Tomkins could be as devastating in 2012 as he was last year. I thought that his rate of improvement would plateau, that teams would put him under more pressure, close him down and nullify the threat he possesses. That certainly has not been the case.
Last year I compared him to the Wigan greats of Hanley, Edwards and Farrell. Some people told me that it was too early to do this but I disagree. He is helped by the fact that there are some good players around him but his game awareness and natural instinct appear world-class. I imagine that he learnt a great deal from Michael Maguire last year who worked closely with Billy Slater when he was at the Melbourne Storm. In some ways he is the Billy Slater of Super League. I don't know how you defend against him.
His career path is fascinating in that Wigan rejected him at 16 years old. He refused to accept that and eventually made his way into the second team as scrum-half. He waited patiently until an injury to Tim Smith gave him an opportunity in the first team. A freak injury then to Amos Roberts gave him the chance to move to fullback and his rate of learning in a new position was phenomenal.
In my opinion he defends as well as Kris Radlinski, kicks as well as Joe Lydon, takes the high ball as if he is Stevie Hampson, and runs the ball like Jason Robinson. Add to that a pass as good as Andy Gregory, a sense of support-play like Shaun Edwards and you can see why I think he is already a member of the Warriors' hall of fame.