Mind games
Phil Clarke discusses the need for mental toughness as a daunting Easter schedule beckons.
Last Updated: 04/04/12 12:14pm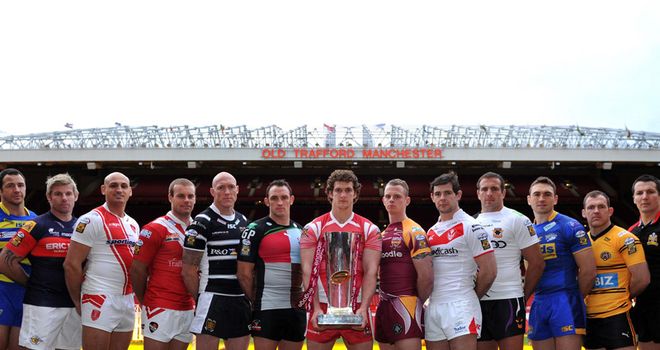 Most of the media coverage on football that I've seen recently has centred around the 'mind games' played between Sir Alex Ferguson's Manchester United and Roberto Mancini's Manchester City.
Every quote is scrutinised and analysed, with each word designed to have an effect.
Well, the words coming out of every Super League coach and captain's mouth will also have a significant effect on the mental state of their players over this coming weekend.
Generally speaking, it's the only time of the year when some of them are asked to play two games in less than a week.
It does occasionally happen at other times - last year's Exiles v England game meant that some of them did it then and amazingly, very few people complained about it.
I often get surprised when I hear coaches criticise the Easter weekend at this time of year. Have they not seen the fixture list before? Is it a surprise to them that we have two league games over Easter?
In the NRL, their leading players have played two games in a week for years. Well, the best ones have after they've represented New South Wales or Queensland in the State of Origin in a mid-week game. There have even been occasions when their Test players have played for Australia on one night and then their club team on the next! I'm not aware of one single death by over-playing in all of those cases.
However, I do appreciate how long it can take some players to physically recover after a match. Some teams do a range of tests to help determined the recovery state of their players, and I've seen some of the results. For many, it is longer than three days to fully recover, but that doesn't mean that two teams can't play against one another in a similar state.
If professional sport is about entertaining the paying public, and they want to be entertained over the Easter weekend, then that's what rugby league players need to do.
In my experience, it doesn't help a team when they keep hearing people say that playing two is too much for them at this time of year. If you're going to have that debate, then have it in November when the season is over, and have it with the people who matter - not with the media.
I know that it's hard to get yourself up to play so soon after an intense derby game, but that's what you've got to do if you're selected to play in both games. This is the one real time in a rugby league season when the rugby coach might have to think like a football one.
Footballers are used to playing two games a week and managers have to make selection decisions which require them to rest and rotate their best players. Every coach in the Stobart Super League has to decide if it's time to give one of his fringe players a run with the first team.
We all know from watching that you have to be physically tough to play rugby league. Well, this weekend is the one when mental toughness takes over.
Phil answers your emails...
Got a question for Phil? Email him at skysportsclub@bskyb.com or use the feedback form below...
BEN'S BIG CHANCE?
Hello Phil, Have just seen Wakefield have handed Ben Cockayne a new contract. Obviously, the lad has made mistakes in the past, but having been on a try spree lately - do you see any chance he can start an international career soon?
Terry, Carlisle
PHIL REPLIES: I love a lad with ambition but think that you might be jumping too far with that. His new contract is well-deserved but he has some tough competition to beat if he wants to get onto the England wing.
I would imagine that players like Ryan Hall, Tom Briscoe, Ben Jones-Bishop, Josh Charnley, Chris Riley, Jermaine McGillvary, Luke George, Richard Owen, Greg Eden and Ryan Atkins would rank in front of him. At 28 years of age he isn't too old to improve even further and has always seemed to play with more enthusiasm than the average player. His opportunities to start games last year were limited and he appears to be benefitting from the game time he's getting in 2012.
Every great winger will acknowledge that they need a good supply of 'quality' ball and he is getting that at Wakefield this year.
BULLS' WHITE FLAG?
Dear Phil, I was wondering about your views on the situation at Bradford. Do you see the club surviving and in the meantime, how will the crisis be affecting the players when they cross that whitewash to play their games?
Thanks.

Bill, Odsal Oddball
PHIL REPLIES: Well Bill, the optimist in me thinks that they will survive but I'm not sure what I'm basing this on. I can't see them raising £1million from supporters and, to be honest, I'm a bit embarrassed to call it a professional sport when we have players auctioning off their medals to raise money for a club crisis.
I hope that the club can find some new investors to help to take them forward. It would be sad if they disappeared and made the Super League a 13 team competition.
I actually think, rather bizarrely, that it will help their on-field performances in the short term. Strange as it may seem, players and teams tend to respond quite well to dramatic events. It often acts as a catalyst to an inspired performance and they did very well at Hull last weekend. It wouldn't surprise me if they actually beat Leeds this week
MAC MAGIC
Clarko, Top stuff mate - love reading your thoughts on our beautiful game! Was just wondering how you see McNamara's men getting on against the Exiles? All the best

Bobby C, Wirral
PHIL REPLIES: Obviously I hope that they do well, and by that I mean WIN. Many things in life are habitual and winning in sport is one of those for me. It's vital that the England team do whatever it takes to win games over the next two years. It has to become a habit.
It's just over two months until the clash with the Exiles and it's a difficult time for the coach. He needs to monitor the form of his top players and provide the information and feedback that he believes they need prior to the games.
In my opinion, he has to be coaching them for the World Cup even now. If he waits until they get together in camp as England, it will dramatically reduce his contact time available to them and the potential learning opportunities available.
I realise that this may annoy some club coaches, but it might also make them better for the rest of this season.
One coach can't have all the answers.