Pushing a bad idea
Phil Clarke says it's a mistake to listen to those calling for a return to old-fashioned scrums.
Last Updated: 28/03/12 11:39am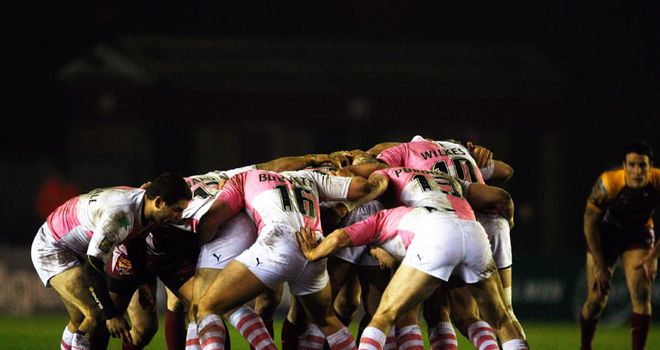 'Bring back the contested scrum'. That's what a lot of people who've followed rugby league for over 30 years keep saying.
They think that the modern-day scrum is a farce and possibly a waste of time. Their memories tell them that it was better to witness the aggressive fight for possession, which also involved a great deal of skill from the hooker, who would have to time his strike for possession. The fact that you didn't know which team was going to get possession from the scrum kept the crowd in a state of suspense.
A 'win' against the 'feed' (i.e. the team not putting the ball into the scrum gaining possession out of the back of their scrum) was celebrated and could act as a subtle shift in the game.
However, I have to say that I think that it is a slightly-romanticised view and, sadly, have come to the conclusion that what we have at present is possibly the best situation possible.
When I watched the games played by the visiting Kangaroos of 1982, I quickly remembered how messy and slow the old-fashioned scrum could be. At times it took ages for the ball to come back into play after the referee had tried his best by reforming the collapsed scrum several times.
I think that we must have come to the conclusion that it is too difficult to get 12 men to bind together, push and contest for the ball. Too many factors are involved, it's too hard to officiate and it takes too long.
An article in the newspaper at the weekend about rugby union scrums and the potential they have to make a match embarrassingly one-sided (take England's recent Six Nations demolition of Ireland, for example) convinces me even more that the decision we made in rugby league, effectively to have uncontested scrums, was the right one.
Then there's the time issue. The Six Nations game between Ireland and Scotland had 20 scrums in it. Some of those collapsed, some were re-set, some penalised and others resulted in a free-kick. In total they lasted for 21 minutes; that's more than a quarter of the game spent watching the two teams attempt to get the ball back in play.
If they can't get it right all the time in rugby union, where they really value the scrum and think it's important, what chance would we have in rugby league? (I've also ignored the safety aspect of scrums, which have caused several serious spinal injuries, especially when they collapse).
So I think that the modern scrum is about the best way we have to get the ball back into play to satisfy the supporters and give them what most of us want: running rugby.
If you can think of a better way, then please let me know.
Phil answers your emails...
Got a question for Phil? Email him at skysportsclub@bskyb.com or use the feedback form below...
RUSH'S HOUR
Phil, you're a cerebral man. Can you explain why Mike Rush is enjoying such success where Royce Simmons failed? Is it all down to the attitude of the players or do you have inside knowledge about Mike's training techniques? Be fascinating to know,
Trevor Murray
PHIL REPLIES: It's a great question, Trevor, and I don't think anybody can really tell you what has made such a difference in a week. They won't have done much different on the training field, and I'd guess that they hadn't been doing that much wrong previously, but the ball wasn't bouncing for them.
You very often see a short boost from players when the club change the coach. Perhaps each player wonders if their future is under threat when they see a club make the tough decision in getting rid of the man at the top.
It would have been alarming to so many players because they seemed to like Royce Simmons so much. I always found him to be a friendly and welcoming person, and his assistant Kieron Purtill was effectively a future England coach. (He was in charge of England Knights last year).
Anybody who has watched St Helens over the last 30 years (sorry, that's as far as I can go back) will have seen them destroy teams on a sunny afternoon in St Helens.
People often ask me how important the head coach is in a rugby club. I don't know the answer, but suspect that they are perhaps 20 per cent with the players the other 80 per cent. Some people would argue with me over this, but the result at Langtree Park convinces me of my opinion even more.
TOP OF THE SHOCKS
Hi Phil, what a turn up? I hope you had a few bob on four of the top five clubs losing?! While predictability is one of the banes of sport, surely the best should rise to the top. Is this going to be one of the most open league seasons we've seen, or will the cream rise to the top again?
Owen, Warrington
PHIL REPLIES: A great weekend for the Stobart Super League, Owen. I don't think that anyone predicted all seven winners for Round 8. If they did give me their number, they deserve a job as a pundit on Sky.
If I had to pick a top eight now, I could only see minimal change from the current position. I think that St Helens and Hull KR might make it, in place of Salford and Bradford. I think that the current top six will all feature in the play-offs but still hope that the competition continues to throw up surprises that we got last weekend.
BALANCE POINTS
While I accept that more money in the British game would help the sport, this idea is one I find quite worrying. Most people who dislike the NFL dislike it because of the constant breaks (admittedly the way the game works that can't be helped). Therefore a sport like rugby league whose attraction of new supporters relies on the quality of the product would surely only suffer from constant advertisement breaks. Also what is to say once in a while this won't cause viewers to miss some of the action? While it is probably rare to happen, England's goal against Germany in the 2010 world cup missed by ITV does spring to mind. So without imposing a minimum amount of time between restarts which would slow down one of the quickest sports around which would annoy many fans, i think that could cause problems. As a commentator do you not think the few seconds between plays is crucial in giving you a chance to analyse what has just happened, therefore does this not put you off? I also think this wouldn't go down well with the clubs, many of whom already moan about there being too many games in a season. While ten minutes on its own doesn't seem much, in the context of the current minimum season length of 27 league matches and one cup game that's already the equivalent of an extra three and in the extreme of Kevin Sinfield's 42 matches last season an extra 5+ games. Apart from the obvious strain on fitness by the end of the season i think it would also greatly change the dynamics of the game, with the shorter bursts meaning a potential move back to the use of impact players that the RFL has just tried to get rid of by reducing the number of interchanges as they can then go on longer whilst getting a break. But then the strain on those who play the full 80 would increase greatly as i think is clear from the way so many teams already tire in the last 10-15 minutes.

Ben M
PHIL REPLIES: I want to make the point Ben that it's not my idea, nor am I particularly in favour of it, but worry that it might happen in the NRL and that we tend to replicate what they've done a few years later. Like you, I love the speed of the game, but wonder if it is too fast for some spectators. When you compare it to rugby union or football, it seems as though the chance of scoring is possible in every second of the match. But is that too much for some people? Do they want to have a chat to the person sat next to them?
I don't hear clubs moaning about too many games. They're in the business of having games. Players need to play games to earn their money. Obviously there needs to be a sensible balance, but if you asked them if they wanted to play longer matches and earn more money I think that they majority would say yes.
THE WORST ADVERT
What a terrible idea, it would turn viewers away from the game, it's not in the British culture to have advertisement stuffed down our throats, that's why Sky have taken the BBC approach to F1 with no adverts, at the end of the day we're trying our best to build the reputation of Rugby League, so let's not detract potential suitors. Maybe if each try scorer was 'sponsored' and this was broadcast, that is a potential place to advertise. Even underwear is sponsored in the NFL, think about that kind of thing.
Ben Johnson
PHIL REPLIES: Again Ben, I'm not trying to convince you of this, simply highlighting a potential shift in the game Down Under. I'm not an Ad Man, not do I know much about sponsorship revenue, but I've seen what happens when the game changes in Australia to know that the rules eventually change over here.