Gauging changes
Phil Clarke uses Australia's 1982 tour of Great Britain to analyse the changes in rugby league over the years.
Last Updated: 19/03/12 9:50am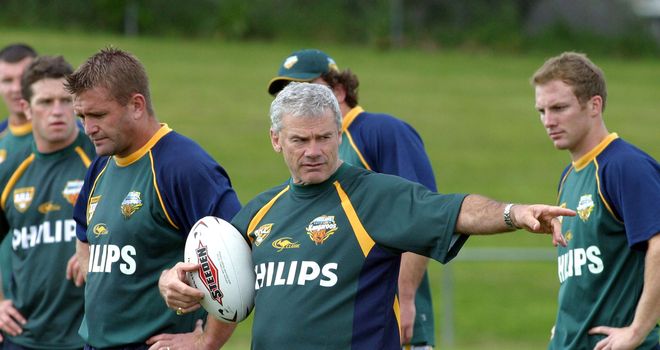 Most of the people who follow rugby league in this country want to see it prosper and grow.
They tend to be a passionate crowd who believe that the game is worthy of much greater exposure. They often state that it's a sporting secret that is dying to get out and can't understand why the rest of the country doesn't feel that way.
Last week in this column I asked for your opinions on how we might do this. I suggested that we all jump into a time travel machine and fly forward to 2022. What would we want our sport to look like ten years from now? How should we get it there?
Well before we imagine the future, let's take a trip to the past. I've spent the last few days watching the highlights of the 1982 Australian Tour to the UK. I wondered how different things were 30 years ago. How much have things changed in the last three decades?
The 1982 Kangaroos became known as The Invincibles after they won all 15 games of their seven week Autumn Tour. Some of the tries that they scored were sensational and they had skills that were comparable, if not higher, than those shown today.
Their ability to offload the ball in the tackle seemed to be the biggest single difference between them and us, plus their second half performances, when they usually ran away with the games.
Hull led 7-0 at half time in their game but lost 7-13, if they weren't fitter they certainly looked it. They even scored tries with a second rower grubber kicking through for his winger, a bit like Jon Wilkin might do today. It was remarkable how similar so many of the tries were to those scored in Super League last weekend!
Comparison
However the purpose of my research was to attempt to look at the 'state of the game' then and compare it to now. How much have things changed? Well, rugby league was just trying to establish itself again in Wales with a professional team in Cardiff.
There had been a team in London for a few years playing in front of 3000 / 4000 fans at Fulham and a team in Carlisle were the attempted Cumbrian outfit. (Fulham were one of the few teams to score a try against the Kangaroos when Moroccan-born Hussein M'Barki went over in the corner).
Few teams had overseas players and nobody was 'full time', but the crowds at the Test Matches were similar to today, with over 67,000 people paying to watch the three Test Matches at Hull, Wigan and Leeds (the game in Hull was played at a football ground, by the way...).
The coaches still criticised the referees after the match. Alex Murphy's Wigan team had been very competitive but he wasn't keen on the 28 penalties blown in the game. It was even worse at Widnes, when the referee blew his whistle 35 times!! (The game itself was much more violent.
Fighting was a frequent occurrence and you needed to be able to 'hold your hands up' in those days. Lee Crookes had a fight at Hull with Les Boyd which wouldn't look out of place on a Friday Fight Night on Sky Sports. I've seen some boxing matches with fewer punches thrown).
The fact that scrums were contested made the actual time of ball in play much lower. Some people might say that this isn't a bad thing, but I wouldn't agree. It all looked very scrappy and even more difficult to officiate. There was much less kicking of the ball as there was no such thing as a handover after six tackles. The teams just had a scrum and contested the re-start of play.
Basic
A look behind the scenes showed you what the non-selected players had to do in those days. If you weren't in the team you were given a range of duties from masseurs, water carriers, stats and even time keeper! They only had one coach and one fitness trainer so everybody had to help out.
The footage showed interviews with most of the players over the seven-week tour, but one stood out to me. Chris Anderson was interviewed after one game and asked what he thought of his opposition.
His opinion carried some weight as he'd played for Widnes in the mid-70's and toured here as a Kangaroo in 1978. It was interesting to me that he felt that the standard of play had gone backwards in the last four years. He said that the teams weren't as good as they'd been on his last trip and that the game was in decline.
I don't know if he was right or not, but it made me sit up and listen. What had happened to our game for the four year period between 1978 and 1982? If he was right, was that when the gap opened?
By the time that Great Britain played the third Test Match at Leeds they'd decided to blood some new youngsters. Andy Gregory and Brian Noble wore the red, white and blue and were doing quite well at half time. But a 4-6 score line after 40 minutes became a final score of 8-32. The physical superiority was backed up by some brilliant ball handling skills.
From the final hooter of that third Test Match in Leeds to today, I've been fascinated by the challenge of improving the players, facilities, finances and game in general in this country.
There have been many efforts made by many different people and I would have to say that much progress has been made, on many fronts, but the gap still exists.
The purpose of looking back was to try to help us to look forward. Where should we put our efforts for the next ten years? Is there a leader out there who can pull everyone together to unify our efforts? Where should that effort be put and what are the best ways of doing it?
Phil answers your emails...
Got a question for Phil? Email him at skysportsclub@bskyb.com or use the feedback form below...
Phil, I got the feeling that Warrington were not that bothered about their recent loss to Leeds. Do you think the play-offs have changed the way teams go into certain games?
Malcolm Rush
PHIL REPLIES: Has the Rhinos victory in the 2011 Grand Final changed the competition forever? Driving home from Headingley last Friday I got the impression that Warrington were not really bothered that they had lost. They themselves knew better than the rest of us that after winning both league games against Leeds throughout 2011, and scoring a total of 82 points, it counted for nothing when they met in the play-offs.
I have started to wonder if the aim is now to just get into the top eight without using all of your 'bullets' Leeds have shown that you can win it from 5th and take all of the glory. Is it possible that the focus has changed slightly. The British tradition of the league leaders lifting the main prize may still have carried some cachet for players, coaches and fans but that seems to be waning.
Just like in athletics, players only have so many personal bests in them and are unable to have their strongest game of the season every week. It is well known how draining it can be mentally to get up for a big game and it seemed to me that the Wolves decided to save something in the tank for later in the season. I am not saying that they didn't try hard or that Leeds treated it much differently, but the recent history of the play-offs meant that there was a lower intensity than there would have been if the competition did not finish without a play-off format
It is possible that Wigan would not have given debuts to four players at Widnes without the luxury or safety of a play-off system. I'm sure that they thought that they could still win, but the fact that they didn't win, won't really cost them the Grand Final trophy.
It is possible that the 2011 season has changed the long term tactics for all the top teams. I still think that those in the lower half of the table are still trying their best to win every game but the Rhinos success last year was a game changer for me and the aim seems now to just get a decent place on the starting grid for the play-off series. Then you need to race like hell, avoid any crashes and ride your luck!