Decide the decade
What should rugby league look like in 2022 in the UK? This is your chance to tell Phil Clarke...
Last Updated: 07/03/12 1:26pm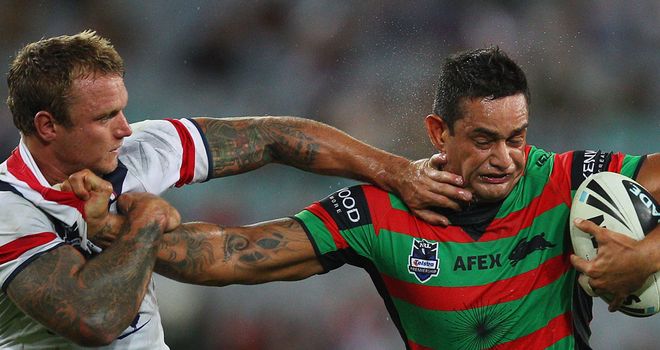 'Goal: The Ball Doesn't Go in by Chance' is a brilliant book that I read last week.
It's written by a man called Ferran Soriano, who was part of the senior management team at FC Barcelona from 2003 to 2008 when the club had arguably the biggest upsurge in its performance, on and off the field of play.
It contains many interesting stories and ideas, which you could apply to any sports club or business and I'd recommend it to anyone who has an interest in learning from a leading organisation in sport, who applies critical thinking and innovation to improve performance.
One of the things that Soriano talks about is trying to anticipate what your club or business will look like in five or 10 years' time. Well, what would we want rugby league in the UK to look like in 2022? What are the issues and how should we prioritise them in our future planner?
The idea of expanding the World Club Challenge to include more teams was discussed recently and that would certainly change things over the next decade. But is it that what the players and supporters want? Would it be financially viable? How would it affect performance - both here and in the NRL?
Drama
It was interesting to see how closely-fought the NRL matches were last weekend.
Five of the eight games played went into the final 60 seconds, or even into extra time, before the game's winners were known. There were six points or less separating the teams with less than a minute to go and the fans still had to wait to hear the hooter before they knew whether to laugh or cry.
Over here just two of the seven games ended with such drama. The biggest margin of victory was 36 points, with the Hull KR fans knowing at the half-time hooter that they'd be able to smile at work on Monday morning.
It begs the question whether we need all of our teams to be equally competitive - or would that hold back the very best? I don't see Manchester United or Manchester City worrying about the teams at the bottom of the Premier League, but can we afford to look at rugby league that way?
Is it the most important issue that we need to address? If not, what is?
An intelligent businessman said to me that it all boils down to three things: finances, sales strategy and product.
Well, we don't have the figures and we haven't got a copy of our sales plan but we do all get to see the finished product each week.
What would we want it to look like in 10 years' time? What, in your opinion, makes for a good game of rugby league? Do you care about the style of play, how the tries are scored, the number of penalties in the match? Or do you just want to see your team win?
Improve
Before we jump forward in time I want to take you back.
It is 30 years since the Australian team came on a seven-week tour to play three Tests against Great Britain and a number of other games against the main club sides. In some ways it was a seminal moment for our sport.
I am going to write more about this next week and have enjoyed looking back to the days before teams had sponsorship on their jerseys, when it was £3 to stand up and watch and when anyone could run onto the pitch at the end of the match to touch or talk to their favourite player (pitch invasions look like a good chance for young fans to meet their heroes. Will they ever come back into fashion? Standing up at sports grounds has.)
My reason for asking all of this goes back to a suggestion made by Soriano, who said that sometimes the answers are "out there". Asking the people with a passion for the product, or supporters as we say in sport, is sometimes the best way to improve things for the future.
I want to know what you think our sport's priorities should be.
A coach of a Super League side recently said to me that the standard of refereeing is our biggest problem, but you might say that it is the quality of coaching that young players get when they start to play the game, or that rugby league will always be what it has always been.
Tell me what you want the game in the UK to look like in 2022 and then how you think that we should get there by clicking on the link below.
Phil answers your emails...
Got a question for Phil? Email him at skysportsclub@bskyb.com or use the feedback form below...
Forward thinking
Hi Phil. Whenever the ref gives the video call, Stevo likes to praise the technology. "It's great, so why not use it?" On Saturday, Bradford were rightly disallowed a try when the player had 2cms of toe over the whitewash. However, when Warrington scored from a pass which was a couple of meters forward, it was let go by the ref. What an inconsistent farce!!! I have heard that a boffin has come up with a simple way to rule off side in soccer but the FA would not entertain it. A microchip within the ball and all players rigged up with GPS. I believe RL players are already linked to GPS to check how far they run in a match so we are half way there already. How about it? Gill Chapman
PHIL REPLIES: As far as I am aware, it is impossible to use technology at present to solve the issue of a forward pass. The most obvious way would be to have a chip or device inside every ball, but this would have to be accurate to the millimetre and devices like that are hard to find. Then there is the cost implication: they would have to be inside every single ball at every game in the league or tournament where you wanted them used. The device would have to be 'touch sensitive' so that it can tell when the ball is released from the passer's hands and whether it has travelled forwards. Where it is passed and where it is caught is irrelevant - go and ask a physics teacher to explain this to you if you don't understand. I've tried to use several analogies in the past for this and won't attempt another.
I believe that the touch judges are the best judges of whether a pass is forward or not. If they are in a good position, they can give a better decision than I can in the commentary box about 100m away, or even by watching a replay where the angle of the camera can distort the view.