At the sharp end
How much blame should a coach take when a team isn't performing? Phil Clarke investigates...
Last Updated: 29/02/12 12:24pm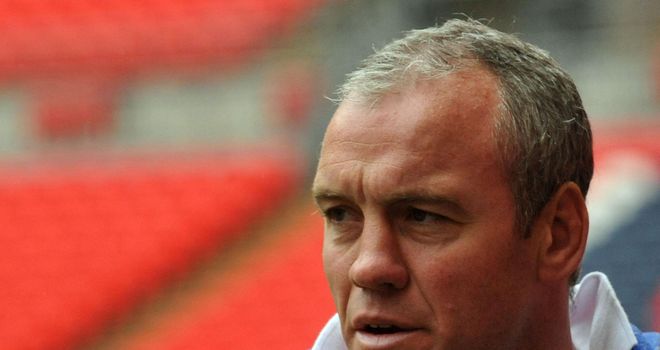 "A pessimist sees the difficulty in every opportunity, an optimist sees the opportunity in every difficulty," Winston Churchill once said.
A few weeks ago I was incredibly fortunate to be invited to a Top Table luncheon for a Royal Marine. He'd been in the Regiment for over 20 years and the event celebrated his career. It was held at an SBS Base on the South coast of England and the room was full of photographs and memorabilia from daring deeds. Some great quotes like the one above were also on display.
Churchill's statement is relevant to the position that the Widnes Vikings and the London Broncos find themselves in at present. After playing four and losing four, both have their fair share of difficulties to overcome.
The usual thing in sport is to look to blame someone. Our brains like to find a nice simple answer and the easiest option is to blame the coach.
Respected
Well, before you do that let me take you back a few years to 2001 when Tony Smith was the boss at Huddersfield. Do you recall his team losing 16 games in a row?
What about 2010, when Brian McDermott's Harlequins finished 13th after winning just seven of their 27 games?
Can you really tell me that both these coaches have changed that much since they coached teams that finished at the bottom of the table? McDermott has become the coach of the World Club Champions and Smith's team are most people's tip to win the competition this year.
Even when Huddersfield were at the bottom of the table and looked like they were playing in the wrong division, the word on the street (from players at the club and ones playing against them) was that Smith was one of the best coaches in the competition. His work was respected even though his team didn't pick up wins.
Let me put it another way. How do you think McDermott and Smith would get on this year if they were coaching Widnes and London rather than their respective teams? How many games would Denis Betts and Rob Powell win if there were in charge at Leeds and Warrington?
If there was a fantasy game that allowed me to swap these coaches around for a season I'd be fascinated to see how they'd get on.
Competitive
Whenever I watch Formula 1 I am always intrigued by the drivers competing for the smaller teams. They seem to have an inferior car and fewer resources and yet battle bravely from the back. It must seem a bit like that in the Stobart Super League. Widnes, for example, were given last pick of the players available and are on a very steep learning curve.
Last week our Boots 'n' All guest, Gary Hetherington, said that he felt there are eight teams that are capable of finishing in the top three places. If he's right, then there are six teams fighting in a lower league. The goal for those half-dozen would be to finish ninth in the table and top of the group. The challenge for the competition is to get those six teams to be as competitive as the other eight.
In some ways you could say that the gap is narrowing. At the turn of the century the top teams were able to beat the bottom ones by 80 points (Bradford 96-16 Salford - 25/6/2000, Leeds 86-6 Huddersfield - 16/7/1999).
Thankfully this doesn't seem to happen anymore, but trees still take time to grow and so do teams in sport.
Phil answers your emails...
Got a question for Phil? Email him at skysportsclub@bskyb.com or use the feedback form below...
Tomkins special
Hi Phil, although I'm a Wigan fan can I start by passing my condolences onto Ian Millward and his family? They are in my thoughts. On the pitch I was really impressed with Sam Tomkins. He could hardly have played better in his 100th game for us and I wondered if you think he is now the complete player? If not, which areas do you think he has to improve? If he carries on, do you think he can be up there with the real Wigan legends? All the best, Dave Charles
PHIL REPLIES: I think that you speak for everyone when you talk about your sympathy for Ian Millward and his family. It is a tragic loss of life and my thoughts and prayers are with the Millwards.
His team played against a very impressive Wigan side last Sunday, with Sam Tomkins a stand-out performer. If you asked me which areas of the game he's not good at I'd guess by saying 'scrummaging'. I say 'guess' because I've never seen him try, and knowing his competitive nature he'd probably master that skill pretty quickly as well.
I think that he's already a Wigan legend and said so last year. The walls outside the dressing rooms at Wigan have life-size pictures of some modern greats like Gregory, Edwards, Farrell and Hanley. In my opinion he already sits easily alongside those names.
It is hard to imagine how he could improve further but that's his next challenge.
Pilot take-off
There is one simple solution, Phil (in reply to your WCC column). Like 15 years ago hold a one off tournament with the top 4 NRL clubs against the top 4 Super League Clubs as a pilot exercise. Lest see if there is still an embarrassing gulf between the two premier Rugby League nations before taking it any further. Half of the games in the UK, half in Oz. I for one haven't got the money to go to Oz at the moment however, as I imagine neither have most of the north of England, in comparison to the Union 'toff' supporters who have. But it would give an insight to compare the results to 15 years ago. Paul Thwaites
PHIL REPLIES: That sounds like a costly way of doing a 'pilot exercise'. In fact, I don't think that the idea was to ever get more than four teams involved. The idea of having all of the Super League teams playing against ones from Australia was during a time when the game Down Under was going through a battle for TV rights. I don't think that it will ever be replicated.
Bearing in mind our record at International level, what makes you think that we've narrowed the gap from 15 years ago? Don't forget that Leeds won the game with the help of Brent Webb, Brett Delaney and Kylie Leuluai.
Dragons on fire
G'day Phil - loved the Boots piece on Leon Pryce the other week. Loved the Dragons display even more! Really interested to know what you think of the Catalans chances of sweeping the board this year. We've got some massive hitters and Ian Henderson and Pryce just seem to be getting better all of the time. I know some people don't rate Trent Robinson's tactical awareness but from where I'm sitting he could hardly be doing a better job. Top of the table doesn't lie does it Phil - surely even you can't disagree with that stat! Tom Bradley
PHIL REPLIES: I climbed on board the Dragon boat last year when they started to show their potential. I think that they've got a great coach who seems perfect for the club. He's able to mix the best of the skills of their overseas players with the ones of the French players as well.
If you watched the post-match interviews on Super League Extra time last Friday you will have heard Trent Robinson say that his team can do things which others can't. Coming back from 18 points behind with just over 20 minutes left is one of those things. They can score from anywhere.
I always think that players are often a good judge of a coach, especially when they get towards the end of their careers and have had the chance to play under several different ones. I was fortunate to have a conversation with Steve Menzies last year who told me how much he'd learned about the game from Trent Robinson! Don't forget, Menzies is older than Robinson and has played for Australia! I have no doubt about his abilities, and having known him since 1995 when he was a Reserve team player at the Roosters I also know that he has the personality to add to his knowledge. Allez les Dragons!