The numbers game
Phil Clarke says the Margin Meter may have come in for some criticism, but he's determined to make it work.
Last Updated: 15/02/12 4:45pm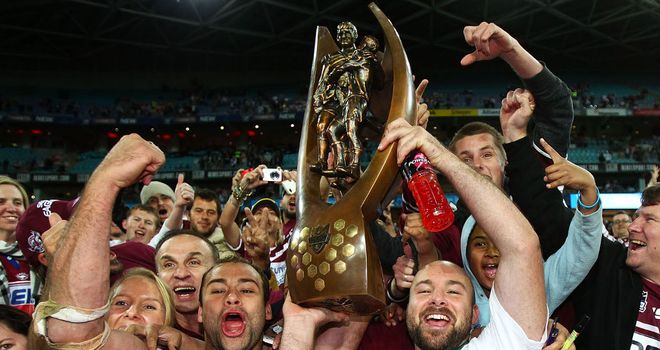 The Stobart Super League is now underway but it's a bit too early to read too much into the results.
The weather may have had a significant influence in some games; whilst others have seen some teams get off to a more fluent start. The cohesion and understanding of some teams seems better than others.
Our Margin Meter on Sky games has received a great deal of attention, the vast majority of it critically so. Some people can't understand it whilst others think that it has just said that the team with the most points will win.
There was also a concern by some that we are in danger of saying that the game is 'predictable'. They claim that the beauty of Rugby League is its unpredictability. But is it?
It's worth saying that our Margin Meter has just been measuring the momentum of the match up to that point. It's a bit like the graphs that you see in cricket which predicts or forecasts how many runs a team will get if they continue to play as they have up to that point.
Our Margin Meter doesn't take into account the current score, or what the predicted score according to the bookmakers would be before the game. The fact that Salford hadn't won in St Helens for over 30 years wasn't factored into our formula last Friday night. This is something that we might start to do in the future.
The prediction that the Reds were going to win by 20 points was based on the fact that they had the majority of possession, were defending very well whilst St Helens were repeatedly making errors when they were given the ball. Somebody in the St Helens team needed to turn the momentum of the match if they were to avoid an embarrassing defeat.
In order to improve the accuracy of the end-of-game prediction, we'll need to factor in the current score and take into account things like team selection. At present we are attempting to ask if the scoreboard is an accurate reflection of the state of the game, based on the share of possession, attacking and defensive play of both teams.
Up for the challenge
Listening to a successful coach this week, a man who probably uses the statistics from the games more than any other coaches, it was interesting to hear him say that he does not think that we'll be able to make an accurate prediction, but that is the challenge that I have taken on.
It would be easy to sit in the safety and comfort of the commentary box making comments about players and coaches, without taking any risks. But I am not looking for the easy option. I want to push the boundaries and increase our understanding of the game.
The coach that I mentioned earlier said that statistics don't take into account what's inside a player's mind - his attitude, commitment level, motivation and desire. I accept that, but I believe that over the course of 27 rounds, or over 2,000 minutes of play, these things are levelled out.
The sort of half-time turnaround that we saw last Friday night at Langtree Park when Royce Simmons' team won the second half 34-0 are quite rare. Even the Saints know that they won't be able to do that every week.
Our formula to calculate the Margin Meter cannot get inside the heads of the players, but neither can some of the coaches who spend years attempting to understand their players and alter their behaviour.
Like you, I don't want to ruin the fun and enjoyment of watching the game. I just want to make comments based on evidence and facts, rather than myths and fictions. I want to watch teams come back from 20 points behind, and understand how it happened.
If you tune into Super League Extra Time on Friday nights you will have seen Eddie interviewing the coaches. Most of them make some reference to the stats that we record and display throughout the game and use them to explain why the game turned out as it did.
Live sport will always have its shocks and surprises; it's one of the reason why we all love it so much. But it also follows a pattern or trend and we want to know what that is. If you want to know why your team wins or loses then the numbers behind the match can tell you some of the answer. For the rest of it, you'll need to get inside the minds of the players.
Mind games
For several years now I have said that it is in the 'mental' department that clubs can make the greatest gains, and yet most clubs spend significantly more on the physical side of preparation. Few, if any of the Super League clubs employ a properly qualified sports psychologist, yet they all have a physio and a fitness trainer.
Let's hope that the 'mental' health of the Rhinos is still good after their defeat at Wigan last Saturday. They have lost in their last two World Club Challenge matches and will need to find something special if they are to win the world title for a third time.
Home advantage may well be important to Brian McDermott's side, as well as a fully fit and healthy squad to choose from. I've no doubt that a packed South Stand will give them every encouragement possible.
The teams from Down Under have won this contest for the last three years and seem to have learned how to win over here in winter.
The last time Manly played against Leeds in 2009, Geoff Toovey was used to run onto the pitch with water and messages. This time he'll be sat in the stands directing his team for his first game in charge of the club that he's played for and worked at for most of his life.
Obviously as a Brit I'd like to see Leeds win, but I admire and respect Toovey and would also like to see him be successful. Let's hope it will be a classic game between two great sides and may the best team win.