Small margins
Phil Clarke reveals how Sky Sports are leading the way with innovative technology this season.
Last Updated: 06/02/12 8:22am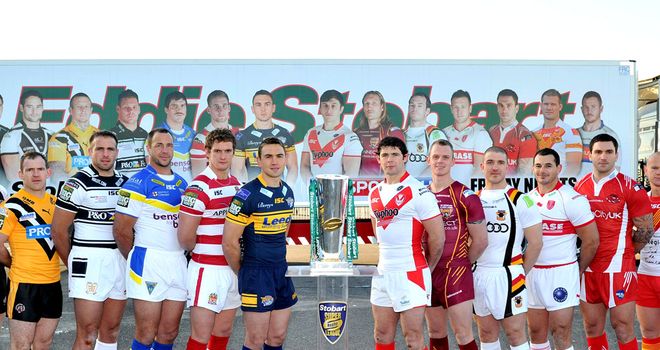 The Sky Sports rugby league department has always been innovative and the first to bring you fresh ideas and concepts. We want to be the first in the world to show you things that have never been tried elsewhere - this season we've got something extra special for you.
During each game we won't just be collecting the stats and data, but now the information will be fed into a computer to try to predict the winning team. As most of you will know from watching sport, things change before the score does - a certain momentum gets built up before the points are registered.
We're going to use a formula to predict the points difference between the two teams at the final whistle. This will be continuously updated as the game progresses. We'll collect data about which team has possession, how well they use it and just how well they defend when they don't have the ball. This will flash up on the screen on our 'Margin Meter' and, based on the way that the game has gone, predict who will win and by how many points.
During the off-season we've asked a leading expert in this field to help us to try to identify the patterns and trends that occur in a Super League game. Dr Bill Gerrard has looked at more than 700 team performances in Super League over the last few seasons and analysed the key performance indicators that teams record.
The posh term for doing this is "data mining" or "predictive analytics", which is the sort of thing that supermarkets do to sell their goods, insurance companies do to calculate their polices or the weather people do to make a forecast.
Insight
We aim to turn all of the data and statistics that are collected into valuable insight. We at Sky want to make sense of all the information available.
Some of you might have seen a film called Moneyball recently; Brad Pitt was the lead actor. It is a true story about a baseball team called the Oakland A's in California. The general manager of the team used detailed analysis of the statistics to help to build a successful side.
He was ridiculed at first until his team started to win and most of his opponents now copy his approach. The general manager was called Billy Beane and is a close friend of Dr Gerrard.
Many sports teams are now starting to take a more evidence-based approach and we want to take you even deeper. Coaches no longer rely just on their intuition or gut feeling, but combine their experience with the numbers and statistics that they collect. They use all of the information to make decisions on recruitment, selection, tactics and training priorities.
Most rugby league sides concentrate on what you could call critical-incident video analysis of games. They scrutinise in minute detail every aspect of a match, and then tend to move on to the next one. With Bill's assistance we've adopted a wider view across more games and then looked to find a pattern in those matches. This is a cutting edge development in sport and has allowed us to come up with a formula which we think will predict how the game is going to finish.
We also plan to investigate many of the theories that we hear people talk about in rugby league.
Is a high completion rate important in winning a game? Some people say that you need to hold onto the ball and make very few handling errors to win, but is that true in Super League?
As well as the 'Margin Meter', we'll also take a look at the most interesting stats before games to see where teams are strong and weak and assess their form trends over the last few weeks, when the season gets going.
Let the games begin.