Aspiring to greatness
Phil Clarke examines what qualities are needed to win a coveted place in the Super League Grand Final.
Last Updated: 30/01/12 2:09pm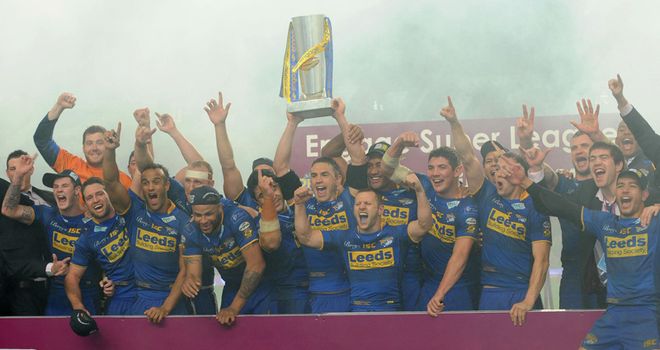 "Every team wants to win it, but only some know how to".
That was a quote from a friend of mine recently when we started to talk about this year's Super League and the ultimate prize at the Grand Final. Never was this better demonstrated than in the last six weeks of last season.
Leeds did the rugby league equivalent of breaking the four-minute mile.
Nobody thought it was possible to win the Grand Final if you didn't finish in the top four places, but the Rhinos showed the real value of experience. They know what it takes to be crowned as Champions and it's a knowledge that 11 other teams need to find. (By my reckoning only Leeds, St Helens and Wigan have a recent enough memory of the Big Night).
Benchmark
Most of us are aware of just how hard the players push themselves physically. They try to get stronger, faster and leaner during the off-season. But it was in the mental department that Leeds turned their season around.
Their training routine didn't change much towards the end of the season but their attitude certainly did. It wasn't that they got fitter or that they changed their tactics, it's just that they decided to do things differently. They rediscovered their hunger and remembered the things that they'd done to be successful in the past.
Along with St Helens, they are the benchmark for every other club to aspire to; in fact if you only had an hour to assess the license suitability for a club, I think that you should go and interview the CEO or the boss.
Leeds have won five of the last eight Grand Finals with three different coaches and lots of different players, but one man at the top. Gary Hetherington seems to make more good decisions than bad ones and his counterparts at other clubs must envy his record. In my opinion, the best teams have the best people at the top.
Belief
So what can the rest do? Well "Why not us?" is another quote I heard recently when I watched a documentary on an American Football team who came from nowhere to be the best. They created their own sense of belief and backed it up with ruthless performances on the field and some great self-sacrifice off it.
This year's Stobart Super League has six new coaches, two new grounds and one new club, playing on a totally new pitch.
We kick off the season with the Widnes Vikings on their new i-pitch this Friday when they meet Richard Agar's new look Wildcats. I can't wait. I've had enough of watching other sports over the winter and am ready for my favourite game again.
Some young players are just looking to be picked this season, whilst others are looking to consistently play well. There are a few however, who dream of being great and doing things on the field that we'll never forget. Roby, Tomkins and Chase were just such three players last season and I have no doubt that there will be several more this year.
Let the wagon's roll and let's get started.