Fifth amendment?
Is it right that a team that finishes outside the top four plays in and wins the Grand Final? Tell Phil Clarke.
Last Updated: 17/10/11 8:20am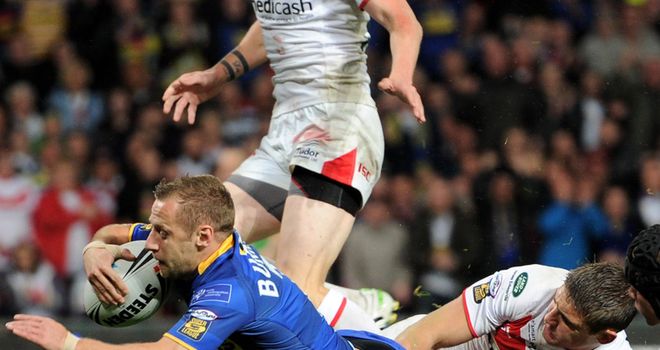 What a game! A brilliant stage with an amazing atmosphere and a match that will be remembered for years. That's how a season should end in my opinion.
Congratulations to Kevin Sinfield and his team for the resilience that they showed throughout the season and the match. Their ability to withstand so much pressure, especially between the 40th and 60th minutes, was nothing short of sensational.
St Helens are an exceptional team in so many ways. They're usually deadly when they get close to their opponent's try line, but couldn't get over it often enough to pick up the trophy. The number of play-the-balls that a team has within 10 meters of their opponent's try line is often an indicator of which team have had territorial dominance and also which team have won the match. It's a fact that most tries are scored when a team gets close to their opponent's line and find a way of crashing over it. The statistics from this game are incredible.
Incredible
St Helens had 26 play-the-balls within 10 metres of the Leeds try line, more than three times as many as the Rhinos who played the ball just eight times that close to the St Helens try line. But the defence shown by Leeds to hold out the Saints was incredible. I don't recall ever seeing a braver effort than the one shown by Leeds. They defied the conventional wisdom which is so often repeated about building pressure on your opponents. They just absorbed it until it was their time to attack and then did it such a fashion that they couldn't be stopped.
I also want to congratulate St Helens again for another amazing season. I don't know what their players get paid but I would imagine that they had a third of their salary cap sitting in the stands for the Grand Final. Without Pryce, Eastmond, Flannery, Perry and Gardner they did amazingly well to lead after 60 minutes. Some might then say that the injuries suffered by Wellens and Shenton left too many holes in the St Helens defence, but that might take away from the brilliance shown by the Rhinos in that final quarter.
2011 was a watershed season for Super League. Never before has a team has won it after finishing fifth; it's a bit like the four-minute mile. The myth that it's impossible has been shattered and I dare say we'll see it happening again quite soon.
Thank you to the coaches, physios, doctors, administrators, officials and stewards for this season - you are essential in your support of the game.
Thank you also to the players - without you there is no game. I understand and appreciate the effort that you make and the pain that you endure. (I'll briefly give you one example of not only the bravery but also the selflessness that some players demonstrate during a season. Most people saw Paul Wellens and Michael Shenton leave the field in the second half of the Grand Final but weren't aware of the fact that Jonny Lomax had torn some of the ligaments off his ankle. He must have been in agony and yet stayed on the field to help his teammates. He needs surgery to repair the damage, which tells you how bad it is and how tough he must be).
The entertainment that you've provided in the games this year has been brilliant. See you all next season.
Phil answers your emails...
Got a question for Phil? Email him at skysportsclub@bskyb.com or use the feedback form below...
Drama, not farce
Phil, I would appreciate your opinion on the following, which may produce a solution to the farce of a team finishing third or fifth to be crowned Champions! I am a Saints fan but in my opinion the real Champions are Warrington as they have been the most consistent team over a season, not just one game. 1) I suggest that the RFL purchase a new trophy worthy of presentation to Champions. 2) The playoffs to be retained with the top eight teams but on a knockout basis with a proper draw similar to the Challenge Cup selecting the venue and teams. The final being played at Old Trafford with the current trophy being presented to the winners. This would ensure the excitement and revenue the playoffs produce would be retained, without the farce element. The winners of the League and the Playoffs could then play each other with the winners of that game going on to play in the World Club Challenge. Obviously if the winners of the League and the playoffs are the same team they could play the winners of the Challenge Cup. Harry Foster
PHIL REPLIES: As someone who played under the old system I understand what you are saying but I don't feel that your proposal would work. If you give out a big prize at the end of the regular season then how many fans will think that it's all over? It would be impossible to keep the excitement amongst the fans whatever format you come up with or wherever you played the games. A look back at the records during the early 90's will tell you about the crowds for the Top 8 play offs and the Premiership final played at Old Trafford. The figures paying to watch the last game of the season were about half of those at Grand Finals. You would not get the revenue that you get from almost 70,000 paying to be at Old Trafford last Saturday.
I'm not sure that it's fair to call it a farce, my dictionary says that's a comedy with an improbable plot. I think that we had a dramatic and compelling storyline over the last few weeks of the play offs, which even had people not that interested in rugby league talking about the game.
Your suggestion of a match between the winners of the League and the play offs isn't new either. We've tried something similar in the past which we called the Charity Shield. We even tried to play it in new areas at the start of the season, an idea that we still try from time to time.
I've not taken an accurate poll, but it seems to me that almost 100% of players and coaches that I've met have accepted the current format with the ultimate winners decided in the Grand Final. I would be fascinated to know what precentage of the fans think that way?
Sinned against?
Phil, just a quick question. In your opinion, how come Kevin Sinfield never seems to get mentioned when it comes round to Man of Steel time? If there is a more influential player in Super League, I've yet to see him. There's no bias in my question; I'm a Wigan fan but nearly every time I have watched Leeds on TV, Kevin Sinfield either baffles the opposition with his brains to gain advantage or manages to win a game with his kicks under massive pressure. Do these things not count for anything???? Max Stewart
PHIL REPLIES: I can't think of another player who maximises his talents as much as Kevin Sinfield. From what I hear he has done everything possible to be the best that he can be, and I admire that.
The Man of Steel is now chosen by the players, who, in my opinion, are the best judges, so we'd have to ask them this question. One theory is that they don't value goal kicking as highly as spectators and commentators. They must think that other things have a greater significance.
Dangerous ground
Phil, for an English player, does playing 1st team rugby in the NRL guarantee a starting spot in the national side? The standard of the NRL is higher than ESL and with Gareth Ellis, Chris Heighington possible second row candidates. Do they automatically command a starting spot due to the higher standard of the league they play in? With Eng RL not having a rule whereby players not playing in the ESL are not eligible to be selected to play in the national team it is a very difficult task for Steve Mac to fairly judge because although Ben Westwood & Jamie Jones Buchanan, say for example, have been form 2nd rower's but are acknowledged to be playing in a lesser competition. Should Gareth Widdop be chosen before Danny Brough will more English players be tempted to go to the NRL because they are more likely to start for the national team? Should an international playing rule similar to Australia be considered whereby players only playing in their national competition be eligible to play for the national team? Our problem is lack of depth and competition for places and Steve is trying to increase this via controversial means but also importing NRL playing resources. If I was a form centre playing in ESL should I be worried of a starting place because Jack Reed, an extremely talented option, is a NRL player? I don't envy Steve's selection choice but should NRL players be chosen ahead of ESL players Buderus's thoughts could prove correct. Dave Hickson
PHIL REPLIES: You raise a great question Dave and I've been thinking about it for the last week. It is very difficult, if not impossible, for Steve McNamara to compare players from the Super League with those from the NRL. Is Gareth Widdop, who played 25 games for Melbourne Storm this year, a better prospect than any of the Stand Offs who play in this country or was he just lucky to be playing in the best team in the NRL? If you cast your mind back 12 months, you might remember that he was selected for the opening game of the Four Nations (as a fullback) after playing three first team games. He wasn't selected for the next match, or dropped you could say. Had he been picked too soon?
I think that England are moving into dangerous ground in international sport, not just rugby. Steve McNamara could also pick players like Pat Richards, as well as Rangi Chase and end up with almost a team of players who all began playing the game outside of this country. This would be very hard for the public to buy. But, as I said last week, New Zealand's try scorer in last year's Four Nations final was a man born in Australia. I think that we've accepted the old phrase "if you can't beat 'em, join em!".