Lucky thirteen?
Phil Clarke gives his verdict on who was fortunate to make this season's Super League Dream Team.
Last Updated: 15/09/11 8:20am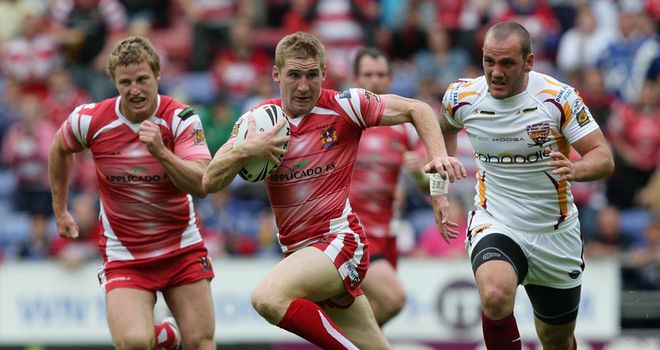 The wet and windy weather this week will have woken many people in the middle of their dreams.
Hurricane Katia's arrival signifies the end of summer. It's also the end of the Super League season and the time when members of the press are asked to select their Dream Team.
These are the 13 players selected as the best in their position over the 27 rounds we've had. It's a pretty difficult job remembering who was playing well back in February or March, and I don't envy the people who've tried to do it.
There's no right or wrong when selecting your favourite team. It's an art not a science and we've all got an opinion. Here are my thoughts on the team and some possible alternatives...
Full-back: Sam Tomkins
He has probably been better this year than last, not an easy feat for a 22-year-old. His 26 tries have helped him to capture the headlines but I could also show you 26 tackles, passes or kicks which are equally as impressive. His acceleration, game awareness, balance and toughness have already put him up there with the Wigan greats in my opinion.
As an alternative I'd like to put forward two names. Scott Grix from Huddersfield has played very well at times in 2011 and I can't wait to see what he's able to do in the Play-Offs. Ben Jones-Bishop has only played 12 Super League games for Leeds (and hasn't been at full-back for many of those) but will feature in the Dream Team in the next few years.
Wing: Tom Briscoe
Along with Sam Tomkins and Rangi Chase, Briscoe is possibly the most dangerous player in Super League. In the X-factor age in which we live, Tom has a XXX rating. Jermaine McGillvary and Josh Charnley deserve a mention here. Both have had brilliant seasons and would qualify in the Top 10 as 'Most Improved Player' in Super League.
Centre: Kirk Yeaman
Yeaman is part of the left-sided triangle that Hull hurt their opponents with. Along with Briscoe and Manu, he's part of the reason why Hull are in the Play-Offs this weekend. I've also enjoyed watching Chris Bridge and Ryan Atkins at Warrington and would like to hear why the judging panel went for Yeaman over the two Wolves.
Centre: George Carmont
Arguably the best pound-for-pound buy in Super League. He's consistent, reliable and relentless - all of the things that Michael McGuire looks for in his players. He hasn't scored as many tries as Yeaman, but he's made more tackles and directed the wall of defenders on either side of him.
I was also fascinated to hear why the panel felt that Carmont deserved selection ahead of his centre partner at Wigan, Joel Tomkins. Who would you select out of those two?
Wing: Joel Monaghan
Anyone who can score more than a try a match a season has done something right - or has he? Twenty three tries in 22 games is pretty impressive, until you compare that with Darrell Goulding who scored 25 tries in 20 Super League games last year. Is the Dream Team skewed in favour of the top teams? Danny Williams at Salford has scored eight tries in six matches for a team outside of the top eight; he has only just returned from playing rugby union. How hard is it to stand out in a losing team?
This is the first Dream Team for some time that hasn't featured a Leeds Rhino player. In what areas has Monaghan been better than Ryan Hall?
Before I comment on the stand-off and the scrum-half, I think that it is worth noting that the two selected here don't qualify to play for Steve McNamara. In fact, only eight of the 13 players are eligible for selection for England. That rules out about 40 per cent of the best players. You could argue that it's even more important in the creative positions, who usually wear numbers six and seven. Having said that I can't argue with...
Stand-off: Rangi Chase
He's possibly the most difficult player to tackle and the only player in the Dream Team whose team isn't playing this weekend. In an average match he'll run with the ball in his hands 25 times and he lifts the crowd as well as his team-mates.
English alternatives worth a mention, in my opinion, are Jonny Lomax, who could go on to be a Man of Steel if he continues to improve, and Luke Gale, who has improved over the season and could find himself as one of those players in big demand in three to five years' time.
Scrum-half: Scott Dureau
He had possibly the worst debut in Super League by an overseas player. Some questioned if the Dragons were destined for another wooden spoon when they kick off the season in Cardiff but Dureau and his team have learned to play together and have won more games than they have lost.
I would also propose Thomas Leuluai from Wigan. I know that he has played the second half of the season as a hooker but he would still make the short-list. He hurts people when he hits them with his shoulder and that can't be underestimated.
Spare a thought for Danny Brough, who played and scored in the opening 16 games for Huddersfield and was a certain starter for England in the mid-season International in June until he suffered an injury in the match against Castleford on June 5. It's worth remembering that at that point the Giants had won 12 of their 16 games and he'd been the main reason. After that he missed nine games and the team lost six times.
Prop: James Graham
Front rowers are asked to take a team forward, to make ground, and few do it as well as the redhead in the red vee. To complement this he has brilliant hands and the ability to catch and pass like a ball player.
My alternative, and possibly the most undervalued player in Super League, is Andy Lynch of the Bradford Bulls. He is consistently good, misses very few tackles, makes more offloads than any other prop and yet gets very little recognition.
Hooker: James Roby
Along with Chase and Tomkins, Roby is the best player in the competition. In the nicest possible sense he's a physical freak; he seems stronger and fitter than every other player and runs almost twice as much as his rivals, making twice as much ground. He makes breaks, scores tries, sets them up and is an excellent defender. Like Cameron Smith, the Australian hooker, he never shows his emotions and always seems in control.
His English rivals would be Michael McIlorum, who played for England in the match against the Exiles in June but now plays mainly as a sub at Wigan, and Danny Houghton, who is another on my list for the 'Most Improved Player' award.
I can't let the season finish for Tigers supporters without saying how impressed I've been with Adam Milner and Daryl Clark. They didn't make the Dream Team, but you can dream about them helping you to win some games next season.
Prop: Gareth Carvell
This is reward for several years of hard work. He's often been overlooked in preference of other names but this time he has deservedly achieved some individual acclaim. Jamie Peacock has started to play well in the last few months and was outstanding last week at Huddersfield, but we sort of expect that from him. None of us expected Paul Johnson at Wakefield to do what he did in the front row, nor did we expect Jake Emmitt to take the Tigers forward. The other two names worth a mention in my book are Paul Wood and Tony Puletua.
Second row: Ben Westwood
I would say that he hurts more people than any other defender in Super League. Opponents are now looking to avoid him and the Wolves miss him when he doesn't play. Jamie Jones-Buchanan would be an alternative name for this slot and it will be interesting to see who Steve McNamara selects when he picks his Dream Team.
Second row: Steve Menzies
He's the classic car of Super League whose value just keeps increasing. There isn't a scratch on him and his engine is as good as all of the modern equivalents. His handling and acceleration meant that he will always be dangerous and he's a real likeable guy to boot. I admire his sportsmanship and positive outlook on the game.
Loose forward: Sean O'Loughlin
I don't know if he's more important to Wigan than Sam Tomkins - I'll have to ask Michael McGuire - but there are definitely times when he seems to be the glue that holds everything together.
Do you disagree with the Dream Team selections? Who has been overlooked or whose contribution has been undervalued? Fill in the feedback form below to air your views and respond to Phil's comments...