Licence to kill?
Phil Clarke tackles your questions on Super League licensing and a lack of skill in the modern game...
Last Updated: 05/04/11 4:13pm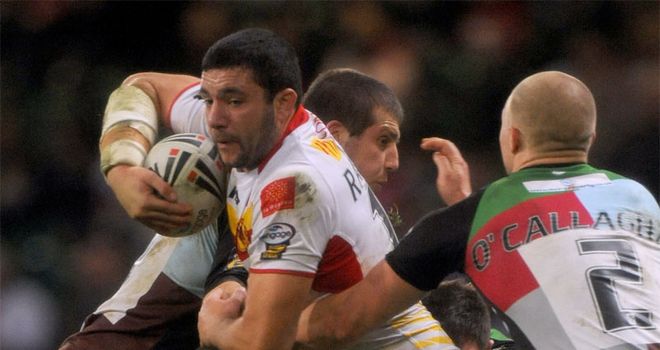 Last week's licensing decision has had you mailing in in your droves, so this week I am going to devote the column to a couple of very good questions and points you have raised.
Also, there were a couple of questions regarding matters on the field, which I have also answered.
As ever, it is has been great sifting through your comments and questions and it's reassuring to know that the game we all love still evokes such passion and debate.
Don't forget, you can send in a question on any rugby league-related matter and I'll always do my best to answer them...
SALE OF A CENTURY
Hi Phil, you make some good points on the licensing but that won't help the likes of Wakefield or Castleford if they lose their licence. Both teams have been around for a long time and don't think they should go at the expense of Catalans/Crusaders just to try and drum up interest that we've not managed to achieve after 100 years of trying. Heartland rugby should be rewarded and not cast aside at the expense of development in areas where they clearly can't get the support base. What are your thought about the 'losing' side? Regards, Steve Smith
PHIL SAYS: The aim of licensing isn't to help any individual club but to drive up the standards of the competition as a whole. You could argue that Wakefield have had 100 years start over Catalans and the Crusaders and have just gone into administration. I'm unaware of the circumstances behind that; perhaps their efforts to get a new stadium had something to do with it, if so then I feel a bit sorry for them. We need to remind ourselves that the Super League clubs themselves have decided that they want to have 14 teams in the league. They've also decided, and I can only imagine that the majority voted for this, to aim to have 11 clubs from what we would call the 'traditional areas' and three from 'expansion areas'. Obviously that gives a slight advantage to Harlequins, Crusaders and the Catalan Dragons. This is not to say that these clubs are bullet-proof and certainties to get a license, but the rest of the clubs have agreed that these three have a significant role to play in attempting to grow the game.
Heartland rugby is not being cast aside in my opinion, Steve. It could actually be strengthened if we choose to invest more money into the grass roots facilities and coaching in a 'heartland' area, rather than just spending money to support a Super League club. I do have some worries about the team who are informed on 26th July that they won't be in Super League in 2012. They will still have five games left to play and it could be a rocky ride for the players and staff. I sympathise with them and more importantly their supporters. If I think back a few years, teams would often know that they were relegated well before the end of the season, Leigh being one example in 2005, Salford another in 2007, so the precedent is already there. However, that team was positioned at the bottom of the table. The furore will come if the team not given a license sit anywhere above 14th.
A LITTLE EXTRA HELP?
Phil, the announcement has just been made that Widnes will get the license. My question is though what do you think the chances are of Halifax making it through come the announcement of the remaining 13 clubs? Andrew S
PHIL SAYS: I'm not trying to avoid the question, but I've no real idea if their bid is stronger than Bradford's, Castleford's, Wakefield's, Hull KR's or Salford's. Those are the teams that I think Halifax will be competing with. Geographically, they can't compete with Quins, Crusaders or the Catalan Dragons, and I can't see them matching Leeds, Hull FC, Wigan, Warrington, Huddersfield or St Helens with their applications. I have fond memories of playing at Halifax and appreciate that it is a rugby league area. We can't afford to let the sport wither in this area even if they don't receive a Super League licence.
UP ON GOING DOWN
I think we should bring back relegation! I gave the teams in the bottom half of the table something to fight for now they don't have to worry. Take Castleford, they have not done well over the past couple of seasons but this season they are doing really well. this means they may be less likely to be the team that goes out of the Super League. I also think that in winning the Championship that should mean automatic promotion for the champions as they earned the right to be in Super League - which is why Halifax should be the team coming up! Shane Danes
PHIL SAYS: I appreciate your view but don't agree with it, Shane. Our sport has a long list of clubs who have spent too much money attempting to avoid relegation and too much money aiming to gain promotion. Oldham did it twice in one decade as an example. Just look at the number of clubs who pay rent to play in a stadium now rather than in their own. They've blown so much of their money and history tells us that the major reason behind this was the fear of annual relegation or the lure of promotion to the elite division above.
It's appalling that a so-called professional sport has clubs with no training facilities. A number of Super League clubs have to pay rent to train at a variety of pitches, gyms and indoor facilities. The mis-management of money in rugby league has meant that we've got very little reserves in the bank. We had to take the focus away from the performance of the first team. It was killing the rest of the club.
The people responsible for awarding the next round of licences are intelligent enough to realise that it's not just about what happens in 2011. Sadly Halifax did not earn the right to be in Super League by winning their Grand Final last year and they knew the rules at the start of the season. I do hope that this licensing process doesn't turn people like you off the game. It would be sad if we lost supporters like you at this time. I'll keep my fingers crossed for you on 26th July.
PASSING IT ON
We often hear in Super League commentaries than "they can't use video replays for forward passes". Now that may be true in many cases because of the angles of the viewing cameras - but there are cases - THREE in the past week - where the camera has been in the correct place and it was clear that the passes WERE forward. Two of the above were picked up by the referee/line judge but one wasn't. Sure the above statement should be changed to "in most cases video replays cannot be used for forward passes, but where the camera is in a suitable position, then video replays CAN be used". Mike Longworth
PHIL SAYS: It's an interesting point Mike and I'll suggest it to some of my colleagues when we next sit down to discuss the rules. In my opinion we have the balance just about right when it comes to the time taken to decide on video referee decisions. I'm not sure that I'd want to stop the game for any longer to meticulously review for forward passes. I need to get a poll on this website so that I can find the answer to a question that's troubled me for some time!
NO LICENCE TO THRILL
With a few spare hours on my hands this week, I felt compelled to write about modern-day Rugby League. I have watched RL since 1987. My team, Widnes, were the best back in the late 80s. The team full of stars won the first World Club Championship match versus Canberra Raiders in 1989. The team we had back then was. Alan Tait, Jonathan Davies, Andy Currier, Darren Wright, Martin Offiah, Tony Myler, Dave Hulme, Joe Grima, Phil McKenzie, Derek Pyke, Kurt Sorenson, Paul Hulme, Richie Eyres. Dave Smith and Paul Moriarty as subs. Missing through injury, Emosi Koloto and Mike O'Neill. John Devereux had just, or was about to sign.
That team had it all; flair, pace, skill and determination. These days, I watch Rugby League (or Super League if we've officially lost the 'Rugby' from our game), and every week I see games determined by speed of the play-the-ball and "dominant" tackles. I may stand corrected, but wasn't the play-the-ball initially used as a point in which to restart the game? Now, its all about elbows and knees, fast PTBs, penalised for not making an attempt to play the ball.
What I don't see much of now is off-the-cuff Rugby League the likes that Andy Gregory, Ellery Hanley and Tony Myler were masters of. Its all "line balls" or forward passes to you and me, high kicks to the corner. How many tries are scored from kicks? To me, the players are fitter, faster, stronger these days and recover from injuries quicker with all the sports science, but the game is no longer about skill, its about a team of big, strong, athletic men with power and pace.
To give you an example, in 2002 Ben Westwood was a winger/centre for Wakefield and would never have played for England or GB. Now, he's considered one of the best props in SL. Yes, the game has changed and you can only applaud Westwood for his personal dedication to make that change, but to me it only proves that the game is poorer, skill wise. Lets get away from having the PTB the focal point and get back to playing rugby. Paul Cunningham
PHIL SAYS: Widnes were a great team in the late 80's when you started to watch them. One of the names that you mention from that great era, Paul Hulme, is now back at the club working as a coach of one of their junior teams. I've no doubt that his experience and maturity will be a great asset for the Vikings.
The speed of the play-the-ball is an interesting subject and one which deserve greater scrutiny. I know that the RFL are now capturing this data on all teams. If I can give you one recent example however, in the game played between St Helens and Harlequins in Round 5, the home side had far more quick play-the-ball's than their opponents from London and yet lost 16-27. It's not the be-all and end-all in determining the result in a game of rugby.
It's interesting that you ask about the number of tries from kicks. I was watching the tries scored by Great Britain on their tour of Australia in 1962 not long ago, and was amazed how many of them had kicks involved. Things haven't changed as much as you might think. Last season, 16 per cent of all tries scored in Super League had a kick in it somewhere. Most people think that it's much higher than this. It's possible to argue that a try from a kick is more entertaining and skilful than when the man behind the play-the-ball dives over the try line from a metre out.
If you compare a game from the 80's or 90's with today you'll see that the skill level is much higher now. There are more passes and offloads than there were in previous years. And. you were slightly incorrect in stating that Widnes won the first World Club Championship in 1989. Wigan had done this two years previously in a game without a try.
It's harder to have heroes when you get past a certain age and we are all more impressionable when we're younger. I used to love sitting on the perimeter wall of games when I was at primary school, running on the pitch at the end of the match to ask a player for the 'tie-ups' to his socks. Sadly these days can't last forever. We all grow older and have to move on.