Mission impossible?
Stevo wonders why we ever doubt Leeds as they head into another Grand Final - this time with Warrington.
Last Updated: 05/10/12 8:23am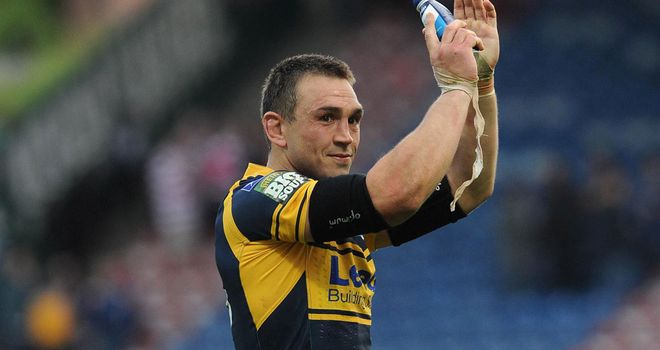 This is shaping up to be the most interesting Grand Final we have had for many a year.
It is between the defending Super League champions and the Challenge Cup holders - in fact it is a rematch of that game where Warrington were triumphant over Leeds at Wembley.
It is unbelievable that Leeds have once again come from fifth place to make it to another Grand Final - they did it last year and won and no one thought they would do it again. This team are 80 minutes away from lifting that trophy one more time. Don't bet against them!
Credit must go to their coach Brian McDermott who has nurtured his side through some tough times. I did think it would be nigh on impossible for them to do it again - it's not the first time I have been proven wrong and it won't be the last time either!
Old Trafford is like a home ground for Kevin Sinfield and the rest of the Rhinos and I think they will be hoping that it is a bit wet too. We have seen in the past that Leeds can play exceptionally well in wet conditions - in fact they seem to thrive in it. However, saying that, the only time when they lost control was in that torrential downpour at Wembley which did not fall in their favour and Warrington proved just a little bit too strong on that day.
Leeds will be looking to that man Sinfield again. In the last two games he has been outrageously good and has taken control of Leeds and pushed them up a level. They will also be pleased to have Danny McGuire back after his one match suspension. Warrington will have to watch McGuire, Sinfield and Rob Burrows very closely indeed!
I know Warrington have won two Challenge Cup trophies at Wembley but this will be the first time they have been in the Old Trafford dressing room and their nerves could get the better of them. We saw that happen in the first play-off game at home against St Helens. You have to give them credit for bouncing back and taking the revenge against Saints in last week's semi-final but they cannot allow their nerves to get the better of them on Saturday.
I think we will see a more cautious Warrington; they'll not be too fancy and they'll keep it tight with their forwards and Briers kicking. They are a very attractive team to watch but they have to sometimes forget about what it looks like to their fans or what it looks like on TV. They sometimes need to play ugly and grind it out. Too often they try and force the pass and tried to play too much off the cuff. If they go back to basics and take control in the forwards then it augurs well for Warrington but they have to get over the first fifteen or so minutes of nervous tension.
This could be the last final for Adrian Morley. He won it when he was brought back from Australia to play with Bradford when they picked up the trophy. However I think this will mean more to Morley because he has not come back as a guest player - like he did last time - but has fought his way through the campaign alongside his team mates. I think the battle between Morley and Jamie Peacock is going to be incredible.
Leeds have some problems in defence, especially on that left edge. Kallum Watkins is a fine player and can produce some sensational rugby league but he needs to sort out his defence. I am not saying he can't tackle - because he can, but he has this tendency to come out of the line and create some space for the opposition.
STEVO SAYS: It is very rarely that I sit on the fence but I really cannot pick a winner here. Old Trafford will hold no fear for Leeds but the occasion may cause Warrington to stutter a bit. If Leeds can make the most of that and put some points or even some doubt over the wolves then they may just do the impossible...again!