Wolves want revenge
Stevo says Warrington will be a different beast to the side that were beaten by Saints two weeks ago.
Last Updated: 28/09/12 2:50pm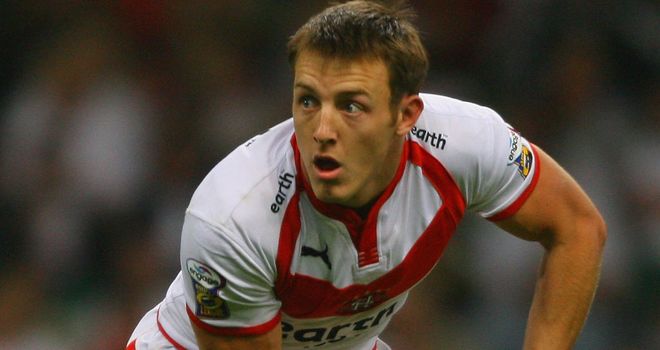 It took a while but last weekend's game really showed the competitive nature of rugby league. The Catalans v Leeds game was an absolute belter - it took me back years and years and nobody gave less than 100%. It was rough; it was cruel and certainly had its moments of controversy.
To be fair we have not had the best of seasons and even in the first week of the play-offs where we had eight teams vying for Grand Final glory, I was disappointed in the standards and the effort from certain sides. However last weekend restored my faith and I cannot wait to see what unfolds this weekend.
Warrington showed what they can do after that disappointing display against St Helens in the first week of the play-offs. They were taken apart by Saints but showed against Hull that they are back in business. I thought Lee Briers' kicking game was sensational against Hull and that Richie Myler was on top form. It just goes to show you the change in attitude - against Saints the Warrington forwards never made any good progress.
In that first game the Warrington forwards panicked when things did not go their way and it went from bad to worse, if you don't have your forwards making that strong effort and putting you in a good position then your half backs won't play well. So it was no coincidence that Briers and Myler took control off the back of their forwards showing. It is probably their best ever combination this year.
Stefan Ratchford also played exceptionally well - he took his chances and is developing into a pretty smart player. He is not relying on things and is not scared to try some off the cuff play. Warrington are in good form - they know it is going to be difficult and they know they got taken apart by Saints two weeks ago. But Tony Smith would have worked hard in rectifying this.
The Westwood factor
A lot will depend on whether Smith takes a gamble on Ben Westwood. Westwood is apparently 50-50 as to whether he will play or not. Smith has taken a gamble in the past - when he was the coach at Leeds he took a gamble of Keith Senior - that didn't work and it backfired on him. I expect him to be very cautious about throwing Westwood back into the mix. I spoke to Ben last weekend and he is very keen and eager to get back into the game but he did avoid saying whether he was at full fitness or not.
If they can get Westwood on the paddock and use him for the first 20 minutes then this guy can rib-tickle anybody; he is one tough hombre. He might force Saints to take a backward step but Saints will be buoyed by the fact they took Warrington apart. Their defence on that day was unbelievable. Mike Rush has taken over and given them a harder edge in defence. Over the years Saints have always had this ability to score tries but they have also had this ability to leak tries. Rush has developed a new technique in their defence. They don't do a sliding defence, they play a man on man marker, they don't take any dummies and they have so much confidence in the man on the inside or the man on the outside. They are always talking to each other which is vital. St Helens are also a little more constructive and a little more patient on attack too - they wait until they get deep inside the opposition half.
Tactics
I expect Warrington to use Briers to kick them around - every team that Smith has had success with has had a good kick and chase game. In the first game of the play-offs Saints never gave Briers any space or any opportunity to use his kicking game. I expect they have worked on some different plans for this week. Instead of him being five or six meters back from play the back are I expect him to be back even further - maybe ten or twelve metres back. That tactic could pull Saints defence out of line as one person may break a little over enthusiastic to get to Briers. This could create the opportunity for Briers to give a short pass instead of a kick.
James Roby is the Saints kingpin - give him half a chance and he will take it. Warrington know that they have to stop him but everyone knows they have to stop him and very few do it. Warrington have to match the forward power both in attack and defence if they are to have any chance of winning this game.
Iosia Soliolais a supersub - the man is a tyro and if Warrington allow him to run riot in both defence and attack, then they will suffer.
STEVO SAYS: This is going to be a very close game - forget about what happened in that first play-off, this is a different game. Saints know what it is like to get to a Grand Final - they will be looking for their seventh final on the trot. Warrington don't. That mental pressure could be the difference.