Ready to rumble
Stevo wonders if Wigan have made a mistake by giving Leeds more motivation for their semi.
Last Updated: 28/09/12 10:30am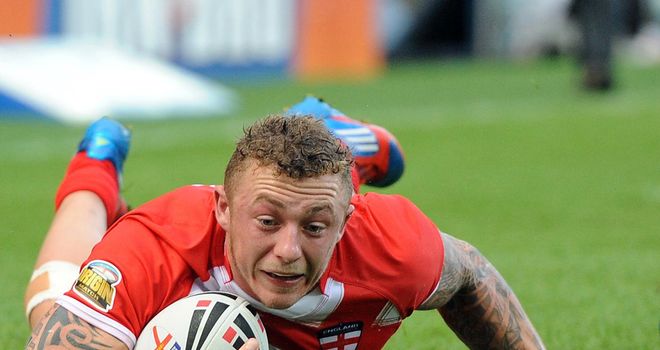 I was rather surprised when Wigan had the clubcall announcement and their chairman Ian Lanegan made it quite clear that a lot of the fans and the media were suggesting that it would be great to have a Wigan v Warrington Grand Final. To me that was virtually saying that St Helens have no chance and Leeds have got no chance! As if Leeds needed any more motivation to take on their biggest enemy!
The war of words sometimes work and there has certainly been plenty of words! Shaun Wane, the Wigan coach, has certainly made his views, clearly stating that perhaps Leeds star Danny McGuire should have got more than one match ban. Leeds coach Brian McDermott has shot back and accused Wane of influencing the disciplinary hearing that handed McGuire the ban.
Leeds will miss McGuire because while he may not have the same speed, he has changed his game into being a very effective support player. It may look like he always just pops up at the right time and place, but that is a skill he has honed and he can read a game very well. He knows exactly what lines to run to get where he wants to get. That is what Leeds will miss.
Leeds are coming into their own and they know what it takes to win a Grand Final from fifth - I know I keep on saying it but they have done it once and that breeds the belief that they can do it again. Against Catalans we saw Jamie Peacock put in a stupendous effort - I think it was his best game of the season. He led the forwards by example and their captain Kevin Sinfield was just everywhere. His kicking was superb and his captaincy was outstanding. His combination with Rob Burrow is crucial too and these two could be the key to Wigan's downfall. Do not write them off. They may not start as favourites but they will be up for this game.
We know the class and the skill of Wigan. The likes of Sam Tomkins and Thomas Leuluai are just exceptional players. Leuluai gives them a lot of direction and can really control a game - we saw how much they missed him when he was out injured. Josh Charnley is another Wigan player who Leeds have to watch. He is the leading try scorer this season and knows his way to the line. However I think it is in the forwards where they have to shape up and take on Leeds.
Sean O'Loughlin will probably start at hooker and then revert back into his loose forward role later on in the game. I think this game will come down to the two captains - O'Loughlin and Sinfield. Whoever comes out with the best attitudes and the best shots will win the game.
I think Leeds really need to score first and put pressure on Wigan; get a bit of doubt in their minds and make them force the game and make a mistake or two. Both sides need to keep their composure because I think that in a tight game like this it may come down to a special bit of skill or - and I hope not - a terrible mistake from one side.
It will be rough, tough and very ferocious and so it should be - they are 80 minutes away from a Grand Final!